Featured Video
This Week in Quality Digest Live
Origin Technologies Corp.
Metrology
Origin Technologies Launches Latest Model of LaserGage DSP Sensor
Published: Thursday, May 21, 2015 - 12:53
(Origin Technologies: Madison, AL) -- Origin Technologies Corp., a global provider of off-the-shelf contour measurement systems, has announced the availability of its latest LaserGauge DSP sensor, model HS770. This portable, hand-held Multi-Vector laser profiling system provides complete 3D profiles of surface features.
"This is the first hand-held sensor of its kind in the industry. Utilizing 19 laser stripes to map the feature of interest, the HS770 can produce a complete grid surface profile with a single trigger pull," says Ken Creekmore, Origin Technologies' co-founder. "We see this as groundbreaking for those who want to inspect fastener flushness, countersink alignment, or dielectric fill height. Previously, only a single laser line was used to measure the feature. Now with 19 laser lines and the multi-vector technology, we're able to extract additional data in building a more complete profile. Color mapping of the scan provides quick indication of measurements that are below, within, or above surface limits."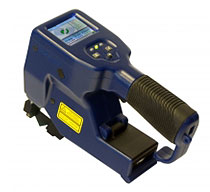 The HS770 is a complete measurement system in a hand-held design, and weighs just 29 oz. There are no cables to external power sources or connections to a computer during operation. It can be used extensively in the aerospace industry for inspecting fasteners, fills, and countersinks on flat or curved surfaces. The power of the sensor is in its revolutionary optics and application-specific algorithms.
Origin Technologies is an Alabama-based private company that was founded in 1994. With a background in imaging and inspection projects for NASA's Marshall Space Flight Center, the founders of Origin Technologies identified the need for an off-the-shelf contour measurement system capable of being adapted to different applications serving the automotive, aerospace, and manufacturing industries worldwide.
About The Author

Origin Technologies Corp.
Origin Technologies Corp. is a global provider of off-the-shelf contour measurement systems. It has served the automotive, aerospace, manufacturing, and food processing industries since 1994. Origin's laser-based, portable and online dimensional measurement systems are used to measure height, depth, gap, flush, length, angle, radius of curvature, and more.