This Week in Quality Digest Live
Perceptron Inc.
Metrology
From Startup to Solution Provider
HERA CMMs with TouchDMIS help measurement service exceed customer expectations
Published: Tuesday, April 28, 2015 - 12:23
(Perceptron: Plymouth, MI) -- When Robert Howard formed Carolina Metrology in Duncan, South Carolina, he knew the level of core measuring capability that was required to compete as a contract dimensional metrology service. Howard has spent more than 15 years in the metrology, quality, and measurement areas managing a number of inspection shops.
"The key to success in contract measuring is to be able to program fast, and have equipment that can run parts with a high degree of accuracy and repeatability," he says. "When you can provide high-quality dimensional service at a competitive value, understand the inherent degrees of accuracy of the different types of equipment, and supply the scheduling and timing required to meet the customer's requirements, you have mastered the fundamentals of CMM measuring."
"When I decided to start Carolina Metrology, I looked for a CMM equipment supplier that could quickly deliver a complete solution and provide the service required to get my new company up and running quickly," says Howard. "Coord3 was the supplier we selected. We had access to a complete range of high-quality, new Coord3 measuring centers and direct access to TouchDMIS software. The traditional CMM software programs that we had prior experience with provided access to functionalities through a complex system of toolbars, dropdown menus, and window selections. TouchDMIS gave us a truly revolutionary user interface using smart technology with full CAD capability. This minimized learning time to just a few hours, with immediate productivity benefits."
Elliott Mills, CMM product and sales director for Perceptron, says, "Carolina Metrology presented a unique opportunity for us. Because Robert Howard is so experienced with metrology systems, CMMs, and the nuances of the available software, it was easy to sit down and evaluate the level of business that he was going to pursue with respect to his equipment and software needs. Ultimately, we provided two different types of Coord3 CMMs, a Coord3 Hera 10.7.7 model with a Renishaw PH20 probe, and a Coord3 Hera 15.10. 9 with a Renishaw PH10MQ for large-part inspection and tactile and laser scanning."
The COORD3 HERA CMMs are a series of small and medium-size, measuring-volume bridge DCC CMMs that offer advanced performance measuring platforms with an integral dovetail X axis machined directly into the granite plate for stable metrology performance. The HERA CMMs can be equipped with Renishaw touch or scanning probes and are suitable for all applicable manufacturing measuring applications. The Hera Model 10.7.7 has a measuring range of 1,000 mm x 700 mm x 700 mm. The 10.15.9 model has a measuring range of 1,500 mm x 1,000 mm x 900 mm.
"It's really the CMM software that gives a measuring service like ours the ability to react quickly, but interestingly, we had been using three other different software versions," Howard says. "The Hera machines allowed us to continue to use the other software until we familiarized ourselves with the new TouchDMIS, which was a real benefit to us. I've worked with just about every type of software, and they are always being enhanced and improved. We now prefer our TouchDMIS because it takes the guesswork out of CMM programming by seamlessly integrating CAD data with the CMM programming and measurement processes.
"Our core services include broad measurement services for production and prototype parts for automotive OEMs, aerospace companies, appliance manufacturers, and power-generation manufacturers," says Howard. "We also perform certification services for gauges and fixtures, and provide CMM programming and training. Coord3 enabled us to get Carolina Metrology up and running quickly, with the right CMM machines and software, at a very reasonable start-up cost."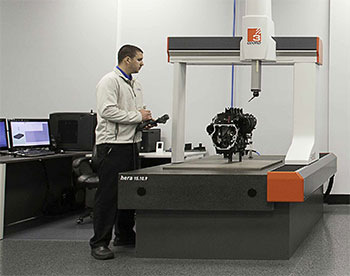 About The Author

Perceptron Inc.
Perceptron Inc. develops, produces, and sells noncontact 3D machine vision solutions for measurement, inspection, and robot guidance in industrial applications. For more than 30 years Perceptron's hardware and software solutions have helped manufacturers manage their complex manufacturing processes to improve quality, shorten product launch times and reduce costs. Perceptron also offers training and customer support services.