Featured Video
This Week in Quality Digest Live
Phillips Precision Inc.
Metrology
Phillips Precision Introduces Air-Glide Loc-N-Load Fixture Plates
Eases the movement and inspection of heavy parts
Published: Monday, March 28, 2016 - 14:06
(Phillips Precision: Boylston, MA) -- The popular Inspection Arsenal Loc-N-Load quick-swap fixture system can now be ordered with air assist. Let your CMM and fixture plates do the heavy work. With a flip of a switch and one pinky finger, inspectors can easily glide the weight of an anvil across the granite.
According to Steve Phillips, president of Phillips Precision and inventor of Inspection Arsenal, "The technique-altering Loc-N-Load system is designed to break bottlenecks and expose hidden profits in inspection. We've answered a number of customer requests by adding the air-glide feature to our quick-swap system."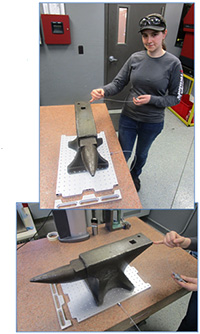 Now companies inspecting heavier parts can take advantage of the magnetic, puzzle-like, quick-to-swap system. The air-glide feature can be easily added to the standard 12 in. × 18 in. fixture plate per customer request. Additional special order size plates are 18 in. × 18 in., 18 in. × 24 in., 24 in. × 24 in., and 24 in. × 36 in. The standard fixture system includes several docking rails, fixture plates, end caps, a unique plate for the qualifying ball bar and an angle plate. The hole pattern seamlessly integrates when interlocked. Plates can be ordered individually or in pre-configured bundled systems which include work holding kits.
The system allows customers to start off small and add plates that can become part of the job kit for lean setup reduction. An infinite number of setups can be swapped in and out quickly to increase the number of parts inspected per shift.
Inspection Arsenal complements other fixturing you may have and the value makes converting from other techniques very cost-effective. Plates with the air-glide feature are made to order. The standard Loc-N-Load product is ready-made and Phillips Precision has a same-day shipping policy, so an order today can lead to improved efficiency by tomorrow.
Click here for a short video clip of the air-glide Loc-N-Load fixture plate in action.
About The Author

Phillips Precision Inc.
Phillips Precision Inc. machine shop prides itself on using the latest technology to communicate with customers. The latest version of CAD/CAM software, high speed internet, and new shop management software all help customer orders move through our company quickly and efficiently. We could literally be machining parts within minutes of receiving a customer file and deliver finished parts the same day if necessary. The free consultation service we offer prior to machining saves you time and money.