This Week in Quality Digest Live
Hexagon Manufacturing Intelligence
Metrology
Hexagon Manufacturing Intelligence Pioneers 7DoF Measurement for Factories of the Future
Leica laser trackers offer enhanced automation interface and software updates
Published: Thursday, March 24, 2016 - 08:22
(Hexagon: North Kingstown, RI) -- Hexagon Manufacturing Intelligence has launched their latest system software release and a new Ethernet Real Time Feature Pack (RTFP) for the Leica Absolute Tracker AT960 and AT930. This groundbreaking combination delivers the industry's first 7DOF measurement solution designed to empower "Factory of the Future" applications such as laser tracker-based machine control and robotic guidance. This technology adds a time dimension to the measurement data acquired by the laser tracker, made possible by interfacing its LMF communications with the new industrial EtherCAT protocol.
The laser tracker's 7DOF measurement capability enables real-time machine control for milling, drilling, grinding, polishing, and other processes in a large-scale manufacturing environment. For example, an off-the-shelf 6-axis robot could be deployed with a Leica AT960 laser tracker and Leica T-MAC to precisely measure and correct in real-time the movement of the robot's end effector for in-place, production operations on the factory floor. The machine control system can be synchronized accordingly and corrections can be applied in real time—even in dynamic robotic setups.
"This new development is another technology brick in the Factory of the Future wall," states Joel Martin, product manager for laser tracker software at Hexagon Manufacturing Intelligence North America. "The 7DoF measurement capability integrates our technologically mature 1000Hz 6DoF data with low latencies and highly-accurate timestamps. The robust software and firmware upgrade not only improves functionality across our laser tracker product line, but provides a major leap forward for metrology-assisted manufacturing. The 7DoF innovation is also a cornerstone of Hexagon Manufacturing Intelligence's sensing, thinking and acting philosophy to build better parts and products with speed and confidence."
Built on the industry-proven EtherCAT protocol, the laser tracker's RTFP meets the data-delivery requirements of high-end automation applications. It also adds a host of new capabilities such as cyclic data delivery with EtherCAT distributed clock support, several triggering options, and a basic command interface enabling tracker control from non-Windows environments. The new system software supports the RTFP and the recently released Leica Absolute Scanner LAS-20-8 handheld laser scanning solution. In addition to improved Tracker Pilot checks and comps, the software release includes new laser tracker service tools including preventative indicators, recertification reminders, and remote technician access for a higher level of customer support.
The RTFP is available as an option with all new orders of the Leica Absolute Tracker AT960 and AT930 models, or as a service retrofit. Both models can also be upgraded to the latest firmware. More information is available through local Hexagon commercial operations and dealers.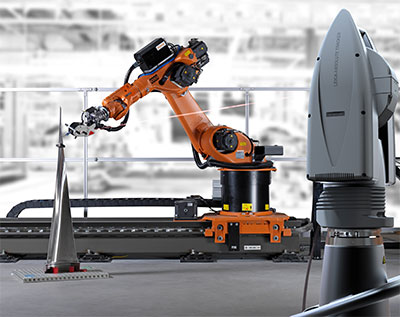 About The Author

Hexagon Manufacturing Intelligence
Hexagon Manufacturing Intelligence helps industrial manufacturers develop the disruptive technologies of today and the life-changing products of tomorrow. As a leading metrology and manufacturing solution specialist, our expertise in sensing, thinking and acting – the collection, analysis and active use of measurement data – gives our customers the confidence to increase production speed and accelerate productivity while enhancing product quality.
Hexagon Manufacturing Intelligence is part of Hexagon, a leading global provider of information technologies that drive quality and productivity across geospatial and industrial enterprise applications.