This Week in Quality Digest Live
Phillips Precision Inc.
Metrology
Quick-Swap Fixtures Break Workflow Bottlenecks
Teach and repeat mode ensures precise inspections as many times as necessary
Published: Monday, March 21, 2016 - 09:59
(Phillips Precision: Boylston, MA) -- Phillips Precision Inc. and Fowler High Precision each offer products that are fundamentally changing the way manufacturers inspect parts. By design, they create opportunities for a leaner process that before now did not exist in the industry.
The popular Inspection Arsenal quick-swap fixture system enhances the value of Fowlers new zCAT—the only truly portable DCC CMM. Fowler and Phillips share the philosophy of presenting creative, high-quality, affordable solutions that are made locally.
New for the zCAT, a custom base was designed with four locations that accept Loc-N-Load quick-swap fixture plates. Two bundled configurations are available that include 6×6-in. and 6×12-in. fixture plates, a specially designed removable qualifying ball plate, and a versatile angle plate. Also included is a work-holding kit versatile enough to hold most any part.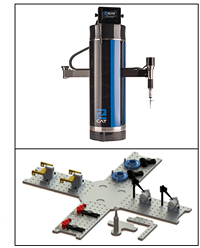 The Loc-N-Load fixture system enhances the easy "teach and repeat" mode that sets the zCAT apart. Once programmed, the zCAT takes over ensuring precise, repeatable results as many times as necessary. By fixturing on quick-swap plates, inspectors can change parts in and out without building and breaking down setups. Several unique parts can be setup or multiples of the same part fixtured and programs repeated. Affordable plates can be dedicated and kept with the job box for fast, repeatable setups.
These two products offer similar benefits. They are an affordable solution to companies just starting out with automated inspection or those wanting to complement existing CMMs. Both Inspection Arsenal and zCat help to break inspection bottlenecks with a short learning curve and by speeding inspections on the shop floor—inspections that can be conducted by anyone. Inspection Arsenal also offers companies an opportunity to standardize across all CMMs with its full line of interlocking fixture plates and nonmarring work holding.
Phillips Precision Inc. is a full-service machine shop and manufacturer of unique work-holding solutions. Fowler High Precision is a globally recognized supplier of high-quality inspection, leveling, control, and calibration equipment. Visit www.fixture-up.com to see the full Inspection Arsenal product line and www.fowlerprecision.com for complete zCAT product specifications.
About The Author

Phillips Precision Inc.
Phillips Precision Inc. machine shop prides itself on using the latest technology to communicate with customers. The latest version of CAD/CAM software, high speed internet, and new shop management software all help customer orders move through our company quickly and efficiently. We could literally be machining parts within minutes of receiving a customer file and deliver finished parts the same day if necessary. The free consultation service we offer prior to machining saves you time and money.