This Week in Quality Digest Live
Carol Hockert
Metrology
Weighing My Career As a Metrologist
Made to measure
Published: Thursday, March 17, 2016 - 17:09
As happened with most every metrologist I know, I fell into metrology (the science of measurement) quite by accident. My degree was in chemical engineering, and I was probing the world around me to see what kind of work was out there for someone with my skills and interests. I learned of an upcoming vacancy in a metrology laboratory at the state of Minnesota's Weights and Measures Division and scheduled a visit—even though I didn't know what a metrology lab was.
When I got there, I found out that metrology was critically important in both commerce and industry. To ensure the accuracy of measurements made at grocery scales and gas pumps, regulatory officials need to test these devices using calibrated equipment. The metrologists in the lab would calibrate weights as small as 1 mg and as large as 110,000-lb railway test cars. These weights were used to verify the accuracy of scales used for all manner of applications, from jewelers' scales to pharmaceuticals to railway shipments. They also calibrated volumetric measures and glassware that were then used to check gas pumps, containers of milk, and other liquid products and their dispensers.
Of course, all the measurements and standards they provided were even more critical to industry and manufacturers—after all, you can't make a product if you can't measure its components!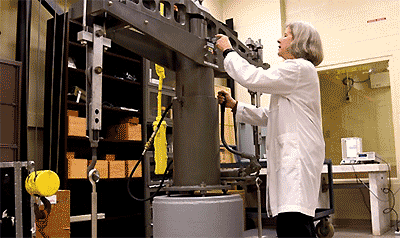 Retiring NIST Weights and Measures division chief Carol Hockert inspecting a Frazier Russell equal arm balance. Credit: F. Webber
As I learned more, I was struck by how metrologists in the weights and measures field have such a large effect on everyday life. Needless to say, I took the job at the Minnesota Weights and Measures Division and never looked back. It was great. The work was fun, the days flew by, and I was always learning something new.
For example, one of the first things I did was go to the National Institute of Standards and Technology (NIST) for metrology training.
At NIST, I learned "the right way" to do things from my now-colleague Georgia Harris, and made many friends among the other metrologists at the training. I also attended my first National Conference of Standards Laboratories (now NCSL International) workshop and symposium in 1995, which broadened my horizons further.
My first year at the Minnesota lab was spent preparing to apply for accreditation through the National Voluntary Laboratory Accreditation Program (NVLAP), which meant we had to write procedures, develop control charts, and implement a quality system, all from the ground up. At first, I wasn't sure what the significance of accreditation was, but I found out later that it meant a facility was in compliance with the international standards governing calibration labs based on an independent, third-party assessment. As such, calibrations performed by an accredited laboratory are accepted worldwide.
Our lab was one of the first state laboratories accredited by NVLAP and soon, we were calibrating weights for customers all over the country and the world. We boasted the most accurate mass measurements in the country outside of NIST and had the credentials to support it.
One project I found fascinating, exciting, and challenging in equal measure was the calibration of the deadweights for Boeing's automated, 100,000-lb deadweight tester, which is used to calibrate another device that measures the thrust produced by things like jet engines. Although the Boeing team sent their largest weights to NIST for calibration, we at the Minnesota lab were tasked with calibrating the majority of the pieces.
In fact, some of my favorite memories of working at the state lab were the physical parts of the job. Calibrating 5,000-lb weight carts, climbing on 1,500-gallon provers to adjust and seal them, pressurizing a liquefied petroleum gas prover, and pounding lead seals into cast iron weights were great ways to relieve stress and stay in shape. I liked that there was no "routine" to the days. We were the janitors, the secretaries, the quality managers, the shop technicians, and the technical experts!
Becoming a metrologist also gave me opportunities to develop leadership skills through NCSL International, first as a section and region coordinator, then as a board member, and eventually as president. I also honed my communications skills through my work with the regional Measurement Assurance Program, where I coordinated proficiency tests and gave presentations.
Looking back now, what I miss most about working in a metrology lab is solving technical problems, satisfying customers, and the sense of accomplishment that comes with the job.
I left the lab when I was given the opportunity to manage the entire weights and measures program for the state of Minnesota, which broadened my horizons once again. Instead of worrying about measurement accuracy, I was tasked with enforcing the weights and measures laws and regulations for the state. I made a habit of telling the regulatory officials who tested and inspected scales and gas pumps that they were "field metrologists." After all, they were making measurements to verify the accuracy of these devices, assuring buyers and sellers a fair exchange in the marketplace.
Since I came to NIST in 2006, we've trained many regulatory officials and metrologists from across the country and around the world. I've seen them experience that same satisfaction from getting a measurement right that will ultimately ensure consumers get what they're paying for and businesses will be able to compete on a level playing field.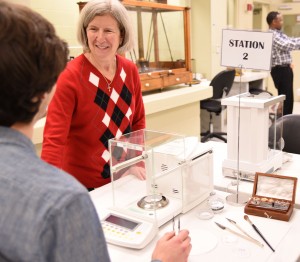 Hockert assisting a weights and measures inspector trainee. Credit: F. Webber
I've heard it said that weights and measures (and by extension, metrology) is the most important field of work that nobody's ever heard of. But the satisfaction of knowing the results of this work touch virtually everyone in the country easily makes up for the lack of fame.
First published March 7, 2016, on the Taking Measure blog.
About The Author

Carol Hockert
Carol Hockert is chief of the NIST Office of Weights and Measures, which provides technical expertise, training, international perspective and representation, and oversight to the U.S. legal metrology infrastructure. Hockert is internationally recognized as a leader and for making outstanding contributions in the legal metrology community and in the National Conference of Standards Laboratories International (NCSLI) organization where she has held numerous positions including president in 2008. She also serves as the executive secretary for the National Conference on Weights and Measures.