This Week in Quality Digest Live
Innovalia Metrology
Metrology
Working Smarter With Advanced Metrology
Innovalia Metrology raises the bar for measuring, calculating, analyzing, and deciding
Published: Friday, February 1, 2019 - 12:03
Industry 4.0 has catapulted industrial production processes into new realms of advanced manufacturing, in some cases leaving quality control scrambling to catch up. The trend of industrial quality management is to implement lean and accurate production systems; however, for many enterprises, using modern technologies to do this—such as operational processing of big data and digitizing products during production—isn't always an affordable strategy. Cost-effective solutions that combine both trends are therefore really interesting to consider.
Headquartered in Alava, Spain, with outlets in 10 countries, Innovalia Metrology has always held a consistent focus on dimensional metrology, and this has helped it stay ahead of developments in inline quality control. The company offers solutions that integrate traditional metrology with the latest technological developments, whether these be in laboratories or on production lines. It designs and manufactures coordinate measuring machines (CMMs); provides scanning systems and related software for sensor engineering and quality control; and offers accredited calibration and measurement verification.
"For years metrology was seen as an expensive process that did not add value, but we've always considered it an essential part of the production process," says Borja de la Maza, CEO of Innovalia Metrology. "Time has proven us right, and quality control is now considered a very important part of the process. We combine software and hardware with robotics and the most advanced metrology technology so our clients can achieve higher levels of productivity and efficiency in their production processes. Our global network of technology distribution allows us to adapt to different markets, client by client."
Advanced solutions for industrial dimensional metrology
To achieve zero-defect manufacturing, dimensional control must be done not just at the end of the production process but after every step along the way. This raises the requirements bar in four areas: the measuring process, how calculations are performed, data analysis, and decision making.
Measuring
In advanced manufacturing, a measurement process must be fast, accurate, and reliable. Besides that, manufacturers require a solution that will be compatible with different equipment: CMMs, all types of scanners (e.g., touch, continuous touch, and optical), and metrological software. Innovalia Metrology's M3 software is compatible with different types of CMMs and scanners. The software makes it possible to work with projects and files of different types (e.g., .qif, .dmi, .dmo, .csv). A production plant won't lose data that were measured previously using other equipment, and it can continue to use equipment from different manufacturers.
Metrological measurements should be carefully planned, and their results understandable not only to the СMM operator or metrologist, but also to employees of other engineering departments. Consequently, programming and evaluating measurement results may require the use of CAD files. M3 makes it possible to work with CAD files for:
• Extracting nominal values
• Generating and visualizing trajectories from the nominals
• Simulation
• Color mapping
Performing calculations
Once the measurement process is performed and the points' coordinates are obtained, a wide range of geometrical shapes must be calculated. M3 allows users to work with constructed geometries as well as those extracted from point clouds to define and communicate manufacturing tolerances such as form and position. Because it's widely used in the automotive industry, M3 offers convenient tools to measure crankshafts and different types of gears. It also enables easier work with symmetrical parts.
Analysis and decision making
Unless it can compile reports on measurement results and conduct statistical analysis of the data obtained, a software package can't really bill itself as a comprehensive metrological solution of the future. M3 software, however, can and does. To complete the measurement process, the software creates clear and orderly reports so that interested stakeholders can easily understand and interpret the results.
Case study: Eradicating an automaker's measurement backlog
A luxury electric car manufacturer located in Los Angeles needed to improve its quality control system. The manufacturer used a touch probe sensor to measure all its parts during three separate development stages: individually, as subsets of complex assemblies, and after the car was completed. Capturing and measuring so many critical points took far too much time and created a backlog that slowed the entire production process.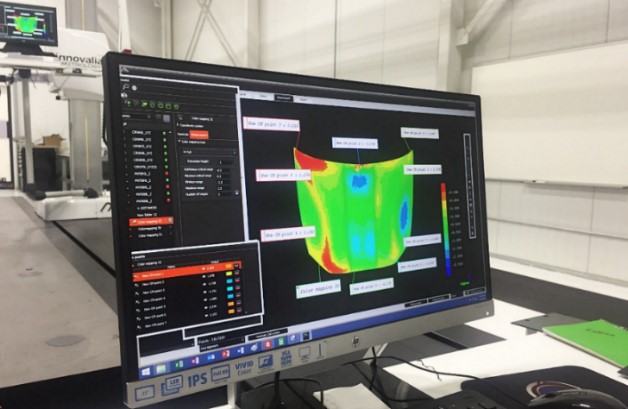 Innovalia Metrology analyzed the automaker's needs, processes, and goals, and changed the company's quality process by installing a land gauge horizontal arm system, a specialized CMM, and M3 software. The software helped to make the transition to the new system easy and allowed the manufacturer to use the same measurement programs it had before. Thanks to M3's customized reports and color mappings, it was suddenly possible to see part details with one quick look. Moreover, the manufacturer's CMM was freed up, available to use whenever the point capture of a part was finished.
Training the production team didn't take long. Personnel found M3 software intuitive and clearly saw the advantages of having all the tools and features they needed in one software solution.
Having helped the automaker improve the flow of its quality processes, Innovalia Metrology went a step further. The auto manufacturer was measuring many parts during different stages of production, and its programs were designed to capture a lot of information in as little time as possible. This is where the Innovalia team saw an improvement opportunity and introduced the automaker to an Optiscan optical sensor.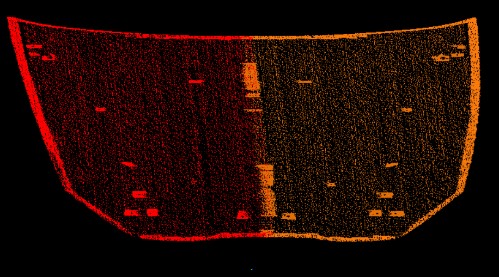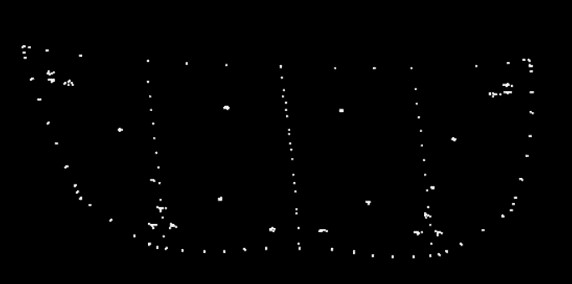 The automaker was already pleased to be measuring more parts in less time, so at first it didn't see the need to incorporate an Optiscan. The Innovalia team arrived on site and gave a quick demonstration of the advantages the scanner would provide. The accuracy and quality of the point clouds made a clear difference in the measurement process, and the automaker saw that with an Optiscan, it could obtain more points, create digital copies of its parts, and both improve and speed up the quality control process. A comparison of the results obtained from the manufacturer's old and new methods left no doubt which process was superior:
• Measurement of a part with a contact sensor: 402 points, 16 minutes
• Measurement of a part with an Optiscan: 3,895,987 points, 8 minutes
Again, M3 software allowed the auto manufacturer to use the Optiscan with the programs it had used originally. The Innovalia team helped the automaker adapt all its programs and measurement methodologies to optimize the entire production process.
The automaker's quality team can now see defects and parts status in one view, maintain the measurement programs it was used to, and reduce the time of quality control processes. It obtains 10,000 times more points in a fraction of the time it took before.
All this has allowed the automaker to maintain an efficient flow of production without sacrificing the quality of its parts.
About The Author

Innovalia Metrology
Innovalia Metrology systems and metrology solutions are designed to provide customers with a guarantee of measurement accuracy for parts and components that are vital to the manufacturing process, and to enable the achievement of higher levels of productivity and efficiency in production processes.