Featured Video
This Week in Quality Digest Live
Olympus
Metrology
Multipurpose X-ray Fluorescence Analyzers Expedite Nondestructive Thickness Measurement
An introduction to coating applications with this practical tool
Published: Monday, September 11, 2017 - 12:01
Coatings play an essential role in the product development cycle, whether for corrosion resistance, protection against moisture intrusion, or simply to beautify a product. Since over- or under-application can lead to poor performance or product failure, thickness measurement is essential to help production teams deliver quality products while also controlling costs.
End-users may also measure coatings for quality control of incoming materials to help ensure that what they're receiving is properly coated with the appropriate materials at the right thickness. Common coating applications include:
• Shielding electronics. Conductive coatings are used to help shield plastic equipment.
• Automotive fasteners. Fasteners are coated to protect against wear and corrosion; the auto industry purchases roughly 42% of the 200 billion manufactured each year.
• Aerospace. Since aircraft can incur up to $100 in operating cost for every minute of flight time, drag-reducing coating applications have the potential to save the industry nearly $1 billion each year.
• Solar cells. Many solar cells have thin alloy or polymer coatings.
• Tool steels. Titanium and tungsten carbides help increase wear-resistance and durability.
• Electrical wiring. Zinc and nickel coatings are replacing older cadmium coatings.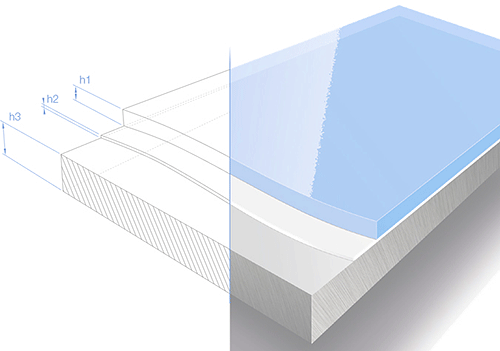 X-ray fluorescence (XRF) analyzers and coating thickness measurement
While techniques vary by industry and application, inspectors seeking accurate thickness measurement frequently choose handheld X-ray fluorescence (XRF) analyzers. Fast, efficient, and nondestructive, XRF analyzers help provide quality control both on the production line and in the field.
According to ASM International, common surface-engineering techniques require coating measurements from 0.00 mmicrons to approximately 60.0 microns, depending on the material. Materials falling within this range include plating (mechanical, electroless, electrolytic), vapor (chemical, physical deposition), and bonding (resin or lacquer). Coated substrates in this range include zinc, which impedes corrosion and is moisture-resistant; nickel; and chromium. While these are among the most common substrates, handheld instruments like Olympus' Vanta XRF analyzer can measure up to three coating layers on substrates such as metal, plastic, glass, and even wood.

X-ray fluorescence measurements involve several sequential steps that appear seamless and instantaneous but are separate on the level of physics and electronics. Although the science behind the analysis is complex, the process itself can be completed in three simple steps:
1. Select a sample. Handheld XRF analysis does not damage the material being tested. Because the analyzer is small, portable, and handheld, it's easy to test large samples that would otherwise have to be cut to fit into a benchtop analyzer.
2. Pull the trigger. The analyzer emits X-rays that strike the sample, causing it to fluoresce. The analyzer detects the returning X-rays and uses the data to calculate the thickness of the coating or coatings. Vanta analyzers complete this task in as little as 10 seconds. Results may be further refined in just 30 seconds with a one-point calibration shot.
3. Download and share results. Onboard microSD storage and optional wi-fi connectivity make it easy for Vanta analyzer users to download or share analysis results through the cloud.
Why Use Vanta XRF analyzers to measure coating thickness?
• One-point calibration tuned specifically to a user's sample
• Multipurpose instruments that can also perform PMI, RoHS conformity checks, and more
• Easy setup, in-line ready
About The Author

Olympus
Olympus is a precision technology leader in designing and delivering innovative solutions and breakthrough technology in product design and functionality in its core business areas: cameras and audio products, industrial measurement and imaging instruments, life science imaging systems, and medical and surgical products. Olympus also serves health care and commercial laboratory markets with financial, educational, and consulting services. Olympus NDT Inc., located in Waltham, Massachusetts, is the U.S. marketing, manufacturing, and sales headquarters for ultrasonic and eddy current testing instruments.