Featured Video
This Week in Quality Digest Live
Eugene Daniell
Metrology
Maximizing Laser Scanning Quality, Accuracy, and Efficiency in Manufacturing
Metrology solutions extrapolate to significant daily cost savings
Published: Wednesday, March 22, 2017 - 12:01
Every day, quality and production process leaders must find new ways to improve product processes in a constantly changing manufacturing environment. For most companies, the low-hanging fruit of process improvement is a distant memory. Now, it's all about seeking significant improvements in the smallest production details to lower process costs and raise efficiency and accuracy.
In the advanced manufacturing world, every minute saved in product measurement and dimensional verification extrapolates to significant daily cost savings. From a measurement standpoint, increased measurement accuracy enables incremental and major process improvements. Thus, today's process improvements must come faster and be more accurate today, a defining aspect of modern metrology solutions like 3D laser scanners.
Consequently, the fact that process improvements can be traced to the metrology solutions they choose increases their standing in the company and in the industry. That's why it's imperative to partner with the leading innovators in manufacturing metrology that deliver only the best-in-class solutions. This is where the ROMER Absolute Arms with Integrated Scanner SI featuring the new RS4 scanner is such a valuable manufacturing intelligence solution.
Avoiding pre-scanning time loss with the RS4
As time to market and production cycles accelerate in the Industry 4.0 era, the pursuit of greater quality can still be an impediment to the timetables of "the new normal" production cycle. Quality and production leaders are caught at the nexus these seemingly incompatible aspects of production. While each is tasked with different roles, they must collectively answer to the need for production speed and increased quality.
With laser scanners, two considerations are the warm-up time required for many systems to become thermally stable prior to use, as well as calibration time. With the introduction of the Hexagon RS4 laser scanner integrated with the ROMER Absolute Arm solution, industrial manufacturers have a solution that requires no warm-up time.
With many scanner solutions, operators must wait up to 30 minutes for the scanner to warm up and become thermally stable for optimum operation. Add an average of 10 additional minutes to attach many scanners to the portable CMM and calibrate it means that manufacturers are losing 8.33 percent of their scanner's equipment uptime in an eight-hour day.
The thermal stability of the RS4, as part of a long list of user-oriented design features, is meant to enable users to immediately achieve stated accuracies without any warmup time. In addition, since the RS4 Scanner is integrated with the ROMER Absolute Arm solution, it does not require time-consuming calibration.
Increase speed by increasing scan width
Today's non-contact 3D optical metrology measurement systems have come a long way. Still, very few provide the means for gathering the maximum amount of form information and accuracy with the minimum amount of effort. Laser scanners with the all-important attributes of accuracy, speed, and portability/size are touted by most manufacturers, but few can deliver. It's true that full closed-loop manufacturing requires eliminating the bottleneck of measurement speed, but accuracy is also in question.
With laser scanners, speed requires a device that allows the operator to minimize the measurement time by optimizing the number of views needed to capture the form information. Fewer views means faster measurement. This is accomplished by increasing the spatial bandwidth that can be measured in a single pass. The new RS4 scanner delivers among the widest single line scanning widths in the industry. Moreover, the laser scanner is designed to achieve optimal accuracy and speed plateaus as part of an integrated system with the ROMER Absolute Arm.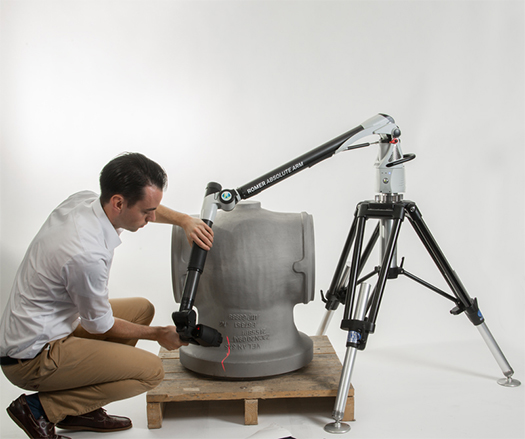 The ROMER Absolute Arm Integrated Scanner with the RS4 scanner delivers fast and accurate scanning capabilities.
Fast yes, but you also need accuracy
It's important to understand the difference between scanner accuracy and system accuracy. In real-world usage, system accuracy is the scanning accuracy of the arm with the scanner attached.
Many system manufacturers utilize High Accuracy and Low Accuracy scanning modes. These dual-mode scanners have a long scanner line in Low Accuracy Mode and a short scanner line in High Accuracy Mode, which costs valuable time. The result is that achievement of the highest stated accuracy of the device requires sacrificing speed.
As an optimal single-mode device that eliminates the high and low accuracy modes, the RS4 scanner has a full-time accuracy of 0.028mm with a certified scanner accuracy of Sigma 2. In other words, there is no need to go into a high accuracy mode, reduce the line width, standoff or depth of field (field of view) to achieve the certified accuracy rating.
This can be shown in the following example:
• The average dual-mode laser scanner on the market today has an advertised line width of 150mm, but can only have a line width of 100mm in High Accuracy Mode.
• To achieve an accuracy like the RS4 by using High Accuracy Mode, the operator of one of these dual-mode devices would have to make 3.5 scan passes in High Accuracy Mode for every 2 scan passes of the RS4.
Verifying accuracy and maximizing scan speed
The cost of a typical manufacturing design cycle can be reduced by 75 percent using 3D scanning. This is a repeated refrain that can be found in Metrology News and Future Market Insights to name just two. The question becomes, just what aspect of 3D scanning makes those impressive cycle times possible?
Ultimately, achieving the highest quality production process and finished parts at the greatest efficiency as it pertains to 3D laser scanning systems puts maximum scanning width at the fulcrum point. Fundamentally, the wider the scan line the more surface data can be collected on a single line. This means that by maximizing the scan line width, the number of passes is reduced, thereby accelerating the process.
Conversely, with each pass that becomes necessary for complete scanning of a surface, more time is added to the process. This results in lost time that translates to real dollars by detracting from production efficiency and introduction of actionable metrics data for process/product improvement, QC and development.
Solutions like the RS4 provide a maximized scan line width of 80 to 150 mm, which is a 43-percent increase over the previous RS3. When compared to other manufacturers that are produce low and high accuracy mode devices, the upper limit in high accuracy is no greater than 100mm, which makes the RS4 scan line 33-percent wider without any dip in accuracy. It becomes a simple process for QC and production decision makers to make calculations to determine the significant increase in speed obtained due to this longer line.
Sensing, thinking, acting
Finding operational efficiencies is the way to drive productivity and profitability in the competitive North American advanced manufacturing industry. The RS4 scanner was engineered to meet this challenge, delivering a major performance leap with a scan rate nearly 60 percent faster than the previous model.
Every minute in a production environment has a dollar amount attached to it. Hexagon is always mindful of that reality, which is why the ROMER Absolute Arm SI with the RS4 scanner is ideally suited for point-cloud inspection, product benchmarking, reverse engineering, rapid prototyping, virtual assembly, and CNC milling tasks. The solution provides tactile and non-contact dimensional measurements for applications in aerospace, automotive, power generation, medical, heavy equipment, defense, consumer products, and more.
About The Author

Eugene Daniell
Eugene Daniell is the ROMER Absolute Arms product manager at Hexagon Manufacturing Intelligence. In this role, Daniell drives the creation of new measurement solutions through integration and automation of Hexagon Manufacturing Intelligence's core products. This portfolio of solutions includes Coordinate Measurement Machine (CMM) technologies, laser tracker and white light (WLS) solutions that integrate with machine tools, robotics, and automated environments.Daniell has worked in industrial manufacturing for more than two decades, solving chemical, mechanical, and electrical challenges for a wide variety of applications. His background includes software development for industrial automation, as well as semiconductor process development and manufacturing precision parts for aerospace and medical applications.
He holds a chemical engineering degree from the University of Massachusetts Amherst.