This Week in Quality Digest Live
Philip Colet
Metrology
Italian Integrator Sees the Way to Machine Vision Success
A case study
Published: Monday, March 23, 2009 - 09:41
P
roduct information and label code verification are important parts of the packaging and quality control process for manufacturers and consumers in the food and beverage industry. Machine vision is increasingly being used to help improve the accuracy of the inspection process in these industries, saving labor, time, and money.
One specialist in this area is EyePro System, located in northern Italy. Established in 1999, EyePro System is a spin-off of ITC-irst, an Italian research center working in the field of image processing, speech recognition, and microelectronics. The company combines the diverse talents and experience of its founders in a range of activities, from performing research in computer science, statistical data analysis, pattern recognition, and image processing to engineering automated systems for industrial inspection, control, and measurement applications.
Two systems, many applications
EyePro System offers two basic systems that are customized and integrated for each customer and application. Designed for testing the quality of extruded films, the CIAK Linear Vision System can be used in the laboratory for quality control or for inline process control. The CIAK system is built around PC-DIG frame grabbers and line scan cameras from DALSA. The PC-DIG is a PCI-compatible board that provides high performance image acquisition for most commercially available digital line- and area-scan cameras.
EyeProCheck incorporates a DALSA IC4_ASYNC, which integrates four independent, asynchronous frame grabbers on one full-size PCI bus card, to inspect the integrity, shape, color, size, and position of labels, stamps, marks, and expiration dates on bottles and other containers. By introducing other inspection modules, the system can also control fill levels, detect the presence of impurities and inspect for defects in or improper positioning of corks.
Inside the inspection machine, the bottles rotate on their axes. Cameras capable of acquiring up to 50 frames per second capture images of the bottles as they make their 360º rotations, allowing the system to inspect the surface of all the bottles at a maximum flow of 15,000 bottles per hour. EyePro System's image acquisition subsystem architecture of choice is two JAI M10 dual tap cameras connected to a DALSA IC4_ASYNC board.
The look of good taste
 Ferrari Winery, a producer of sparkling wine in northern California, uses an EyeProCheck inspection system to ensure that the bottling and labeling of its wine is performed to and reflects the same high standards as the wine itself. EyeProCheck inspects the entire surface and appearance of the bottles, and provides in-line control of the integrity, shape, conformity, position, alignment and color of the bottles' labels, caps, stamps, marks, and decorations with a resolution of less than 1.0 mm. All of this is done without suspending or changing the flow of wine into the bottles, which are filled at a rate of up to 10,000 bottles per hour.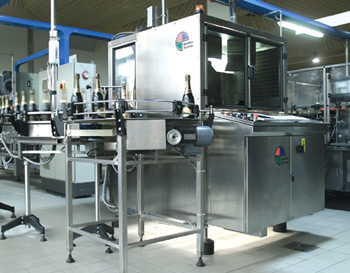 Two JAI M10 grayscale progressive scan cameras working in dual tap at 50 frames per second are connected to a DALSA four-channel IC_ASYNC board. Each channel has its own 1 KB x 1 KB linear frame buffer. Independent external trigger, frame reset, strobe, sync, time base settings, and input conditioning circuitry are provided for each channel to maximize speed and product throughput. The EyeProCheck system can produce alarms or drive an ejector to remove faulty bottles from the line quickly without interrupting production, and it provides remote monitoring and maintenance capabilities to ensure greater uptime.
To accommodate the vast range of tolerances that Ferrari requires, the Windows-compatible, PC-based EyeProCheck system uses image processing software developed by EyePro System that includes the many customized image processing and pattern recognition algorithms that the application demands. In addition, EyePro System has implemented a user-friendly learning procedure for the adjustment of all run-time inspection parameters. Users can select and configure tolerances for each characteristic being inspected, and all results are saved in a standard database for statistical reporting.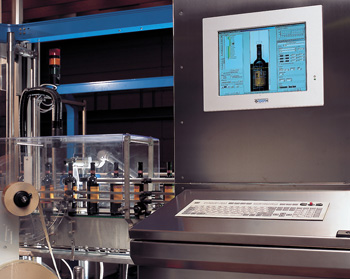 Because the EyeProCheck system is connected to the company's information-level systems, management can view labeling process data and make rapid, informed and objective decisions about how to improve the process. This data is also used for optimizing another inspection machine that was brought online before the EyeProCheck machine was installed, helping to reduce bottling and labeling costs, and enhancing the corporate image.
"Using this system, we are now able to maintain higher quality standards in the dressing of our bottles, which is crucial to marketing and selling our wine," says Marcello Lunelli, technical director of Ferrari Winery. "By introducing the EyeProCheck machine in our plant, we have also made changes and improved our process over time due to the objective data provided by the inspection machine. In less than one year, we have received payback on our investment in this system."
About The Author

Philip Colet
Philip Colet is the vice president of sales and marketing at DALSA, Montreal. He holds a bachelor's degree in electrical engineering from Concordia University, Montreal. Prior to joining DALSA, he held positions in project management with a worldwide distributor of electronic components and in product management with a well-known computer hardware firm.