Featured Video
This Week in Quality Digest Live
Olympus
Metrology
Handheld XRF Technology Ensures Consumer Safety and Regulatory Compliance
On-the-spot material chemistry analysis is possible with portable X-ray fluorescence
Published: Monday, April 10, 2017 - 12:01
Restriction of Hazardous Substances (RoHS) regulations help protect the public from the toxicity and pollution associated with consumer products and electronics. Beyond public health and safety concerns, the cost of noncompliance, including fines, product recalls, and decreased customer confidence, can be a significant burden for any organization.
To help ensure public safety and reduce the risk of noncompliance, manufacturers use X-ray fluorescence (XRF) technology to provide rapid, accurate elemental analysis when screening for lead (Pb), cadmium (Cd), arsenic (As), mercury (Hg), chromium (Cr), and other toxic metals in consumer products such as toys, apparel and footwear, and electronics.
Understanding XRF
"X-ray fluorescence measurements involve several sequential steps that appear seamless and instantaneous but are separate on the level of physics and electronics," says Michael Hull, an application scientist at Olympus. The steps include:
1. Illumination: X-rays are generated by an electric current, and the sample is illuminated.
2. Sample absorption: The sample absorbs the X-rays and is excited to a higher energy state.
3. Emission: The sample re-emits its own characteristic X-ray, reflecting its elemental composition.
4. Measurement: The new X-rays are measured by a digital detector on the instrument.
5. Interpretation: The signal from the digital detector is interpreted using computer software and analysis.
6. Calculation: The technician receives the elemental composition and a pass/fail report based on defined action levels.
7. Results: The resulting measurement allows the technician to assess his confidence level in the tool's accuracy and precision.
XRF enables producers to make actionable decisions immediately, rather than waiting several hours or days for laboratory results. Handheld XRF offers an optimal combination of speed, reliability, and versatility for RoHS screening. It is also portable, requires minimal sample preparation, is completely nondestructive, and provides nearly instantaneous results. Elemental analysis can be completed in a matter of seconds with Olympus' Vanta handheld XRF analyzer.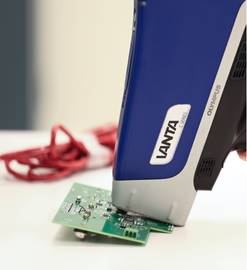 Regulatory compliance applications
Since XRF is a nondestructive testing method, it may be performed at any point in the manufacturing process, even on finished goods. The Vanta analyzer's optional 5-megapixel panoramic camera, optional wi-fi and Bluetooth, and USB connectivity enable easy archiving of sample images and results for companies seeking to add comprehensive archiving capabilities to their testing program. An intuitive user interface and ultra-low-noise electronics help ensure easy setup and reliable pass/fail results for regulated elements.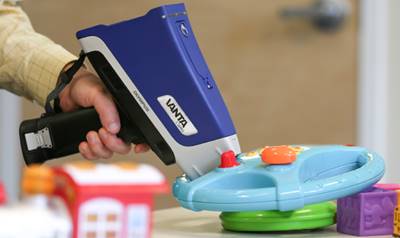 Globally, a number of countries have adopted rules and regulations based on the original European RoHS standards. Handheld XRF devices are accepted as a screening tool when testing for compliance with global hazardous substance regulations and testing methods, including:
• EU RoHS Directive (2011/65/EU)
• China RoHS Directive (ACPEIP)
• Japan RoHS
• Korean RoHS Directive
• USA CPSIA (HR4040)
• USA Halogen Free Directive
• California Proposition 65
• USA CPSC-CH-E1002-08 SOP
• IEC 62321
Consumer products
Some of the consumer products that are commonly screened with XRF technology include toys, jewelry, electronics, apparel, sporting goods, furnishings, and cosmetics. Manufacturers screen for lead, cadmium, and other toxic metals in consumer products to comply with RoHS requirements. For ease of use, Vanta analyzers can be configured to provide pass/fail results so users can get information that is clear and easily understood.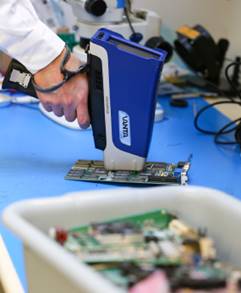 In addition to companies that manufacture consumer products, recyclers also need to be cognizant of RoHS regulations. For example, recycle organizations may be required to comply with lead-free regulations in electronic components like boards, cables, connectors, PCBs, metal components, and solders. Other types of recycled products that might also be subject to RoHS regulations include batteries, paint, packaging material, and plastics. Handheld XRF can be used in the manufacturing of all of these products to help ensure compliance.
Conclusion
Handheld XRF is a valuable tool in RoHS/consumer safety applications because it enables fast product and component screening to comply with regulations. Manufacturers and recycle organizations are integrating handheld XRF into their testing programs to help protect against the consequences of failing to follow RoHS regulations. The ability of handheld XRF technology to provide accurate on-the-spot material chemistry makes it invaluable for these inspection applications.
About The Author

Olympus
Olympus is a precision technology leader in designing and delivering innovative solutions and breakthrough technology in product design and functionality in its core business areas: cameras and audio products, industrial measurement and imaging instruments, life science imaging systems, and medical and surgical products. Olympus also serves health care and commercial laboratory markets with financial, educational, and consulting services. Olympus NDT Inc., located in Waltham, Massachusetts, is the U.S. marketing, manufacturing, and sales headquarters for ultrasonic and eddy current testing instruments.