This Week in Quality Digest Live
Olympus
Metrology
Handheld X-ray Fluorescence (XRF) Analyzers
Fast material analysis for safer products
Published: Tuesday, October 10, 2017 - 11:01
Restriction of hazardous substances (RoHS) regulations help protect the public from dangerous or toxic materials in consumer products and electronics. Beyond public health and safety concerns, noncompliance represents significant potential costs, including fines, product recalls, and decreased consumer confidence. For manufacturers and resellers, an effective screening program is essential to safety and compliance.
Government agencies enforce regulations to protect the public from toxicity and pollution associated with consumer products and electronics. These regulations require manufacturers and resellers to establish a reasonable testing program to help ensure compliance. Instruments like the Vanta handheld X-ray fluorescence (XRF) analyzer from Olympus provide fast, accurate identification of toxic materials such as lead, cadmium, arsenic, mercury, and other hazardous substances in consumer products. This helps manufacturers ensure their products' compliance with global regulations and standard testing methodologies, including:
• EU RoHS Directive (2011/65/EU)
• China RoHS Directive (ACPEIP)
• Japan RoHS
• Korean RoHS Directive
• USA CPSIA (HR4040)
• USA Halogen Free Directive
• California Proposition 65
• USA CPSC-CH-E1002-08 SOP
• IEC 62321
In general, these regulations require that lead, mercury, hexavalent chromium, and brominated flame retardants be present at the less than 1,000-ppm level and that cadmium be present at less than 100 ppm. These regulations extend to household appliances, consumer electronics and telecommunication devices, lighting equipment, power tools, medical devices, and even toys and sports equipment.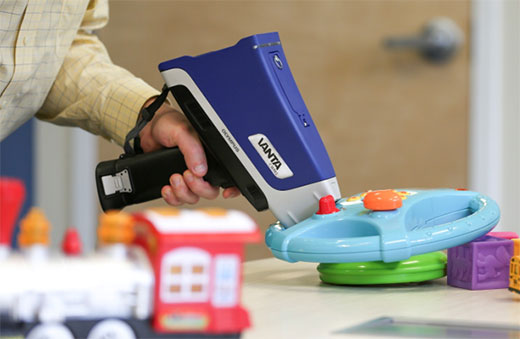 Material identification is as easy as 1, 2, 3
Handheld XRF analyzers can readily identify contaminant metals and elements with little to no sample preparation, providing fast and decisive results. While the physics and engineering are complicated, the analysis process itself is simple:
1. Choose the appropriate sample.
2. Initiate the analysis with the instrument.
3. Review, download, and store the results.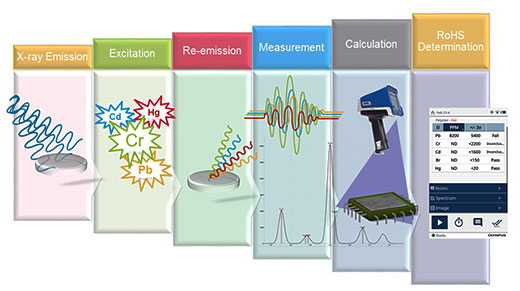 Using the Vanta XRF analyzer as part of a reasonable screening program offers two major advantages. First, XRF analysis is completely nondestructive. This helps prevent the loss of inventory associated with testing materials that turn out to be noncompliant. Second, the Vanta XRF analyzer is fast, often returning test results in as little as two seconds, enabling companies to implement a more thorough screening program in less time and without a decrease in productivity.
Interested in learning more about the inner workings of handheld XRF? Visit Olympus here.
Fast analysis, reliable results
Vanta analyzers' intuitive user interface and ultra-low-noise Axon technology help ensure easy setup and reliable pass/fail results for the identification of lead, cadmium, and other toxic metals. Since XRF testing is nondestructive, it can also be performed at any point in the manufacturing process, even on finished goods. Vanta analyzers' optional 5-megapixel panoramic camera, Wi-Fi, and Bluetooth connectivity enable easy archiving of sample images and results for comprehensive archiving capabilities.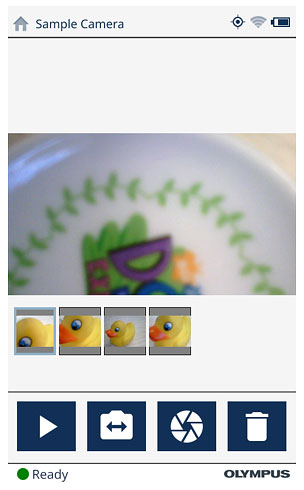 Rugged design, reliable performance
Accidental drops, collisions, dust, and water intrusion can cause costly equipment breakdowns, but Vanta analyzers are drop tested to U.S. Department of Defense standards (MIL-STD-810G) and have an ingress protection rating of IP65(M Series analyzers are IP64 rated) to help keep inspectors working. A detector shutter on silicon drift detector models also helps prevent punctures so that inspectors can analyze rough surfaces with confidence.
About The Author

Olympus
Olympus is a precision technology leader in designing and delivering innovative solutions and breakthrough technology in product design and functionality in its core business areas: cameras and audio products, industrial measurement and imaging instruments, life science imaging systems, and medical and surgical products. Olympus also serves health care and commercial laboratory markets with financial, educational, and consulting services. Olympus NDT Inc., located in Waltham, Massachusetts, is the U.S. marketing, manufacturing, and sales headquarters for ultrasonic and eddy current testing instruments.