This Week in Quality Digest Live
Coleman Flanagan
Metrology
Five Critical Features to Look for in a Portable NDT Instrument
Avoid buyer's remorse with this handy guide
Published: Monday, July 31, 2017 - 11:03
Your life as a nondestructive testing (NDT) inspector is not always easy. And if you're engaged in rope access inspections, you face additional challenges. Whether you're dangling from a rope 30 feet in the air or hanging over the ocean from a platform rig, you have to be choosy about which inspection instrument end up in your kit. If an ultrasonic flaw detector/thickness gage isn't designed properly, it doesn't take long for that "lightweight" tool to seem more like a boat anchor. Considering these five critical features when buying your next instrument will help you choose wisely.
1. Make sure it's lightweight and ergonomic
Historically, much of the NDT market has been dominated by benchtop instruments weighing only about 3 lbs. Although that means they are very portable in terms of putting them in your bag while traveling to one job site or another, 3 lbs. ends up being a lot to hold out in front of you for more than a few minutes. When you use it for hours a day, you naturally find a spot to set it down. That doesn't work in rope-access inspections.
You want the lightest tool available without sacrificing the functions you need to get the job done quickly and efficiently.
Weighing in at just under 2 lbs., Olympus' EPOCH 6LT ultrasonic flaw detector is one of the lightest instruments on the market today.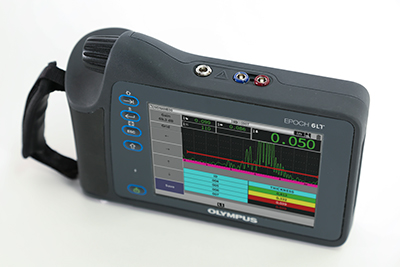 But weight is not the last word in portability. The center of gravity of a tool that's meant to be handheld must be closer to the hand grip than the middle of the instrument. The further the center of gravity is from the grip, the more likely you are to experience hand, wrist, and finger fatigue as you use the instrument over the course of minutes and hours. An ergonomic design makes the difference between lightweight and usable for an entire shift.
You need an instrument that is light, easy to grip, has weight balanced as close to the hand as possible, and has controls designed to be comfortably manipulated with the thumb.
2. Do not compromise on functionality
It's unique that a truly lightweight instrument can be flexible with different materials, have adequate penetration power, and the filtering capabilities for a good signal-to-noise ratio. However, choosing between portability and functionality is a losing proposition. That mindset can lead to purchasing an instrument that is very small but forces you to struggle to get the results you need. You don't want to spend more time refining your ultrasonic setup or trying to be creative about positioning the probe to hopefully get through the material the right way and end up with more signal noise on the screen anyway.
Skimping on functionality in favor of portability can leave you with an instrument that can't get the job done.
The new EPOCH 6LT flaw detector shines in this area with features such as:
• Tunable square wave pulser, adjustable from 24 nsec to 5,000 nsec (20 MHz to 0.1 MHz)
• Digital high-dynamic range receiver
• Eight 100% digital filter sets, including low frequency bandwidth support
• Pulser voltage up to 400 V
The power and flexibility of the EPOCH 6LT flaw detector mean it can even handle thick bonded applications like in-service wind turbine blade inspection.
The EPOCH 6LT flaw detector's optional corrosion software, with center-pin transducer ID, broadens the unit's application possibilities considerably. With that upgrade alone, the instrument is capable of 80–90% of the applications of a benchtop model. It enables the device to be operated in a mode that's as easy to use as a traditional thickness gage and gives good quality results. This is cutting-edge technology in a very portable casing.
3. Rope-access ready
Rope-access inspections demand a lightweight tool, but in many cases, you need both of your hands free to steady yourself and conduct the inspection without actually holding on to the instrument itself. Look for a unit that is designed with rope access in mind.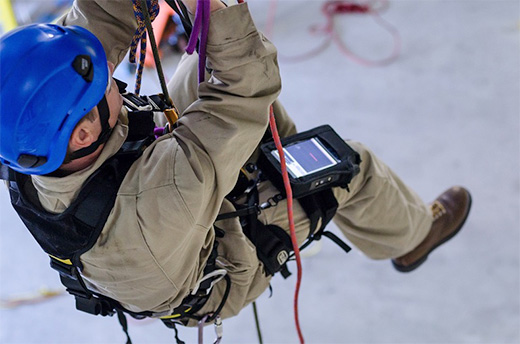 For rope access technicians, the EPOCH 6LT flaw detector offers an optional accessory kit to help keep you safe during challenging inspections. The kit secures the instrument to your leg with a strap, or attaches it to your harness, leaving your hands free to maintain balance or adjust the probe.
4. Water, dust, and drop-tested tough—to standards
An instrument that's built tough for maximum uptime is important, especially in rope access inspections.
Find a company that engineers to IP65/67, international standards that refer to a device's ability to withstand intrusion by dust, dirt, and water.
An instrument that is drop tested according to MIL-STD-810G, a procedure defined by the U.S. Department of Defense, provides you with the assurance that the drop test pass/fail is not based on the manufacturer's internal criteria.
5. Complies with EN12668-1
EN 12668-1 is a European standard that specifies methods and acceptance criteria for assessing the electrical performance of analog and digital ultrasonic instruments for pulse operation using A-scan display; these are employed for manual ultrasonic nondestructive examination with single or dual-element probes operating within the center frequency range 0.5 MHz to 15 MHz.
Even if your organization isn't required to use equipment that complies with this standard, purchasing instruments that meet it is just good sense.
In the end, your ultrasonic instrument is just a tool you use to gather data. The more time you have to spend configuring it to make it work the way you want, the less time you're spending actually using it. You want to feel comfortable using it instead of feeling like you have to use it to get your job done.
Sometimes the tool you may notice the least on a day-to-day basis can end up being the best investment in your kit.
Olympus and EPOCH are registered trademarks of Olympus Corporation.
About The Author

Coleman Flanagan
Coleman Flanagan is the senior product manager for ultrasound and phased array flaw detectors at Olympus. With more than 10 years of experience in the nondestructive testing industry managing global support, training, and resource materials for ultrasound products, Flanagan is responsible for the future development of the Olympus ultrasound and phased array flaw detectors.