This Week in Quality Digest Live
Olympus
Metrology
Alloy Identification and Weld Inspections—Easy as 1-2-3
Vanta X-ray fluorescence (XRF) analyzer provides fast, nondestructive elemental analysis
Published: Monday, November 6, 2017 - 11:01
High-volume manufacturers need fast, nondestructive testing methods to help avoid material mix-ups and to meet customer quality requirements. Quality assurance (QA) inspectors are responsible for evaluating incoming raw materials by determining their elemental makeup and assessing the structural integrity of products on the production line. QA inspectors need a reliable solution that helps them get both jobs done, quickly and efficiently.
Well-built products begin with proper materials
Positive material identification of incoming materials is especially crucial to the overall quality of welded materials, as using the wrong material can lead to structural weakness and product failure. Inspectors seeking fast, accurate, alloy verification frequently turn to handheld instruments, such as the Vanta X-ray fluorescence (XRF) analyzer.
Vanta XRF analyzers provide essential asset-integrity information to help prevent failure and increase product life expectancy. Handheld XRF analyzers also assist inspectors in accomplishing the following tasks:
• Confirming material chemistry
• Verifying incoming materials against mill certificates and material test reports
• Identifying nontraceable or improperly marked materials
While the physics behind alloy analysis is quite complex, Vanta analyzers make the process as easy as 1-2-3:
1. X-ray emission: An inspector selects a sample and pulls the analyzer's trigger. The analyzer then emits X‑rays.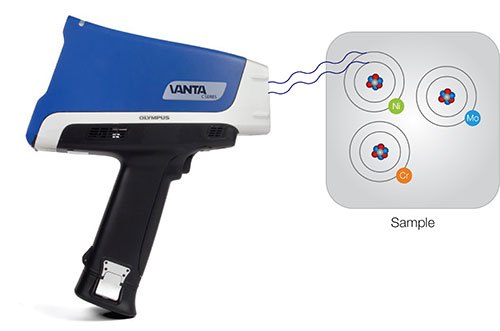 2. Excitation: The emitted X‑rays hit the sample, which fluoresces and sends X‑rays back to be counted by the analyzer's detector.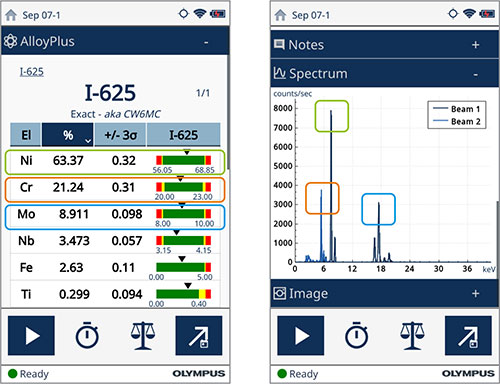 3. Measurement and results: The analyzer's detector measures the returning energy spectrum to determine the sample's elemental composition and then displays it (in the case of an alloy sample) as a specific alloy grade.


Measurement and analysis is only one part of a material verification program. Vanta XRF analyzers also feature two optional cameras, integrated GPS, and an automatic time/date stamp to easily customize, capture, and export comprehensive shot data, while optional wireless connectivity makes it easy to download and archive test results.
Identifying flaws before they become problems
With product reliability and structural integrity playing an essential role in the customer experience, weld-integrity inspections are a top priority throughout the production process. Weld evaluation begins with a thorough search for root or toe cracks, slag inclusions, or incomplete penetration using a variety of advanced nondestructive testing instruments.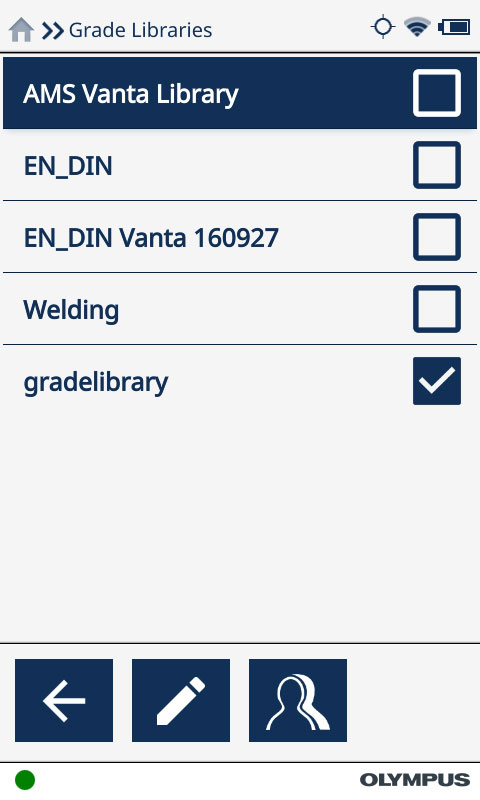 Handheld XRF analyzers contribute to this evaluation process by verifying the chemical composition and grade of welds. The Vanta analyzer's spot collimator and optional 3 mm aiming camera enable inspectors to accurately analyze thin weld beads independent of the base material, as well as other conjoined metals, alloys, and small-fixture components, such as wires and solders. Vanta XRF handheld analyzers also measure trace contaminant levels of more than 700 common alloys using a built-in residual "tramp" element library.
About The Author

Olympus
Olympus is a precision technology leader in designing and delivering innovative solutions and breakthrough technology in product design and functionality in its core business areas: cameras and audio products, industrial measurement and imaging instruments, life science imaging systems, and medical and surgical products. Olympus also serves health care and commercial laboratory markets with financial, educational, and consulting services. Olympus NDT Inc., located in Waltham, Massachusetts, is the U.S. marketing, manufacturing, and sales headquarters for ultrasonic and eddy current testing instruments.