Featured Video
This Week in Quality Digest Live
Eugene Daniell
Metrology
Engineering the Hobie Alter Memorial
Creating memorial to surfing legend requires metrology, artistry, and craftsmanship
Published: Monday, November 21, 2016 - 10:54
Sponsored Content
There are very few individuals whose contributions shape an industry and help create a culture. Hobie Alter, founder and driving force behind what we know today as the Hobie Company, was such a man. His contributions to sailing and surfing are now immediately recognizable icons, namely the sleek twin-hulled Hobie Cat catamaran he launched in the 1960s.
Moreover, Hobie Alter is one of a handful of individuals to have such name recognition that he is simply known as "Hobie" around the world. When this surf and sailing entrepreneur and pioneer passed away in 2014, the large group of friends, family, and employees he influenced over his long career united to launch a foundation to honor his memory.
The Hobie Memorial Foundation was founded in April 2015 to construct a monument to Hobie for a lifetime of contributions to the surfing and sailing industries—not only in Dana Point, California, where it all began—but across the globe. Designed by artist Lance Jost, the memorial will be a life-size bronze sculpture of Hobie sailing his Hobie Cat 14, and will be located in the city of Dana Point. In is expected to be placed some time in 2017.
To aid in the design concept, Jost teamed up with Robbie Roberson, a lifelong friend and colleague of Hobie's who began working with Hobie in 1968, initially gridding up the Hobie Cat 14 with foam for build accuracy. Along with Roberson, many of the people that helped fabricate these boats are still a part of the Hobie Foundation today. This led Jost to realize just how critical the memorial's accuracy would be to family, friends, and fans of the Hobie. An artist's impression would not be enough to honor his legacy; technical accuracy as well as artistry was required. Thus, in 2015, Jost and the Hobie family were introduced to Hexagon Manufacturing Intelligence and metrology.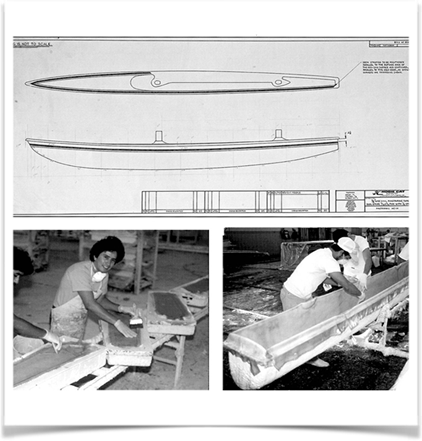 Backstory
In 1953, Hobie Alter's dad got really angry about the mess on his property. In order to remedy the mess and get his son doing something productive, Hobie senior transformed a two-car garage into the Hobie Surf Shop. Traditionally, surfers shaped balsa wood to the desired shape, but Hobie saw that there was a better way, using shaped foam-core boards covered in light but very durable fiberglass.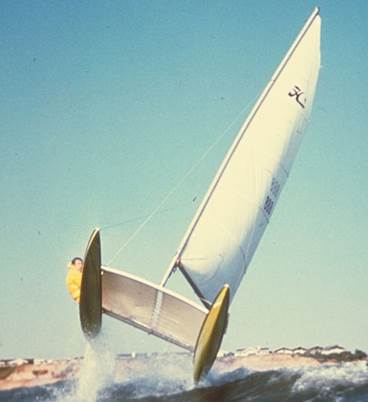 Of course, not every day is great for surfing, so many surfers embraced sailing on days when the surf conditions were not favorable. Hobie recognized that sailing didn't provide the same thrill as surfing, so in 1967 Hobie sketched a drawing in the sand at his favorite surf spot. Featuring a catamaran design crafted from shaped fiberglass and connected by a trampoline and a tall aluminum mast, twin tillers, and rudders, this design enabled sailors to play in the waves. The boat, being light and agile, accelerated very quickly and had the stability to allow skilled sailors to jump waves.
An inaugural regatta with the first six Hobie Cats was held on Poche Beach in 1968. And with that, a new design and an entire sailing culture was born. At the time, nobody knew that this was the case, but something very special had just occurred.
Art and Metrology
To craft a memorial, the artist must first have a design in mind. Typically, the way this is done is to create a small sculpture that helps bring that design to life, and then scale up the sculpture to full size for the final design. The ongoing challenge in these circumstances is how to economically and accurately scale a model from concept to life-size. In the case of the Hobie Memorial, the statue was made more complex because the foundation wanted to recreate a photo of Hobie sailing his Hobie 14 for the memorial, requiring tremendous realism in the sculpture.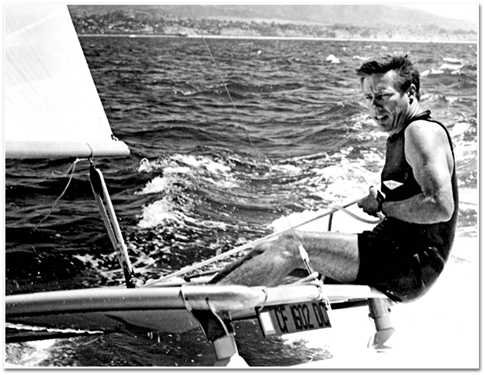 Over the centuries, artists have used everything from slide rules to calipers, creating different means of enlarging their art. This made it very difficult to get a truly scaled end product, even with great diligence and investing tremendous energy on this task.
Point-up process
The method that Jost, and most sculptors are taught, is called the point-up process. This is a method of enlarging a sculpture by taking a measurement or point from a maquette—a small preliminary model—and multiplying it by how many times it needs to be enlarged. Sculpting the larger piece, the artist would use the point measurement from the maquette to define the corresponding point on the enlargement, repeating the process point after point. While this hundreds-year-old method does work, it is not very accurate and is extremely time-consuming.
Having used metrology services in the past, Jost knew that the powerful scanning technologies offered by Hexagon Manufacturing Intelligence's ROMER Absolute Arm would provide the speed and accuracy that this work demanded. For this project, Jost elected to use the ROMER Absolute Arm instead of the traditional point-up process. The ROMER arm helped ensure that the sculpture of Hobie Alter sailing the Hobie 14 would be as true to life as possible, and properly scaled to the required dimensions. In addition, from a business standpoint, using modern scanning technology enables Jost to greatly accelerate his build process, thereby making a complex project like this one profitable for him. The time and rework necessary using the point-up process would have made the work so costly for Jost that completing the memorial would have been all but impossible. Using scanning technology has enabled Jost to take on more complex projects, build them much more quickly, and spend his time focusing on where it makes the most impact: creating lasting works of art.
Metrology to the rescue
From an engineering standpoint, scanning the Hobie 14, and a man of Hobie Alter's approximate height and body type, provided the realism he needed, enabling him to deliver a quality product, with the confidence that it was accurate and captured the desired energy in the monument.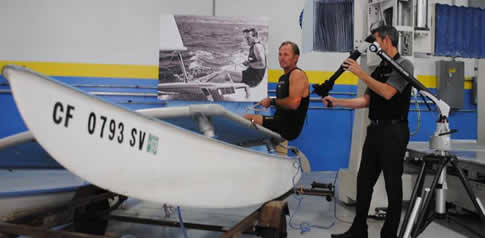 Because the monument is going to be placed outdoors, in a marine seacoast environment, the monument must be exceptionally robust. Thus, the Hobie 14 is planned to be built from a heavy fiberglass construction from a composite construction fabricator. Featuring dimensions ranging from a 14-foot long hull, a 6.6-foot tall Hobie Alter sailing the boat, plus the 22-foot mast and 7.6-foot overall beam measurement, this is a sizable monument for even the most predictable outdoor environment.
With the engineering services in place, the ROMER Absolute arm was used to meticulously scan the components for the monument. Sophisticated VERO Software SurfCam tools were used to engineer detailed milling and part-modeling plans. This enabled engineers to create a polygonal mesh that is used to very accurately recreate the art that Jost created for this project.
Using talented local fabricators, these highly accurate models are being used to craft the boat with life-sized Hobie Alter sailing his beloved craft. Planned as a bronze statue located at a prominent point overlooking the beach at Dana Point, this memorial brings together the innovative design and water sports culture Hobie brought to life in 1953.
Known by just one name, "Hobie," Hobie Alter launched a new industry and the foundation for a water-sports culture. While his loss is still felt by the community he helped build, his memory lives on every day when enthusiasts surf, sail, or paddle the extraordinary number of watercraft his organization has helped bring to life.
About The Author

Eugene Daniell
Eugene Daniell is the ROMER Absolute Arms product manager at Hexagon Manufacturing Intelligence. In this role, Daniell drives the creation of new measurement solutions through integration and automation of Hexagon Manufacturing Intelligence's core products. This portfolio of solutions includes Coordinate Measurement Machine (CMM) technologies, laser tracker and white light (WLS) solutions that integrate with machine tools, robotics, and automated environments.Daniell has worked in industrial manufacturing for more than two decades, solving chemical, mechanical, and electrical challenges for a wide variety of applications. His background includes software development for industrial automation, as well as semiconductor process development and manufacturing precision parts for aerospace and medical applications.
He holds a chemical engineering degree from the University of Massachusetts Amherst.