This Week in Quality Digest Live
Alex Lucas
Metrology
Preventing and Overcoming Inspection Bottlenecks
An innovative solution
Published: Thursday, August 27, 2015 - 11:59
Has your business ever dealt with a bottleneck caused by your inability to check parts quickly? Have you ever missed a shipment deadline because your coordinate measuring machine (CMM) couldn't measure a production batch in a timely manner? Could you manufacture more parts if you only had the ability to inspect them faster? If you answered "yes" to any of these questions, then laser scanning technology may be the solution for you.
Laser scanning has been around for more than 20 years, and although there is no shortage of applications for these systems, there are plenty of reasons why more and more companies have started replacing their old measuring technology with laser scanners. First and foremost, laser scanners dramatically increase inspection productivity, both through acquisition speed and ease of programming. Second, they tend to offer better insights into deviations earlier in the process, offering fewer and shorter design iterations and a decreased time to market. In addition to these benefits, this noncontact method of inspection eliminates the need for costly and bulky holding fixtures as required with a conventional tactile probe.
As an example, Nikon Metrology's latest generation scanner, the InSight L100, is an excellent alternative to tactile probing. Applications for the L100 can include automotive sheet metal, aerospace and power-generation turbine blades, injection-molded plastics, and even medical orthopedic implants.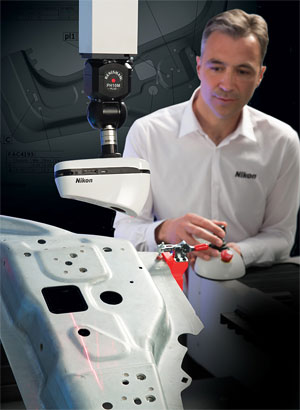 The InSight L100 brings a number of new innovations to the table, including a larger field of view (for quicker cycle times), greater spatial point resolution (for better detail scanning), a built-in rotation adapter (for more flexibility and versatility), an integrated field-of-view indicator (for easier programming), and a greatly improved ability to collect data on what previously had been hard-to-scan surfaces (for reflective and multicolor surfaces).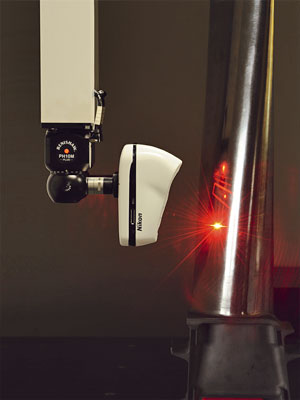 When you take a peek under the hood of the L100, you see a probing error (MPEP) of 6.5 µm and a multi-stylus error (MPEAL) of 6 µm. Coupled with a scanning speed of 200,000 points/second at a spatial point resolution of 42 µm, the L100 is capable of quickly capturing a large amount of detail. Ultimately, what drives the speed and accuracy of the InSight L100 is the customized Nikon lens. Developed by the same Nikon research and development team that designs world-class optics for everything from DSLR cameras to biological microscopes, and industrial microscopes to riflescopes, the optics in the L100 are specifically tailored to laser scanning applications to yield the best-possible image quality, resulting in unparalleled laser scanning accuracy, making it an easy solution to many companies' inspection roadblocks.
To learn more about this innovative technology, join me and Quality Digest's Dirk Dusharme on Tues., Sept. 1, 2015, for an exclusive webinar featuring the InSight L100 in action. Click here to register.
About The Author

Alex Lucas
Alex Lucas is the sales development manager for scanning products at Nikon Metrology. Lucas's responsibilities include meeting with potential customers to better understand their inspection processes, and advising how incorporating laser scanning technology can increase inspection throughput and improve their bottom line. With a degree in mechanical engineering from the University of Michigan, Ann Arbor. Lucas possesses the knowledge to offer practical hardware and software to meet any inspection challenge.