Featured Video
This Week in Quality Digest Live
Gene Daniell

Metrology
Portable Measuring Arms Buyers Guide
Tips for making strategic portable measurement technology investments
Published: Monday, May 23, 2016 - 15:58
The portable measuring arm, or portable arm coordinate measuring machine (CMM) has become an important quality control tool at many manufacturing companies. With the flexibility to be used nearly anywhere on a manufacturing floor, from in-process checks to large-scale assembly to inside machine tools, measuring arms have the capability to deliver real-time feedback right at the point of production.
The first-time buyer, and even repeat buyers, may be overwhelmed by the variety of features, accessories, and capabilities available. Even those knowledgeable about CMM technology may find the conventions of measuring arms to be unfamiliar and confusing. It is the purpose of this article to provide insights about what to consider when sourcing a portable arm CMM, and specific things to look for as your organization makes this investment in quality and productivity.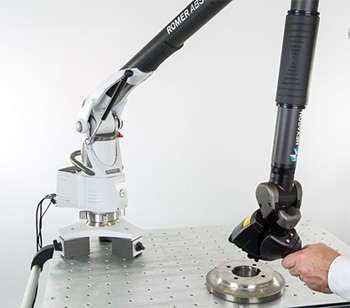 Figure 1: Selecting a portable measuring arm can be confusing. Organizations that make good strategic decisions about their portable arms system gain a flexible measurement solution that delivers real-time feedback at the point of production.
Tough enough
Advanced manufacturing facilities can be very tough environments for sensitive measurement technologies. It's unrealistic to expect that the system will be used only in a laboratory environment, free from the challenges that vibration, light, and dust bring to accurate metrology. In various industries, you need a measuring tool that is portable but can withstand even the toughest environments.
Dim light, temperature changes, and contaminants are just some of the problems customers like you are facing daily. When making your purchase decision there are a few features that are crucial to consider for those of you exposed to harsh environments.
Fortunately, materials, technology, and good engineering has delivered a measurement solution for harsh production environments. Choose a robust system that includes carbon-fiber construction, sensory feedback, flying-dot technology, wireless scanning, and battery scanning:
• Carbon fiber construction eliminates the need for temperature compensation. The arm does not lock up with minor temperature changes.
• Sensory feedback causes a haptic feedback to vibrate the wrist to alert users in noisy environments.
• Flying-dot technology provides automatic exposure adjustment point by point; this works best for even the most difficult to measure surfaces.
• Wireless scanning features allow the user the ability to transmit scan data from arm to computer without a USB or network cable. This is ideal for environments where contaminants could corrode or cut cables.
• Lastly, battery scanning features allow the user the ability to scan data without power cords! This is also ideal for environments were contaminants could corrode or cut cables.
Making a smart scanner selection
To obtain the versatility you need from your portable solution, you need a scanner. But first, there are a few things you need to consider. There are two types of laser scanners: integrated and external scanners.
How do integrated and external scanners work?
Laser scanners work by projecting laser light onto a part and viewing the projected light with a high-resolution camera. The camera is precisely calibrated so that it can report the position of each pixel in its field of view, every frame.
Hexagon Manufacturing Intelligence offers two styles of laser scanner for use on the Absolute arm. The first is the laser line scanner (Integrated laser RS3), which is the most popular style of laser scanner. It's fast and can make automatic laser power and camera exposure adjustments from each line projection between each frame. The second style of laser sensor Hexagon offers uses the flying dot method of laser projection, which has the advantage of making laser power and camera exposure adjustments for every laser point and camera frame (external sensor HP-L-20.8). The laser line scanner is suitable for parts that are relatively uniform in color or reflectivity, where the flying-dot style is better for parts that have variable color and/or reflectivity.
Laser scanning provides these benefits to your measurement process:
• Rapid capture of free-form surfaces
• High-density point cloud for accurate feature inspection
• Reliable measurement of fragile, flexible, and soft parts
• Increased productivity with shorter measuring times
• Complete digital copies created in minutes
An integrated scanner is always attached to the arm and is very compact and versatile. An external scanner can be detached from the arm and shared with another arm or a stationary CMM.
When finding the right scanner for your organization, there are some things you need to consider.
Let's start with an integrated scanner. You can use the integrated scanner for most measurement needs. Let me explain further: The integrated laser can be used wirelessly but the external scanner cannot. Integrated laser scanners do not need warm-up time or additional cables and controllers. Scanner and probe measurements are combined in the same software session.
Point cloud inspection, product benchmarking, reverse engineering, rapid prototyping, virtual assembly, or CNC milling are just some of the typical laser scanning applications that can be added to touch-probe measurement applications. External scanning also offers reliable performance on the most complex surface types. Using an external scanner, width and point density can be adjusted to meet specific application requirements. In other words, smaller parts with many contour changes can be scanned with higher point density, and parts like a truck hood can be scanned with wide scans and lower point density.
However, automatic laser control means that multiple surface colors can be scanned in a single pass. The external scanner provides a unique flying-dot technology; the scan width and point density are entirely variable, providing maximum scan detail where it's needed most.
Intelligent ergonomics
Speed and accuracy are at the heart of why organizations seek to integrate a portable CMM system into their operations. The quality and productivity benefits from a portable arm are indeed many, but selecting an arm that is easy to use is a very important consideration.
One often overlooked part of a purchase decision for a portable CMM is ergonomics. Because the arm is a manual device, it's always in the hands of the operator. It's truly impossible to judge the "feel" of an arm without holding and using one.
What do we mean by ergonomics? Ergonomics is essentially fitting a job to a person—it helps lessen muscle fatigue, increases productivity, and reduces the number and severity of work-related disorders. When considering ergonomics, the top three beneficial features are the ergonomic wrist, having a counterweight/counterbalance, and ensuring that the arm is "sized right" for your application. The ergonomic wrist feature is designed around the contours of the human hand. Being able to conveniently operate the device for a long period of time is essential for effective operation.
Selecting a solution that offers counterweight/counterbalance features that offset arm weight during operation, you can reduce operator fatigue and increase system accuracy, too. Having the arm "sized right" for your application allows the user to have the arm of a proper length to inspect the largest part without having to move (leapfrog) the arm.
Learn more
Due to the rich feature set that portable measuring arms provide, determining how to select a portable arm can be a challenge unto itself. Selecting a robust, ergonomic measuring arm that offers the right scanning solution for your operation is a strong starting point for making your portable arm selection; to get more detailed insights about what to consider when sourcing a portable arm CMM, and specific capabilities to look for as your organization makes this investment in quality and productivity, download our Portable Measuring Arm Buyer's Guide.
About The Author

Gene Daniell
Gene Daniell is the ROMER Absolute Arms Product Manager at Hexagon Manufacturing Intelligence. In this role, Daniell drives the creation of new measurement solutions through integration and automation of Hexagon Metrology's core products. This portfolio of solutions includes Coordinate Measurement Machine (CMM) technologies, laser tracker and white light (WLS) solutions that integrate with machine tools, robotics, and automated environments.
Mr. Daniell has worked in industrial manufacturing for more than two decades, solving chemical, mechanical, and electrical challenges for a wide variety of applications. His background includes software development for industrial automation, as well as semiconductor process development and manufacturing precision parts for aerospace and medical applications.
Gene Daniell holds a chemical engineering degree from the University of Massachusetts Amherst.