Featured Video
This Week in Quality Digest Live
Frank Lafleur
Metrology
Bigger Picture, Better Data
New advances in industrial videoscopes
Published: Tuesday, May 3, 2016 - 10:52
Among the many test and measurement tools available to the shop-floor professional, the videoscope (also known as a video borescope) is one of the most practical, with great portability and ease of use. Videoscopes allow users to inspect for flaws, faults, or deformations in enclosed parts or workpieces such as pipes, combustion chambers, or turbines.
High resolution and clear, bright images define today's best-in-class videoscopes, such as the IPLEX NX videoscope from OLYMPUS. The IPLEX NX is designed to make inspection faster and easier with great maneuverability, an intuitive interface, and many handy features.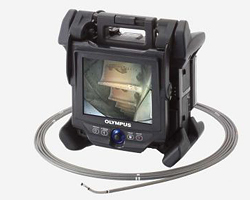 True-to-life images are crucial to visual inspection, and the IPLEX NX combines advanced features and technologies for a brilliant image and excellent resolution. An 8.4-in. touch screen displays vivid images, while bright laser diode illumination lights up large cavities for streamlined inspection. When inspecting potential flaws up close, PulsarPic image processing intelligently adjusts illumination to reduce glare and whiteouts, displaying small details and faults with excellent clarity and color reproduction. This new system's noise-reduction algorithm is designed to diminish artifact colors and noise. With optimized optics, CCD technology, and illumination, the IPLEX NX delivers clear images for efficient inspections.
Super Wide Field Stereo Measurement is standard on the IPLEX NX. As compared to conventional stereo measurement equipment, the measurement area on the IPLEX NX is four times larger, and inspectors can measure flaws from twice as far away. The expanded measurable inspection area makes stereo measurement easier than before. Multispot ranging measures the distance from the scope tip to five points on the surface, providing real-time measurement information so inspectors can better understand the surface's shape and condition.
The IPLEX NX easily adapts to the inspector's work environment, whether it be applications involving the inspection of pipes, vessels, turbines, pumps, or tanks. Quickly set up the IPLEX NX as a workstation or take advantage of its portability. Separate the monitor from the base with a 2 m-long cable for convenient placement. The inspector can even hold the monitor like a tablet or control the inspection with a lightweight remote controller.
TrueFeel articulation gives the inspector precise scope control with a soft touch. Combined with a resilient TaperedFlex insertion tube, the IPLEX NX provides exceptional maneuverability. With increased insertion tube flexibility toward the distal end, the insertion tube can easily bend and navigate tight corners, while the more rigid end provides pushing power.
The scopes on the IPLEX NX can be quickly changed, maximizing your investment and enabling the NX base to be used with scopes of various lengths and diameters. Scopes are currently available in a 6 mm diameter with a length of 3.5 m, 5 m, or 7.5 m as well as in a 4 mm-diameter with lengths of 3.5 m or 5 m.
The IPLEX NX's four-layer insertion tube construction provides crush resistance, chemical resistance, waterproofing, and a tungsten braid exterior for abrasion resistance. The scope can be used in high-temperature environments up to 100° C, and is IP-55 and MIL-STD 810-rated for resistance to dust, rain, fog, and dropping for maximum uptime.
Improve your workflow and make confident decisions more quickly with optional Wi-Fi and OnSight connectivity to share recorded images and stream inspections live to remote locations. InHelp reporting software streamlines and standardizes documentation with customized formats, so inspectors spend less time creating reports.
Videoscopes are a sturdy, reliable, and efficient way to inspect internal features, and OLYMPUS' IPLEX NX is a good choice for those seeking great visual quality, flexibility, and at-hand connectivity.
About The Author