This Week in Quality Digest Live
Thomas R. Cutler
Management
Quality Starts With Communication
Training a multilingual workforce to ensure quality and safety
Published: Tuesday, March 28, 2017 - 12:03
Two years ago, the marketing research division of Florida-based TR Cutler Inc. interviewed CEOs of privately held manufacturing operations in North America and reported that their top fear was a lack of communication with employees due to the inability to motivate or inspire the workforce. That research was recently replicated, and while communication breakdowns are still the No. 1 fear, the reasons and importance are quite different: It's about communicating with a multicultural workforce.
In 2015, 20 percent of these CEOs identified communication challenges as being generated by multiculturalism, but by early 2017 that percent doubled to 40 percent. CEOs indicated that the communication problem was about creating a culture of quality in an increasingly multilingual workforce.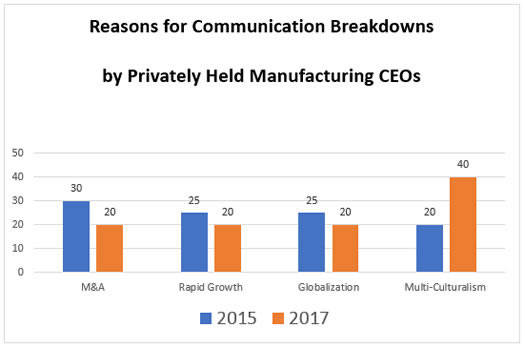 Figure 1: Reasons for communication breakdowns by privately held manufacturing CEOs (© 2017 TR Cutler, Inc.)
"Advancements in technology are often met with resistance, especially when the workforce fears displacement," says Ignacio Isusi, a multicultural industrial communication expert who drives best-practice leadership. "The rise of automation is often associated with the threat that companies will outsource labor to machines. It is up to executive leadership in the C suite to ensure that the employees feel valued, respected, and perceive their critical role to the future success of the company."
Isusi, who operates the leading cross-cultural executive coaching firm ISUMAS Coaching, says "Spanish-speaking executives being fully understood by English-speaking employees, and English-speaking executives being understood by Spanish-speaking employees must be a top requirement to maintain a quality-centric work environment."
This is not merely a matter of translation or dual-language workplaces. Industrial leaders must capture the communication needed to honestly empower and engage employees. The foresight of devising impactful and effective employee engagement, and supporting safety and quality initiatives is essential.
A cultural communication context to ensure quality and safety includes training a multilingual workforce. It is an urgent challenge for many industry sectors, particularly in all aspects of manufacturing. In food and pharma manufacturing, as well as automotive and aerospace, a misunderstood assembly or hazard analysis critical control point (HACCP) is literally the proximate cause of an employee or customer death. These dangers are not hyperbole, but rather a daily occurrence. Isusi insists, "Industrial leaders must properly accommodate the linguistic needs and preferences of employees in order to increase retention rates and satisfaction, ensure safety, and achieve success."
While interfacing with many multinational organizations, Isusi quickly discovered that language barriers are not only an international challenge, but also a North American domestic issue: There will be 63 million Spanish speakers by 2022 and growing. Despite slowing growth rates in the United States, Pew Research reports that Latinos still accounted for more than half of total U.S. population growth from 2000 to 2014. Hispanics drove at least half of overall population growth in 524 counties that had at least 1,000 Latinos in 2014. In these counties, Hispanic population growth accounted for 54 percent or more of total growth.
More than half (53%) of the nation's Hispanics lived in 15 metropolitan areas in 2014. Los Angeles-Long Beach-Anaheim topped the list with 6 million Hispanics in 2014, a majority of whom are U.S. born, as is the case in most of these metro areas. Immigrants made up the majority in two of the top 15: In Florida's Miami-Fort Lauderdale-West Palm Beach, 61 percent of 2.6 million Hispanics were foreign born in 2014, while in Washington-Arlington-Alexandria (which includes the District of Columbia and parts of Virginia, Maryland, and West Virginia), 53 percent of 900,000 Hispanics are foreign born.
Isusi, based in Key Biscayne, Florida, finds more South American C-level executives welcome the needed shift in communication to make quality assurance professionals offer a training curriculum to connect with employees. Isusi insists that it is a lack of consideration for employees that do not speak the primary language of the workplace, and it invariably causes detrimental effects from product defects, poor customer satisfaction, poor work environment morale, and poor worker retention.
Failure to completely understand training materials leads to inferior employee performance, negatively affects morale, and underutilizes workers. In the manufacturing sector, this translates to poor throughput and deficient productivity. Most seriously, lack of comprehension of safety and regulatory training may lead to injury or death.
With the current near-low unemployment, employee engagement and retention is critical, and professional coaches are being hired in record numbers to work with leaders to reinforce that training employees in their first language not only ensures a more complete comprehension of the material, but also shows care and concern for professional development.
Forward-thinking, progressive manufacturing executives are also considering the high percentage of current workers who will soon be retiring.
Isusi says that only with effective communication coaching will best-in-class industrial leaders be able to keep good workers on the job because they feel appreciated. At the same time, companies should invest in programs to better prepare management going forward, with a goal of creating multilingual quality workforces. The net result will be increased productivity and morale, better safety and quality metrics, and profitability.
About The Author

Thomas R. Cutler
Thomas R. Cutler is the President & CEO of Fort Lauderdale, Florida-based, TR Cutler, Inc., (www.trcutlerinc.com) Cutler is the founder of the Manufacturing Media Consortium including more than 6000 journalists, editors, and economists writing about trends in manufacturing, industry, material handling, and process improvement. Cutler authors more than 500 feature articles annually regarding the manufacturing sector and is the most published freelance industrial journalist worldwide. Cutler can be contacted at trcutler@trcutlerinc.com and followed on Twitter @ThomasRCutler.