This Week in Quality Digest Live
Dan Jacob
Management
Quality's Role in Successful New-Product Introduction
Benchmark your organization against ongoing research from LNS
Published: Tuesday, March 6, 2018 - 13:03
Developing high-quality products is more important today than ever before. Market visibility to product quality has never been higher, and competitive pressures continue to squeeze margins and time to market. Manufacturers must consistently deliver better, faster, cheaper. It's easy to deliver on any one of those adjectives, difficult to accomplish two, but a strategic, collaborative, and digitalized effort is required to consistently achieve all three.
How do you measure up against the market? Are you ready to benchmark your organization's quality contribution to new-product introductions (NPI)?
Quality: A lever to achieve top NPI objectives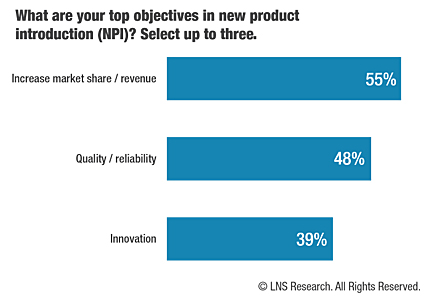 Quality teams certainly can't solve this problem single-handedly, but the quality team holds more of the keys than it might imagine. Early research into this topic by LNS Research reveals that companies' top three objectives in NPI are increase market share/revenue, quality/reliability, and innovation (n = 185). Obviously, quality plays a major role in the second objective, but it also has a significant impact on the other two.
Today's market dynamics have increased quality's role in market share and revenue. This is true in business to business (B2B) and business to consumer (B2C) sales, although the reasons are different. For instance, B2B customers increasingly pair risk-based supplier scorecards and enhanced data gathering and management to guide future supplier contracts. Quality is a critical KPI in scorecards; therefore, quality is increasingly important to win contracts.
On the B2C front, quality's role has changed dramatically with the advent of internet marketplaces and social media. Consumer reviews and five-star ratings mean broad visibility to good quality and quality defects alike, which directly influences consumer purchasing behavior. Visibility to quality and its importance in purchases has never been higher and will likely continue to grow.
Have you ever considered that quality also plays an important role in innovation? Although not all manufacturers include lessons learned from prior product generations in new product development, LNS Research data show that 89 percent of companies that do rely on data from quality management systems. This is one of several important inputs from quality for innovation.
So, how do we properly position quality to improve NPI success? Quality leaders must focus on making a strategic, collaborative, and digitalized effort for new products that are better, faster, and cheaper.
Make your quality effort STRATEGIC
Quality departments can be guilty of having a quality-centric or compliance perspective about its contributions, when in fact quality is a significant contributor to operational and financial performance. LNS recommends that quality teams "look up and out" in the organization. "Look up" to top management to understand their strategic objectives, initiatives, and metrics/KPIs. "Look out" to peers such as product development and operations, and again capture their objectives, initiatives, and metrics. Quality should use these insights to augment its own objectives and initiatives, and clearly trace them to the success of corporate and peer strategies where appropriate.
Why is this approach so important for NPI success? LNS data show that one of the top roadblocks to NPI success is organizational silos, a long-standing challenge. Second, changes to culture occur slowly without active top management support but occur rapidly when top management champions the change.
Set your sights high and do the necessary strategic work to drive change. Research by LNS is a good source to help with this shift. It has revealed effective frameworks and solid data that quality leaders can use to support this work and provide credibility to claims, which have been proven repeatedly in practice.
Make your quality effort COLLABORATIVE
Quality doesn't typically own the NPI process, and neither do many of the other players in NPI such as supplier management, procurement, and production planning. A successful NPI process must engage multiple roles and disciplines effectively. This multi-role approach reduces costly late-cycle changes while providing further benefits to quality, which should be engaged in supplier sourcing (supplier quality management), product validation, production planning, and other processes. Proactively embedding quality into NPI and its many subprocesses is symbiotic, and ultimately leads to faster time to market and higher product quality.
Companies and quality leaders that take a proactive multi-role approach are more likely to achieve positive outcomes. Those that don't are at higher risk of late cycle changes that require compromises between project schedule, project cost, and initial product quality. They're forced to ask questions like, "Do we delay the launch to achieve an acceptable level of known quality defects? Will we exceed our project budget to fix expensive late cycle findings?" While late cycle compromises can always be damaging, the visibility to bad compromises has never been higher.
It's not enough to speed products to market; to build a successful brand and improve profitability, your products must be high quality. This requires a collaborative effort that spans quality culture, leadership commitment, organization, processes, data, and analytics to achieve strategic objectives.
Make your quality effort DIGITALIZED
It's clear that current market dynamics make quality a critical differentiator for both margins and revenue. Strategic alignment and designed-in quality processes are must-haves. However, manufacturers looking to differentiate need a solid plan for quality data and analytics. Recall W. Edwards Deming's famous quote: "In God we trust; all others bring data." Market leaders live by this mantra, and they have built enterprise-wide data architectures that provide real-time visibility for data-driven decisions.
"Data-driven decisions" certainly includes traditional data in systems such as enterprise quality management software (EQMS) and others. Increasingly it also includes sensor data from operations housed in data lakes. Innovative manufacturers couple these data with advanced analytics to create new insights and push quality to previously unattainable levels.
Fortunately for the rest of the market, these systems have become progressively easy to deploy, making it easier than ever to embed quality insights into NPI and operations.
Where the quality leader fits in
These insights are based on early findings around this topic. LNS is currently conducting research into the market's adoption of strategic, collaborative, and digitalized quality efforts and the outcomes on NPI. The study drills into people, process, and data practices employed across the multiple phases of NPI, as well as current performance against key metrics.
We're seeking input from more manufacturers. Specifically, we're looking for details from quality, product development, operations, new product validation, supply chain, and procurement professionals. Early participants say that taking the survey itself is thought provoking.
Industrial companies that participate in the survey will have access to the final publications, including the ebook with core frameworks, data, and guidance, plus several publications with findings for specific roles. To participate, visit blog.lnsresearch.com/npi-survey.
About The Author

Dan Jacob
Dan Jacob is a research analyst at LNS Research primarily focused on the enterprise quality management systems (EQMS) practice. Jacob has more than 20 years of experience in quality, reliability, risk, and safety across several industries, primarily automotive, aerospace and defense, high tech and electronics, and medical devices. Jacob also operated his own firm providing engineering consulting to the medical devices and metals industries. Jacob graduated Magna Cum Laude from the University of Pittsburgh with a bachelor's degree in mechanical engineering.