Featured Video
This Week in Quality Digest Live
Ryan E. Day
Management
Jay Leno's Garage
Best of show meets best in class
Published: Monday, October 16, 2017 - 12:02
By any measure, a $50 million car collection is a whopper. When your collection includes fully restored muscle-car icons, ultra-rare vintage originals, one-off factory concept cars, and... oh yes, a 2017 Ford GT super-car—it is a spectacular whopper. At a car show, you would win Best of Show. But what happens when your 1934 Frazier Nash with a Blackburn engine needs a new crank case? Let's just say, you're not going to find one at the wrecking yard. Most likely, not anywhere else, either—you have to make one. Best of Show, meet Best in Class.
In this case, the car collection—Best of Show—belongs to legendary comedian Jay Leno. With more than 200 vehicles, Leno's stunning automotive menagerie includes cars, trucks, motorcycles, and aircraft. More than a few are so rare, Leno and his crew can't find all of the parts needed to restore and maintain them in running order. As Leno quips, "We got a lot of broken stuff here." To help alleviate the "unobtanium" issue, Jay Leno's Garage employs the FARO QuantumS ScanArm—Best in Class.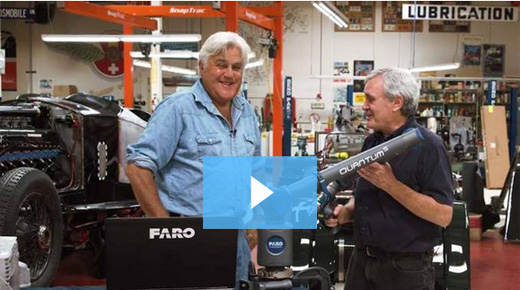 Jay Leno's Garage Receives Its New QuantumS FaroArm
"For any number of our cars here, there are no junk yards, you're not going to find parts lying around anymore," says Leno. "You literally have to make everything now. This really is the golden age of automobile restoration. You can restore cars that were thought to be junk or useless because you couldn't get parts. We've made water pumps, connecting rods for steam engines... [our FaroArm] has literally saved a lot of vehicles from the scrap heap. It's pretty exciting."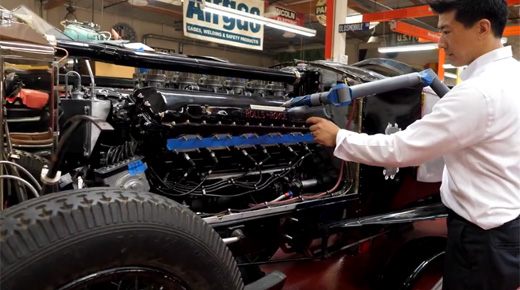 The QuantumS is engineered for zero warm-up time, and is the first—and only—measurement arm to meet the ISO 10360-12:2016 international measurement accuracy standard. It is also Wi-Fi ready, which makes it ultimately portable.
"I'm excited by this," says Jim Hall, chief fabricator at Jay Leno's Garage. "It's really cool to [have] the newest FaroArm. This is so much lighter and easier to maneuver around. I love that you can hot-swap the batteries.
"A lot of these cars, we don't have blueprints for," Hall continues. "The Smithsonian does, but I couldn't get ahold of them. We have to go measure everything so we can do the engineering we need to do. When we [scanned the crank case for the Frazier Nash] it was a combination of [using the laser and the touch-probe]. The laser scan gave us the basic shape, and the probe allowed me to pick up exactly where all the bolt holes [and journals] were."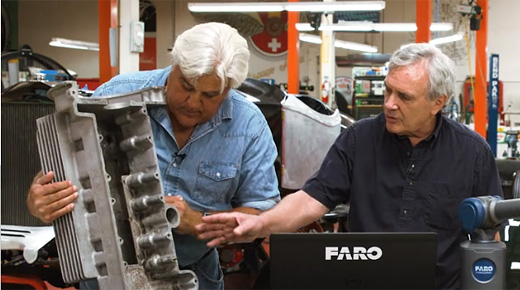 "That [crank case] would have cost us $10,000 to make with a wood pattern, etc.," says Leno.
Leno is impressed with the level of support FARO provides.
"When we started making parts, we had a lot of questions," he recalls. "The first days of new technology are always tricky because you're used to doing it a certain way. The fact that we can call [FARO support] any time and get them on the phone to walk us through it has helped us tremendously. I think [the FARO support team] is the single most important thing."
As cool as it is to see the QuantumS FaroArm and with FAROBlu Laser Line Probe HD at Leno's garage, the real question is, "How can these metrology solutions improve your organization's throughput and profitability?"
About The Author

Ryan E. Day
Ryan E. Day is a Quality Digest contributing editor and principal administrator of the company's content marketing program, which brings together those seeking business improvement solutions, and solution providers. Day has spent the last 7 years researching and interviewing top business leaders and continuous improvement experts including Sakor, Ford, Merchandize Liquidators, Olympus, 3D Systems, Hexagon Intertek, InfinityQS, Johnson Controls, FARO, and Eckel Industries. When not developing engaging and informative content, Day might be found polishing his html and css skills, or hanging out with his 20lb American Tabby cat.