This Week in Quality Digest Live
Ryan E. Day
Management
Ergonomics and the Remote Worker, Part 1
In which the Hunchback of Quality Digest pays attention to his neck and shoulder
Published: Thursday, March 22, 2018 - 11:03
Before transitioning to journalism, I worked in manufacturing, production, and high-volume auto repair for decades. When I finally swapped my blue collar for white, I figured my old body would appreciate the switch to something less physically demanding. And it did—for about six months. I learned the hard way that desk work can also result in musculoskeletal injuries.
In the Quality Digest office, ergonomics is always a hot topic. Or should I say, avoiding sore necks, aggravated backs, and eye strain are hot topics? Now, our leadership team has always been willing to explore ways to improve our personal work spaces, but as our entire staff is considering the pros and cons of working remotely for a good portion of the week, a new wrinkle has manifested: ergonomics in the home office.
Our team has done a fair amount of experimentation as far as choices in seating, desks, and monitors goes. We've also done the obligatory internet research as to ergonomic best practices for those who earn a living at the computer. One thing we have not done is engage a professional consultant. After all, when you have the Great Google at your disposal, how can you go wrong? Well, since I now have chronic pain in my neck, right shoulder, and the back of my right thigh, maybe plenty can go wrong. Something has to change, and now that I spend more than half of my work week at my home office, I feel personally responsible to seek improvements. I guess I will consult with the ergonomic specialists.
I am familiar with the high-quality efforts of Humantech Inc. from my work at QD, so I reached out to them for advice. Jennifer Sinkwitts, marketing, communications, and public relations manager at Humantech, suggested their Ergopoint offering. Ergopoint is "a web-based solution for managing ergonomics in nonindustrial environments." The following video is a short promo explaining the general concept.
Apparently, the first stick figure depicting someone hunched over their computer is literally modeled on my current work habits.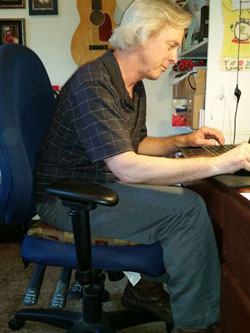 The Hunchback of Quality Digest in his home environment.
Ergopoint's self-paced, web-based curriculum is divided into three categories:
Learn. This portion "provides training and self-assessment tools to address common areas of concern, and empowers individuals to identify issues and improve the ergonomic fit of their own workstations." This section is informative and moves quickly and easily, and includes knowledge checks for learning verification.
Do. Here, "data collected from Ergopoint's employee self-assessment helps to prioritize issues and show trends in equipment needs." This section addresses offices, remote, and mobile work, as well as material handling. It also moves quickly, but in a fairly thorough manner. Feedback and recommendations for immediate action are based on the self-assessment in the first section.
Manage. Geared toward the leadership team, Ergopoint provides analysis and reporting so that "you as the facilitator can address hundreds or thousands of workstations in half the time.
­• Shows you who needs individual assessments or follow-up
• Helps with equipment needs and purchasing planning
• Stores and shares follow-up assessment results and notes"
Humantech was gracious enough to grant me access to Ergopoint for scrutiny, so I put it to the test in my own humble home office environs. The program was easy for me to navigate, provided a wealth of information—and revealed how woeful my equipment setup is.
One of the biggest issues is that when I began working remotely, I began using a laptop, a hand-me-down desk, and a salvaged office chair. The laptop is by far the most problematic, with the desk running a close second.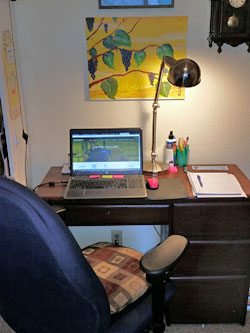 My current home office computer area. The laptop screen is too small to see when at the proper distance from my eyes, the screen is also too low in my field of vision, and the desk has a drawer that prevents me from adjusting my chair correctly. Ergonomically, it's a disaster.
The laptop's 15½ in. screen is average sized, but too small for my old eyes... hence, the Hunchback of Notre Dame posture. The desk is also average sized at 29½ in. tall (actually on the short side of the desk-height spectrum). Still, for my hands to come anywhere close to the advised "neutral" typing position, I have to raise my chair as high as it will go. Which means my feet will dangle... hence, the ultra-high-tech footrest solution.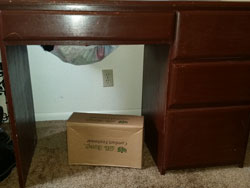 Well... it does keep my feet from dangling.
My personal Ergopoint self-assessment yielded a "moderate" risk level, and 38 recommendations for improvement. In the interests of self-preservation (my right trapezoid judges this a "high" risk situation), I shall endeavor to comply.
If any of this sounds slightly familiar, or you also are considering remote work and you're curious to see how this journey pans out, read part two.
About The Author

Ryan E. Day
Ryan E. Day is Quality Digest's senior editor for solution-based reporting, which brings together those seeking business improvement solutions, and solution providers. Day has spent the last decade researching and interviewing top business leaders and continuous improvement experts at companies like Sakor, Ford, Merchandize Liquidators, Olympus, 3D Systems, Hexagon, Intertek, InfinityQS, Johnson Controls, FARO, and Eckel Industries. Most of his reporting is done with the help of his 20-lb. tabby cat at his side.