This Week in Quality Digest Live
Dan Jacob
Management
Can Innovative Supplier Quality Management Be Disruptive?
Tracking best practices for manufacturers
Published: Wednesday, December 7, 2016 - 10:31
Disruption is a funny thing. You see it coming—kind of—but it's hard to tell what it means. Back in the day, would you have foreseen the shift from taxis to Uber? Would you have predicted that HVAC units would be offered as a service rather than purchased as a product? These disruptive changes and many more were driven through use of the cloud, connectivity, machine learning, and mobile apps as important technologies that enabled digital transformation and the industrial internet of things (IIoT).
These changes took established markets by surprise, which can be defined as "an unexpected or astonishing event, fact, or thing"—something that established wisdom and the consensus view didn't anticipate.
Today, would you predict that some of those same technologies, when applied to supplier quality management (SQM), will result in disruption within the next few years? It's possible to argue that they can and likely will; to argue that SQM is important enough to disrupt markets, the market's adoption of SQM is immature enough to make industry ripe for disruption, and that innovative SQM provides substantial competitive advantage.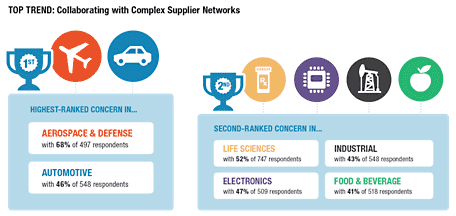 SQM: the 800-lb gorilla
Why is SQM so important? It just so happens that our company, LNS Research, tracks the most important trends affecting manufacturing leaders across industry. Some of these trends vary across industries and include things such as the "smart car" in automotive, "personalized medicine" in life sciences, or "managing shrinking defense budgets" in aerospace and defense. However, we also have a number of trends that are tracked where appropriate across multiple industries, including "collaboration with complex supplier networks."
"Collaborating with complex supplier networks" turns out to be in the top two trends across the six industries in which it is tracked. In life sciences, for instance, it comes in a close second only to concerns about government regulations, which will always be the top concern in an industry where government regulators can fine, ban, or close down sites and imprison executives. Although the importance of the supplier relationship to a company varies by industry and by that company's role in the supply chain, the market as a whole sees supplier collaboration as a top concern.
Important enough to disrupt?
Does this mean that SQM is important enough to cause disruption? Certainly—compare the two ends of the spectrum. On one end, we have the potential for brand damage and liability. Think back to the major recalls over the past several years in automotive, electronics, technology, aerospace, and other industries. Many of these have some connection to the supplier-customer handoff, either during systems engineering, development, testing, or manufacturing. On the other end, we have examples of incredible supply chain agility that enable personalized products delivered at volume with quality, and responsive supply chains that can react nearly in real time to shelving changes.
How can your business disrupt industry by utilizing the supply chain to deliver with the highest quality in new or novel ways? Would flexible, on-time delivery of quality and volume across a multi-tiered supply chain enable new products or services?
Supply chain in the retail wars
Throughout the last two decades, Walmart, Target, Home Depot, Lowes, and others disrupted local mom-and-pop shops, smaller regional chains, and quite a few national chains in the United States, with their brick-and-mortar locations, filled with aggressively priced and globally sourced products. In these superstores, consumers can buy the same or comparative quality goods at a lower cost and with (arguably) higher convenience.
But the world is increasingly purchasing online, in no small part through Amazon and its innovations. Amazon's technology platform has still further disrupted the retail market by digitally transforming retail without the extensive brick-and-mortar network of its rivals. The company's cloud-based platform includes analytics and mobility that allow it to serve customers in innovative ways and to significantly outperform Walmart in online sales. In the process, it delivered more than 1 billion packages and racked up $5 billion in shipping charges, which is now driving further innovation as it begins to build its own delivery network which may include drones and an Uber-like AmazonFlex service.
This isn't just a story of a new delivery model or analytics. No one would buy poor quality goods that aren't delivered on time. The takeaway is that innovations that include SQM, supply chain, and now delivery are being disruptive, even against world-class and well-established competition.
Differentiating performance for manufacturers
Of course, there are important differences between retail and manufacturing. However, LNS's manufacturing data shows that SQM is one of the highest potential value areas for quality investment. The data provides a stark comparison in performance between those that have deployed SQM people, process, and technology best practices, and those that haven't.
LNS has identified five different types of metrics, two of which are "siloed" and "operational." We'll only consider these two types of justification metrics in this article. The first is siloed metrics, which include metrics primarily of interest to the quality department, such as "number of complaints" or "percentage of products in compliance." The second is operational metrics, which include metrics that are more broadly of interest and applied to multiple functions, such as overall equipment effectiveness (OEE) and on-time delivery.
LNS Research also isolates 46 different operational excellence (people, process, and technology) best practices currently tracked in our quality management survey. We used the survey data to compare performance between those that had currently implemented a given best practice and those that haven't, and then ranked the relative effect of each best practice.
When the dust settled, the analysis showed that seven of the top 10 best practices were SQM best practices. Not only is SQM important, but it also provides a substantial competitive performance differentiator when executed and aligned with best practices.
We'll dig into this data in an upcoming webcast, but here's one takeaway—companies with poor visibility into the supply chain quality had a median supplier defect rate that was more than double everyone else.
On this webcast, occurring live on Jan. 11, 2017, LNS will dive into SQM in greater detail. During the broadcast, we'll explore:
• The current state of SQM adoption across industries and supply chain roles
• SQM best practices
• The role of new technologies in SQM
• The effect of improving your SQM maturity

About The Author

Dan Jacob
Dan Jacob is a research analyst at LNS Research primarily focused on the enterprise quality management systems (EQMS) practice. Jacob has more than 20 years of experience in quality, reliability, risk, and safety across several industries, primarily automotive, aerospace and defense, high tech and electronics, and medical devices. Jacob also operated his own firm providing engineering consulting to the medical devices and metals industries. Jacob graduated Magna Cum Laude from the University of Pittsburgh with a bachelor's degree in mechanical engineering.