Featured Video
This Week in Quality Digest Live
Evan Miller
Management
Multiple Plants, One Statistical Process Control
During a chaotic acquisition, SPC software standardization drives compliance and revenue
Published: Tuesday, July 26, 2016 - 10:43
The CIO for a multiplant packaging company was in an uncomfortable spot. Bringing six newly acquired plants under the corporate umbrella was going smoothly, but he saw that at least in quality systems, there would have to be an unpopular change. The plants were using two different quality software systems, and they had little in common with what the legacy facilities used.
There was also a significant performance gap between the plants by as much as 20 percent on key indicators such as line speed and quality levels. For the CIO, multiple software systems meant multiple support contracts, not to mention maintaining knowledge to support three systems instead of one.
The CIO knew that his senior quality manager had been successful using GainSeeker Suite for automated SPC. Despite the inevitable pushback he expected from the new plants, the CIO decided to take the plunge and standardize to one system.
"All in all," he said, "When I added it all up between the profitability, reduced cost of ownership, and the improvements, the new plants just needed to change."
A moment of truth
When the senior quality manager looked at the underlying causes for the differences in performance between the plants, he found that the poorer performing plants lacked the infrastructure to be data-driven facilities. This was a moment of truth. "For our business, the demand ebbs and flows," he says. "We need to be able to move products from plant to plant to handle urgent orders. It was really frustrating because we had disparate systems, and that made it hard to be flexible and meet customer delivery dates. Our production and profitability were suboptimized."
The senior quality manager believes GainSeeker Suite helped turned skeptics into believers. "Because of my experience using the software, I was pulled in to help," he says. "I think that's really what drove all of the expansion and the changes with the systems because the new plants saw how much it worked and what we got out of it. When customers ask questions, we can quickly pull data and charts and show them."
Customized alarms drive action
GainSeeker Suite collects critical production quality data in real time. It connects directly to digital equipment where possible, saving time and eliminating clerical errors. Operators see customized blue, green, yellow, and red alerts for various alarm conditions.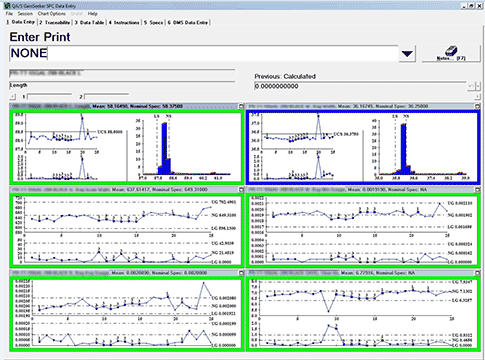 Figure 1: Color codes around charts give feedback to equipment operators. Green means everything is fine. Blue, red, or yellow indicate corrective action is required. Click here for larger image.
The color coding is designed to help operators know exactly what to do. A green box around the chart tells them everything is fine, and they should continue to run with no changes. However, if they get a yellow, red, or blue box around the chart, they know they have a problem. The three colors indicate what corrective action is needed. Operators must record what happened and what they did to fix it. The company leaders believe recording this information is so important that they tie it to the employee's performance-sharing bonus.
"We tell the operators, 'It's not a reflection on you to tell us what happened,'" says the senior quality manager. "'You need to go look for it. You need to find it, and you need to tell us what you found and what you did to fix it. Ninety-nine percent of the time it's not your fault; the process just does that.' They've gotten to the point where they understand that."
Dashboards help manage costs and compliance to customer requirements
The company also uses customized dashboards to show weight tracking to compare material use against specifications. If operators run over the target specification, they are giving away material and adding to costs. By monitoring this closely, operators can ensure they run as close to target as possible without going under and failing to meet customer requirements.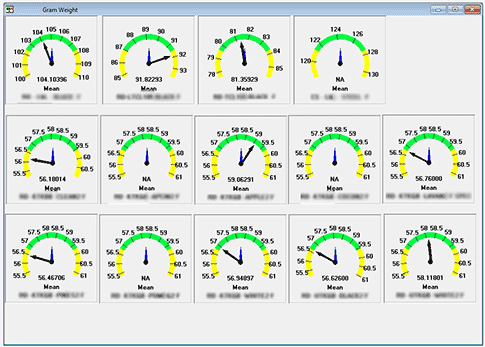 Figure 2: A customized dashboard helps manage costs and compliance to customer requirements. Click here for larger image.
New capabilities drive responsiveness, customer service, and productivity
These capabilities have had a profound effect on the business, enabling increased responsiveness and better customer service. That in turn has affected productivity. "We're running 15–20 percent above name-plate capacity from the equipment manufacturers," says the senior quality manager. "This is because we can better understand our product and our processes. Without that, there's no way we could have increased our line speeds. For this business, plant capacity acts as a governor on revenue, so an increase in line speed translates to increased plant capacity and increased revenue."
'They were extremely happy'
Initially, the employees of the newly acquired plants did resist. As the senior quality manager put it, "They went kicking and screaming."
Not surprisingly, the resistance was founded on lack of experience using GainSeeker Suite. "Once we got them converted, they're extremely happy with it," says the senior quality manager. "They began to say, 'Oh, we didn't know you could do those kinds of things.' After they saw what it could do for them, it took off from there."
Now with all plants running under one quality system software, the cost of ownership has reduced significantly. Moreover, the senior quality manager can now harmonize quality across the corporation, and production flexes more easily to meet demand.
"GainSeeker has enabled me to make decisions much quicker concerning process capability for new products being developed," says the senior quality manager. "Also, I can better analyze what's going on and inform the plant managers and make recommendations for improvements."
About The Author

Evan Miller
Evan Miller is co-owner, president, and CEO of Hertzler Systems Inc. Prior to joining Hertzler Systems, Miller taught technology education in Canada. He received his bachelor's degree from the University of Waterloo, Ontario, and his master's degree from Ball State University, Indiana. Miller has served on the boards of IU Health Goshen (Indiana) Hospital, the Maple City Community Orchestra, and Pathways Retreat.