This Week in Quality Digest Live
Quality Digest
Lean
Lean Culture Change: Using a Daily Management System
Excerpt reviews visual management and plan-do-check-act when starting a daily management system
Published: Monday, July 17, 2017 - 11:00
(Quality Digest: Chico, CA) -- Lean Culture Change: Using a Daily Management System by Steven Leuschel (Align Kaizen, 2015), reveals decades of organizational transformation knowledge deeply rooted in the Toyota Production System and Toyota's culture.
Lean Culture Change is based on the teachings of Rodger B. Lewis, former General Manager of Quality at Toyota during the Georgetown ramp up. Lewis, via the Transformation Curve, has successfully transformed divisions of General Motors and organizations around the globe for decades. Now, it's time that healthcare organizations begin to learn a long-term strategic approach to transformation— not just becoming lean, doing kaizen events, or creating a model cell. In Lean Culture Change, Leuschel describes the initial steps of the Transformation Curve's Phase 1 Level A with real-life healthcare examples and case studies.
The following is an excerpt from pages 2 through 5 of Lean Culture Change briefly reviews the foundations, including visual management and plan-do-check-act when starting a daily management system.
'Visual Management
"There are many forms of visual management in a daily management system, including a few prominent artifacts: a problem-solving board, balanced scoreboard, and improvement system board. Additional visual objects that support these artifacts are a 6-year scorecard, problem-solving sheets, improvement system forms, master plans, and workplace organization standards. The figure below, is an introduction to the connections between these visual artifacts.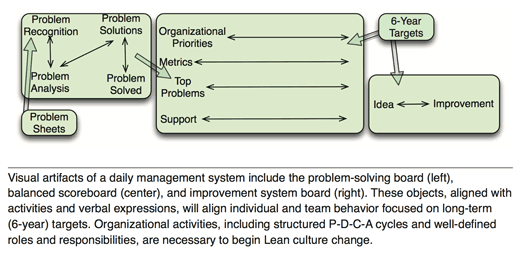 "Balanced scoreboard. The balanced scoreboard is used to visualize annual targets, top problems, and countermeasures. Daily, monthly, and annual P-D-C-A cycles are activities with the balanced scoreboard at the center. Annual targets are cascaded and visualized on the scoreboard, and the scoreboard is the centerpiece of monthly performance reviews.
"Problem-Solving Board. The problem-solving board is an object used to manage problem-solving sheets and lead problem solving. This board, coupled with activities of problem identification and communication, helps track the progress of problems, and gives leaders a standard way to lead problem solving. Daily, weekly, and monthly P-D-C-A cycles surround the problem-solving process.
"Improvement System Board. The improvement system board is a visual management artifact to manage daily improvements that are owned and implemented by team members. Daily and monthly P-D-C-A cycles are integrated into the improvement system process using the visual board.
"Various Other Visual Objects. Other visual management objects, such as the safety cross, detailed plans, and metrics, are leading indicators, and are integrated with the above-mentioned objects and activities.
'Plan-Do-Check-Act
"Plan-Do-Check-Act, in this phase, are activities that include standardizing some planning and check cycles using the visual management artifacts. Though P-D-C-A cycles are found in various ways within each artifact of the daily management system, the primary P-D-C-A cycles that are standardized during the initial phase of the daily management system are annual, monthly, weekly, and daily cycles.
"Annual. Annual cycles include setting objectives, creating master plans, establishing targets and metrics, setting the improvement theme, and creating the daily management system implementation plan. With an emphasis on planning, this annual cycle informs other more frequent P-D-C-A cycles.
"Monthly. Monthly cycles include checking performance to the annual targets, checking the status of annual plans, and generating top problems based on daily problem-solving cycles. As a primary P-D-C-A cycle, the monthly balanced scoreboard review, discussed in Chapter 4, is a monthly meeting to plan the top countermeasures and check the status of performance to annual objectives.
"Weekly. Weekly check cycles include checking the status/progress of monthly top problems/countermeasures, weekly checks on safety and workplace organization via safety audits, and other weekly checks.
"Daily. Daily check cycles include the daily huddle, daily problem solving, daily going to see improvements, and daily checks of leading indicators. The daily huddle is a daily check informed by daily problem solving and improvements that also informs weekly and monthly check cycles."
Lean Culture Change is designed to be a training manual for team leaders and senior leaders who wish to study and adapt the Transformation Curve. It contains over 200 pages, 100 images/examples, and six case studies, an Afterword and Post Script. Lean Culture Change is available at most book retailers including amazon.com.
About The Author

Quality Digest
For 35 years Quality Digest has been the go-to source for all things quality. Our newsletter, Quality Digest, shares expert commentary and relevant industry resources to assist our readers in their quest for continuous improvement. Our website includes every column and article from the newsletter since May 2009 as well as back issues of Quality Digest magazine to August 1995. We are committed to promoting a view wherein quality is not a niche, but an integral part of every phase of manufacturing and services.