Featured Video
This Week in Quality Digest Live
Laurel Thoennes @ Quality Digest
Lean
What Do You Mean My Production Is Wonky?
I prioritize; it's the staying on task that's the problem
Published: Thursday, June 15, 2017 - 13:03
You can be known as a hard worker and counted on to tie up loose ends, but fall behind when co-workers' tasks are on hold until yours are complete, and you're perceived as needing an attitude adjustment. What would you want to do? Place blame or work on a remedy? There is a solution: Personal Kanban. It's cheap, easy to customize, and has only two rules: First, visualize your work; second, limit your work-in-progress.
Personal Kanban 101
The Personal Kanban, created by Jim Benson, CEO of Modus Cooperandi, is a tangible productivity tool that allows us to visualize the amount of work we have and the way that work is carried out. Part of what makes kanban work is finding the sweet spot, where we are doing the optimal amount of work at the optimal speed.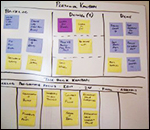 A Personal Kanban board. Click here for larger image.
Step 1: Establish your value stream. Value stream: The flow of work from the moment you start to when it is finished. The most simple value stream possible is Backlog (work waiting to be done), Doing (work being done), and Done (work that's done). You can set this up on a white board or even a piece of paper, but a white board is preferable. Why? Because as you grow to better understand your value stream, you will want to change your kanban.
Step 2: Establish your backlog. Backlog: The work you haven't done yet. All that stuff you need to do that you haven't done—that's your backlog. Everything you need to do, start writing it down onto Post-its. Big tasks, small tasks, get them all down. Write them onto post-its and start populating your backlog. Don't sweep things under the rug. Don't lie to yourself. Your first backlog-fest should be a painful experience.

Step 3: Establish your work-in-progress (WIP) limit. Work-in-progress (WIP) limit: The amount of work you can handle at one time. We have a tendency to leave many things half-done. Our brains hate this. Part of what makes kanban work is finding the sweet spot, where we are doing the optimal amount of work at the optimal speed. Set an arbitrary number in the beginning, let's say no more than five things. Add this number to your Doing column.
Seeing is believing
I've often heard, "This would be a whole lot easier if I could see what I was doing." OK, Dad said that when he tuned up our Chevy and I learned where to hold the flashlight. But the same is true for productivity improvement.
If you could walk the gemba on how you do your work, you would be able to see when and where you strayed off task. Personal Kanban shows where the action is—or in this case, where there's inaction and incomplete tasks. "Kanban tells you what, when, why, and even some how of your work," writes Benson, in the post "13 Elements of Kanban."
"Tell me and I forget. Show me and I remember. Let me do and I understand." —Confucius

Personal Kanban both shows you and lets you do. Use it on a regular basis and you get sensitized to completion, sensitized to waste. You learn how you do your work.
"Personal Kanban's main goal is to get you to write things down and begin to watch how and what you complete," says Benson.
Where was I?
Of the many reasons for switching tasks, being interrupted is a major culprit. In her QD article, "Invisible Enemy," visual work expert Gwendolyn Galsworth writes: "Did you know: It takes us 8 to 10 minutes to recover from an interruption, any interruption, no matter how long or how short? To recover doesn't mean to merely get back to the task at hand, but instead to get back to the level of focused attention you had before the interruption."
Remember this before telling or asking about what is going on. Go to the kanban board for the gemba.
Just because you can do it, doesn't mean you should do it
Our brains process high-cognitive tasks one at a time, sequentially. Interruption disrupts that flow and decreases the opportunity to complete the task. Our brains hate it when we leave a task incomplete. According to The Zeigarnik Effect, it's easier for people to remember incomplete tasks than those that are finished. Fret over what you haven't done, and focus fades. That leaves the mind wide open for distractions and that tempting immediate gratification we get for responding to distractions. It's a quick-and-easy feel-good. But it can be addictive, and when you come down, accountability for unfinished tasks stares you in the face.
When using Personal Kanban, "You need to be vigilant that you are making the right decisions at the right time," writes Benson. "In order to do that, you need to understand what work is coming on the horizon, why it is there, and what is NOT being done while you are doing something else."
Wait... there's more feel-good in here and it leaves you calm and focused. The neurotransmitter, dopamine, motivates us to take action, rewarding us with a feeling of pleasure when we accomplish something. I'd rather have a dopamine hangover than face the accountability squad any day.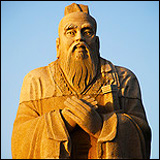 "Tell me and I forget.
Show me and I remember.
Let me do and I understand."
—Confucius
Got flabby focus?
Benson recommends using the Pomodoro technique: focused bursts of work with rests in between. Set an egg timer for 25 minutes, then get to it. Think hard, work hard, and give it your undivided attention. When the timer goes off, rest a bit and say, "Ah." Repeat as needed. It's a productivity workout. Personal Kanban takes on the role of your trainer, helping you optimize your exercise.
"True focus requires clarity, concentration, and commitment. Personal Kanban gives you the organization to focus; Pomodoro structures your time."
For the 'get 'er done' extraordinaires
You were born to finish what you start. Staying on task? Easy peasy. Prioritizing? You plod... painfully. But hold tight. Benson shares lots of ways to prioritize in this video, and he talks about priority filters and different ways to look at work here.
Lots of ways to prioritize:
• Which of these things are easy to do? Which are more complicated?
• Which have a lot of complexities or unknowns?
• How wrong might this task go even if I am indifferent about doing it?
• How many things are out there that I need to investigate?
• Do I want to pull something that I'll have to think about a lot, or something I can get done quickly?
• Which tasks are you doing by yourself or with other people? Are they available to work?
• Look for other characteristics of the work that aren't necessarily about "how important it is."
• Every piece of work that you have, that you pull in, is a relationship. It has other people tied to it; it has value needs tied to it. It has levels of difficulty, complexity, unknowns, things you have to research.
Priority filters:
• Who is asking the loudest?
• How much time do I have?
• What fits well into my current working condition?
• Ask questions as to why I am prioritizing some things over others.
• Where did new tasks come from and why?
• When prioritizing, what are the factors that I take into account? Are they just about me and what I want to get done?
• How well am I balancing my goals with the goals and expectations of other people?
• If you have tasks that you feel indifferent in terms of how important they are to get done, then what is there that you hate to do? What's there that's fun?
• Decide if you need to do something that will make you happier and give you a boost, or if your mindset can take on something more difficult.
• Look at work that's coming up, before it gets to the Doing column, and weigh it on whether you want to pull it right now regardless of whether you get stuck in that trap known as prioritization.
Lucky for us, Benson and fellow Personal Kanban experts are just as committed today as they were in 2011, when the book Personal Kanban: Mapping Work | Navigating Life was published. Benson and co-author Tonianne DeMaria Barry were impressive, and I shared my thoughts in "To-Do or Kanban? That Is the Question." Their willingness to share knowledge was apparent; their desire to help people—authentic. And from the research done for this article, I'd say it hasn't waned a bit.
About The Author

Laurel Thoennes @ Quality Digest
Laurel Thoennes is an editor at Quality Digest. She has worked in the media industry for 31 years at newspapers, magazines, and UC Davis—the past 22 years with Quality Digest.