This Week in Quality Digest Live
Jim Benson
Lean
Five Ways to Focus and Finish
The tyranny of the urgent often distracts us from what is truly important
Published: Monday, September 25, 2017 - 11:01
Focusing on our most important work (so that we can get it out the door and create value) is hard. It's harder still when work suddenly picks up, is unfamiliar, or arrives with immediate deadlines when we are already busy.
The tyranny of the urgent often distracts us from what is truly important. We lose focus on the important and end up doing a lot of busywork. By the end of the day, we are frustrated. The real value wasn't created, but the business was satisfied. We need to understand what "most important" means. It's not always easy to just "know" which task out of the hundreds we have on our plate is the best to jump on right now.
When we visualize our work and limit our work in progress, we can see beyond the urgent and find what's the best use of our time.
We can then sit down with our brains and have an honest chat. What do we need to do? What relies on others? What is stopping us from doing that one task that just sits there in our "options" column and doesn't move? Why do we promise we'll get those things done today, but at the end of the day they are still just sitting there?
You'll see that our latest newsletter continues this theme of finding focus in a world of noise.
Focus isn't a "light" topic; we all struggle with it every day. Below are five of our top-ranked posts on focus. If you have a story about how Personal Kanban has helped you find focus, please leave it in the comments and let us (and the community) know.
1. The overhead of overwork
In our work, we take on more and more because the tasks seem small, and we don't understand our actual capacity. We take on more and more because we can't see we are already overloaded. One day, we burn out, we break down, we snap. Read more.
2. How to limit WIP No. 3: reducing interruptions
The fact is that interruptions are part of knowledge work. We seldom do it alone, which means we have colleagues. Colleagues require information. Information requires communication. Communication requires attention. Read more.
3. Finishing feels good
In order to complete, we need some help. We need something to ground us, something to focus us, and something to propel us. Once we have these elements, projects at work become easier, communication becomes smoother, and motivation is easily found. Read more.
4. Time to completion
What if the game of work was to continuously improve the quality and rate of delivery of your work? The game becomes ways to discover how you can work most effectively, most innovatively. The game stops being how close to an arbitrary deadline you can complete something. Read more.
5. On focus: Conquering the shiny squirrel
Task-switching begets more task-switching, not completion. This is often attributed to "the Zeigarnik Effect," a phenomenon in which information and tasks left incomplete don't leave our mind. Instead, we dwell on those incomplete tasks, and those intrusive thoughts render us vulnerable to distractions. The energy this consumes—the metabolism that task-switching requires—drains our cognitive capacity, causing frustration and burnout, impeding our focus, and inviting error and rework, all which prevent us from realizing our optimal potential. Read more.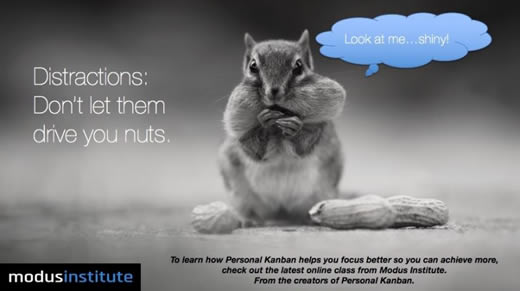 Focus deep
What does it take to focus? When we teach or work with clients, the need to focus is always the base of any board or system we create. We are all distracted. We've directly addressed this in the Personal Kanban online class. Sign up today and join the hundreds of other PK students from around the world. And stay in touch.
About The Author

Jim Benson
A pioneer in applying lean and kanban to knowledge work, and an internationally recognized speaker and writer, Jim Benson is CEO of the collaborative management consultancy Modus Cooperandi. He is a fellow in the Lean Systems Society and recipient of the Brickell Key Award for Excellence in Lean Thinking, 2012. He is the creator of Personal Kanban and co-author of Personal Kanban: Mapping Work | Navigating Life (Modus Cooperandi Press, 2011) winner of the Shingo Research and Publication Award, 2013. His other books include Why Plans Fail (Modus Cooperandi, 2011) and Beyond Agile (Modus Cooperandi Press, 2013).