This Week in Quality Digest Live
John Elliott
Metrology
You Can't Catch the 'Big One' Without Reliable Information
How process improvement is like fly-fishing
Published: Monday, March 28, 2016 - 11:02
Fly-fishing, one of my favorite hobbies, is a lot like process improvement. Here's how: Fly-fishing seems very simple—you throw a line in the water and wait for dinner. Of course, it's much more complicated than that because rainbow trout are clever; they won't bite just anything.
You have to know what lures they will strike, the speed of the stream, and the time of the year. You have to use the correct flies, the correct weight of line, and the right leaders. Your casting technique has to be smooth and practiced. You won't catch many trout without knowledge and information, and you won't improve processes in a health system without them, either.
On the surface, a health system seems straightforward. Sick people come in, a dedicated staff assesses and treats them, they go home healthy, and the system gets paid. As you know, it's quite a bit more complicated than that. A health system typically functions with hundreds of operational and financial processes, with the goal of delivering better care to individuals, better health for populations, and lower costs for healthcare overall.
I've worked in more than 50 hospitals during my career. In that time, I have routinely seen financial and operational decisions based on perceptions, assumptions, and irrelevant information. As the industry transitions from episodic care to one reimbursed by the value of care, we must base our decisions on objective, measurable tests and observations. I think Robert Kaplan said it best: "To improve your process, you must understand, and in order to understand, you must measure."
Measure what you do
• Decide what outcomes you want to achieve. Your current goals may include increasing patient volume, procedures, cases, or tests. Although these goals are still relevant, quality of care metrics will soon become exponentially more important than volume metrics.
• Determine what processes contribute to reaching your goal, then break them down. Once you're determined what processes you want to measure, break them down into their component parts. Measure the parts.
• All measurements are not the same. Make sure the measurement method corresponds to what you want to discover. Some measurements can be done electronically, for example, but some may need to be done manually by periodic sampling by grouping or during a selected period of time.
Ensure measurements and reports are accurate
• Accurate reporting is essential. You must have a valid baseline metric to determine variance gaps and opportunities. Without accurate reporting, you can't trust your baseline.
• Ensure your data is clean and discrete. I once worked with a controller who operated a huge database filled with duplicate information. I found that one service area was labeled with three different names—the Internal Medicine floor was also called "5A" and "Cost Center 6150" in the database. Of course, analysis of the Internal Medicine floor was flawed because the data wasn't complete under that name. Consequently, management decisions were flawed. One of your first jobs is to ensure that your data is clean.
• Measuring and collecting information or gathering data is a science in itself. Unless you are a professional in the areas of data analysis and process improvement, I recommend that you involve a professional early in the process. I think it will save you time, money, and aggravation in the long run. Either internal staff members or outside partners can be effective.
Analyze the processes you're measuring
• Understand the data and information available to you. You can't properly analyze data if you don't understand it. Sounds simple, but we're talking about hundreds of processes. Each one could require a different analytic tool from the rest. You want your measurements to provide actionable results, so you must understand what you're measuring.
• Determine the effectiveness of your measurement tools. The purpose of measuring and changing processes is to make them more efficient. You must be sure that the tools you use are robust enough to provide consistent results after a process change has been made. Otherwise, how will you know if the change has been effective? Choosing the wrong tool can give you inaccurate information and can lead to flawed improvement decisions.
Once you measure, then you can plan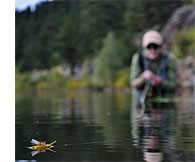 You can't afford to make operational and financial decisions based on inaccurate information, anecdotal information, or perceptions. That's like simply throwing a line in a stream hoping to catch the "big one." After you've measured what you do, however, you will understand the baseline measurement of any process or outcome, as well as the gaps in a process or a variance of opportunity. With that information, you can prioritize your improvements and develop a plan to move from where you are to where you want to be. Understanding will lead to improvement.
First published March 17, 2016, on Horne's Healthcare Blog.
About The Author

John Elliott
John Elliott is a manager in healthcare at HORNE LLP. He specializes in business development and implementation, focusing on healthcare engineering through labor management, performance improvement, and process improvement, with both health systems and physicians.