Featured Video
This Week in Quality Digest Live
Lean
Ensuring Lean Six Sigma Success With a Robust Define Phase
Take the time to get your team off to a successful start
Published: Monday, July 31, 2017 - 12:03
Completing the define phase of a lean Six Sigma (LSS) project is a critical part of any project, although it's often underestimated in practice. The define phase of the define, measure, analyze, improve, control (DMAIC) process typically includes three elements. The first is selecting a specific, measurable, achievable, relevant, and time-bound (SMART) project objective. Second is creating a charter, and third is selecting a process to be improved. However, a lot more needs to be done before moving to the measure phase.
When Motorola created Six Sigma, it was originally set up as a four-step process, namely "MAIC." The define step was added when it was found that having a clear, agreed-upon understanding of the project was critical to success. In this article, we discuss 10 key elements project leaders must keep in mind in completing the define phase. These ideas can also serve as a rubric for evaluating project presentations.
The 10 key elements of the design phase are:
1. Motivation for the project/alignment with mission and objectives
2. Statement of the problem
3. Lean vs. Six Sigma?
4. Data collection, measurement, and analysis (of your "y")
5. SMART objective
6. Current-state process flowchart and supplier, input, process, output, customer (SIPOC)
7. Best-in-class process benchmarking (internal and/or external)
8. Benefits estimation
9. Change management
10. Project charter
Motivation/alignment
To clarify the motivation for the project, some basic questions must be addressed, such as: "What brought this on?" and, "How do we know we are working on the right project?" Typically, answers can be obtained from customers (i.e., the voice of the customer), breakdowns in a process (voice of the process), or from complaints and needs (voice of the customer or the employee). Aligning the choice of project to what senior management has decided should be done (as opposed to something employees might find fun to work on) will also help to demonstrate real results and ensure continued management support.
If this is your first LSS project, be sure that your champion (and the CFO!) are aware as early as possible that success in LSS will affect some of their most important metrics in a seemingly negative way. Without their knowledge and buy-in, this can be a show-stopper. For example, when you begin to produce to order, rather than producing large quantities at a time, you will have fewer items to spread your inventory costs, and unit costs will go up. This can be a major problem for finance people if they are not given heads up in advance.
Statement of problem
Your improvement project will typically start with a problem statement. You then need to identify a key outcome indicator, metric, or "little y" that, if improved, will solve the problem. "Little y" or "y" often refer to the key metric that one is trying to improve in the SMART objective of a LSS. project.
After identifying the key metric, you then need to find the process to improve that will, in turn, improve your metric. (See figure 1.) Note that before going any further, this would be a good time to answer such questions as, "Who is the customer?" and, "Can the entire process be eliminated?"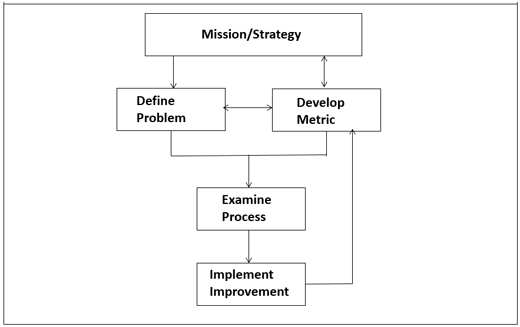 Figure 1: Lean Six Sigma (LSS), from problem to metric to process
Lean vs. Six Sigma
Six Sigma is about reducing variation to eliminate defects. Too many projects focus only on improving the mean. Quality is a about doing things consistently and within customer specifications. The key metric to assess should therefore be the variance (or standard deviation). Also, by employing lean thinking, such as eliminating waste, creating continuous flow, and standardizing processes, variation in throughput time will be reduced.
If reducing time is your focus, then lean tools will steer you toward reducing wait times, which typically represent 95 percent or more of total throughput time. In other words, the "arrows" on your flowchart become the target of your improvement project. If quality is your focus, then your focus will be in the "boxes" on your flowchart, improving quality through Six Sigma. In any event, it is usually beneficial to start with some lean activities, such as eliminating waste, 5S, before searching for root causes. You will figure all of this out as you begin to "peel the onion" in your project.
Data collection, measurement, and analysis of key metric
Select data that you can collect a lot of in a short period of time. Don't expect to have enough data if, for example, you are trying to improve monthly income statement results, quarterly audit information, or semiannual survey results. Always select a continuous (i.e., measured) variable as your key metric if possible. In this way, you will need a lot less data to get significant results. If you are planning to "drill down" in your data by category, you will need even more data. These are define-phase issues because you will need to thoroughly study the variation in your key metric before even thinking about a cause or causes during the measure phase of your study.
SMART objective
Perhaps the most important task in define is to establish an incredibly clear objective for your key metric. Once the key metric has been identified, it is important to study its past and current behavior. Analysis of the key metric over time and across multiple segments can help understand the source of variation, and narrow the scope of the project. Before one starts looking for the causal variables, it helps to know whether the variation in the key metric is primarily coming from specific machines, or due to specific people, or locations, times of the day or week, and so on. The use of control charts to study the behavior of the key metric over time can help identify special-cause variation, check whether the process is in control, and also determine the degree of "stretch" (i.e., how large an improvement needs to be for statistical significance) in your SMART objective.
Current-state process
Lean and Six Sigma are both process improvement methodologies. It is therefore not sufficient to simply identify a problem. Rather, one must find the process associated with the problem. What is the sequence of steps that leads to the outcome that one wishes to change? Creating the process flowchart helps to define the scope of the project in terms of the beginning and ending points of the process. Further analysis of the process involves creating a SIPOC chart to identify the key suppliers, inputs, processes, outputs, and customers for each step within the process. This helps identify the stakeholders in the process so they can be kept informed or included in the project team. Adding another column to the SIPOC for the measures will help to begin to identify possible root causes.
Benchmarking
Benchmarking, both internally and externally, can help identify best-in-class processes, so that one can set reasonable targets for the project and determine potential benefits. Benchmarking is talked about a lot, but not often done.
Start by benchmarking your own processes. Find the best way to do things in your organization. Note that parts of the process may be done better in different locations. Because many LSS projects are often designed to improve administrative or other processes that are common to all organizations, you can benchmark organizations in other industries.
Benchmarking is usually suggested as a tool for other steps in the DMAIC process, but it should definitely begin in define. To facilitate benchmarking, find something your organization does that you can share with others who may have the best-in-class process information you seek. Be prepared to trade information. Otherwise, why should others take their valuable time to help you?
Benefits
All project objectives should estimate potential financial and nonfinancial benefits from doing the project. This helps to get buy-in from management, since any project involves a cost in terms of the time spent by the team members at the very least. Showing potential savings in cost or increases to revenue can go a long way in getting the project approved. Benefit and cost estimates can change as the scope of the project evolves. Be conservative. Don't put yourself in a position to have to defend your benefit estimate to skeptics.
Change management
Without the support of a critical mass of your organization, LSS improvements are destined for failure. If you are fortunate enough to successfully develop a new and improved process with your team, you still have the daunting task of making the new process stick. That is why it is critical to deal with the organizational politics right up front. Identifying key stakeholders who might not be supportive of your proposed changes, and developing plans to gain their support (or at least get them to a neutral position), are essential for success.
Charter
The charter is a formal document that describes your SMART metric, the preliminary scope of your project, the target to be achieved, the team members, a timeline (with milestones) for the project, and much more. It is a document that ensures your team is on the same page. It is essential for you to get your champion to sign and date the charter, indicating that this project is worthy of the organization's priority and resources. Also, expand on your charter by creating a project plan to determine how you are going to get to your future state.
Note that reducing the scope and modifying the charter should be done during the define phase as well as any time that you discover that you can deliver the majority of the project benefits by further reducing the scope of your project. Make sure that this is done "officially" with an approved change in the charter.
Creating the team
You are now ready to get more people on board and start your team process. Select a specific day, time, and place to meet. This will minimize forgetting of meetings. Be sure to emphasize the importance of attendance.
Creating a "parking board" for potential solutions is very useful at this point because you don't want to jump to solutions before truly defining the project objective. On the other hand, management doesn't want you to wait for the team to complete the project before starting to realize the benefits of "low-hanging fruit" or other obvious improvements that can be made right away. So, begin working on some of these improvements as soon as the charter is approved. A good example is that many processes can be improved with the implementation of a smart form, where customers enter their requirements themselves, as opposed to an operator. With built-in error proofing, this will improve standardization, reduce variation, reduce errors, and reduce rework of many processes.
Learning how to manage meetings is especially valuable to the successful initiation of a LSS initiative. People hate unproductive meetings, and they already have too many of them! There are some simple tools that, when used well, can significantly improve LSS meetings (as well as all other meetings). If this isn't already a part of your formal training for LSS, add it. And, if you don't need a team to complete a project, don't form one. Teams are expensive.
Note that it is very helpful to identify the problem, the specific metric to improve, and do some charting and other preliminary analysis on your key metric before forming the team. Otherwise you may find that after forming the team, you don't have the needed data, or that the data do not support your assumption that this proposed improvement project is justified. Also, once it is well known that you are forming a team with a specific objective, managers or workers who are responsible for the process may begin to improve it on their own, making it difficult to establish a meaningful baseline.
Take the time to get your team off to a successful start during the define phase. It will make all the difference.
About The Authors

Ken Levine
Ken Levine is the director and lead instructor in the Lean Six Sigma certification program at Georgia State University in Atlanta. He holds a doctorate in business administration. Levine retired from The Coca-Cola Co. in 2000 where he held the position of director of continuous improvement in the Coca-Cola USA division for three years. Levine is an active lean Six Sigma management consultant, a Six Sigma Master Black Belt, and a certified purchasing manager. Levine has previously published "Root Cause Analysis Takes Too Long," "How to determine the worst case for a process," and "Recycling Your Meeting Waste" in Quality Digest.
For more articles by Levine, click here.

Satish Nargundkar
Satish Nargundkar is a Clinical Professor of Managerial Sciences at Georgia State University's Robinson College of Business. He is also a Lean Six Sigma (LSS) Master Black Belt and an instructor in the College's LSS program. He has published papers in several academic journals on topics ranging from corporate strategy to supply chain management to analytics. He has consulted with many institutions in the areas of process improvement, analytics, and teaching methods, and has won several awards for both research and teaching.