This Week in Quality Digest Live
Marposs
Innovation
Optoquick Flexible Shop-Floor Measuring Unit from Marposs at IMTS 2016
Noncontact optical scanning provides fast and accurate measurements while part is rotating
Published: Wednesday, June 29, 2016 - 17:06
(Marposs: Auburn Hills, MI) -- Marposs will introduce its latest generation Optoquick flexible, precision shop-floor shaft measuring system at IMTS 2016 in booths E-5516 and S-8719. The Optoquick system utilizes non-contact optical scanning to provide rapid and accurate measurements while the part is rotating. Optional contact probes offering high accuracy multi-axis scanning add further versatility, enabling the Optoquick system to easily solve the most demanding measuring and inspection tasks. The system delivers exceptional accuracy and performance even with demanding shapes, such as concave cam profiles, key depth measuring, or axial run-outs.
The Optoquick system is designed and built to operate on the shop floor. Dynamic temperature compensation is provided. It features user-friendly SPC software with intuitive measurement result presentation, visual auto-diagnosis notification, and capability for multi-format data exportation.
Optoquick enables very high productivity and is a perfect solution to manage peaks in production. This results in a fast ROI for the measurement system. Flexibility is a key benefit of the Optoquick system. The system can be easily reconfigured in case of a part change. Or a single Optoquick unit can be simultaneously used for different parts from different stages in the same production.
Two models and a total of five sizes of the Optoquick unit are available to accommodate a wide range of part sizes and characteristics. The system can handle parts up to 200 mm diameter x 1,200 mm long with a weight up to 30 kg. Depending upon the model, the Optoquick unit can be manually or automatically loaded.
Complete information about the third-generation Optoquick flexible, precision measuring system can be found at www.marposs.com or by contacting Marposs Corp. by phone at (248) 370-0404 or by emailing marposs@us.marposs.com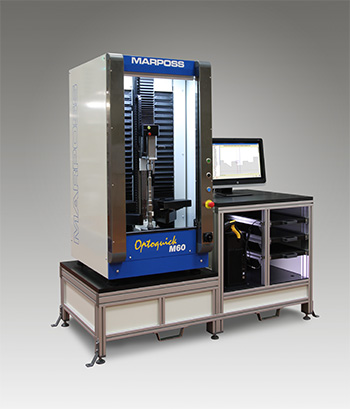 About The Author

Marposs
Marposs supplies precision gauging equipment to industries worldwide for measuring to the thousandth of a millimeter in the workshop environment, production lines, and on board machine tools. Main customers are machine tool manufacturers, automotive and their subcontractors, aerospace, bearings, glass, electrical motors, appliances, consumer durables industries, and gauge and fixture makers. Marposs supplies individual gauging components, turnkey machines, or fully automated lines. Headquartered in Bentivoglio, Italy, Marposs' U.S. office is in Auburn Hills, Michigan.