This Week in Quality Digest Live
Delcam
Innovation
Measurement for Manufacturing at IMTS
Delcam has developed new ways to integrate machining and inspection
Published: Tuesday, June 28, 2016 - 15:18
(Delcam: Birmingham, UK) -- Delcam, an Autodesk company since 2014, continues to improve its software to help companies whenever they need to increase productivity, reduce lead times, or improve quality and consistency.
Visitors to IMTS, held in Chicago Sept. 12–17, 2016, will see at booth E-3222 recent developments in PowerINSPECT, an independent software solution that makes the inspection of complex free-form shapes simple on a wide range of measuring equipment. Simple CAD management, interactive programing, and fast, easy reporting make PowerINSPECT a powerful, multidevice 3D inspection software solution.
The latest release of PowerINSPECT has a new interface with new icons that make the software more intuitive and even easier to use. Other enhancements include the ability to create compound items, speed up and simplify repetitive measurements, as well as enhancements to the measurement dialogs to increase the range of geometric features that can be inspected.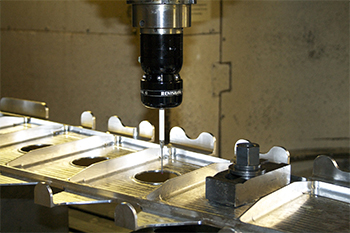 Delcam has also developed new ways in which machining and inspection can be integrated. One example is electronic fixturing. With this technique, tool paths are adjusted to match the actual position of the workpiece's surface, rather than trying to align the part into the nominal position specified in the CAM system. The technique can overcome the problems caused when machining large, flexible composite panels.
The first stage in this approach is to create a probing sequence in the inspection software, preferably using off-line programing so there is no interruption to the machine tool's cutting time. This sequence is used to collect a series of points from the workpiece, which can be used to map the part's surface. Any mismatch can then be calculated between the nominal position used in the CAM system to generate the tool paths, and the actual position of the workpiece surface in relation to the machine-tool bed. A modified set of tool paths can then be created within the CAM system. This approach can ensure that any pockets cut into the surface of a part will be in the correct positions. Similarly, by using a map of the actual surface, the user can ensure that any holes and counter-bores are drilled to the correct depth, relative to that surface.
About The Author

Delcam
Delcam develops, markets, and supports advanced CAD/CAM solutions for the manufacturing industry. Delcam's range of design, manufacturing, and inspection software provides complete, automated CAD/CAM solutions to take complex-shaped products from concept to reality. Headquartered in Birmingham, UK, Delcam is known for its high-quality support throughout Europe, Asia, and North America. Its U.S. head office is in Salt Lake City.