This Week in Quality Digest Live
Dean Solberg
Innovation
When Art Meets Technology
If you can think about it and model it, you can 3D-print it
Published: Thursday, November 16, 2017 - 12:02
As technology rapidly advances, its uses are benefitting nearly every industry, and the world of art is no exception. Brad McConnell, a mechanical design instructor at John T. Blong Technology Center in Davenport, Iowa (Eastern Iowa Community College), wanted to expand the types of projects offered for the school's mechanical design program. He hoped to incorporate one of the newest types of advanced technology—3D scanning, which can quickly and accurately capture the image of a person or an object with white light to create a 3D model.
Knowing that the school wasn't equipped with the latest equipment, McConnell reached out to Exact Metrology, a metrology services provider with a complete line of 3D scanners, industrial CT scanners, 3D printers, reverse engineering and quality inspection. Exact Metrology stepped in and readily agreed to provide their scanning services to the school.
Gail Ray, a mechanical design student at the community college, and former architect, is currently completing her Honors Independent Study classes in additive manufacturing and subtractive manufacturing, with an emphasis in technology in art. As an architect by trade for almost 30 years, Ray is well-versed in both areas of art and technology. She chose this path of study to combine her interest in portraiture, 3D modeling, and printing. As a final project for her additive manufacturing class, she chose to create a 3D life-size sculpture of the upper-body bust of a live person.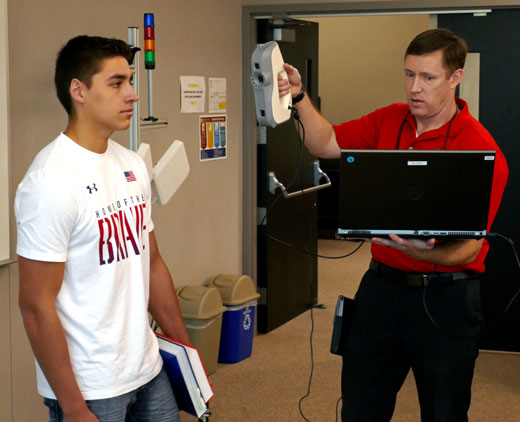 Dana Green (from Exact Metrology) as he scans Ketzalli Dondiego (student)
Dana Green, an applications engineer with Exact Metrology since 2014, traveled from his home office in Brookfield, Wisconsin, to Blong Technology Center in Iowa, equipped with the latest scanning equipment: an Artec Eva 3D handheld scanner. The Artec Eva scanner scans fast, capturing and simultaneously processing up to 2 million points per second with up to 0.1 mm accuracy. It employs structured-light technology, and is safe for scanning live models.

Scanned image of Dondiego on computer screen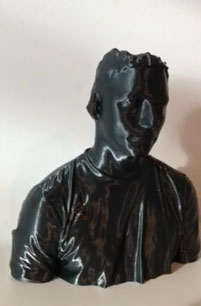 3D printed bust
Using the 3D scanner, Green was able to scan Ray's chosen model, fellow mechanical design student, Ketzalli Dondiego. Green took a full-body scan of Dondiego to allow Ray flexibility for future projects. In roughly 15–20 minutes, Green had about 4 gigabytes of point data, which was refined down to a more manageable file of 75 megabytes during post processing. "It was exciting to see such accurate results done so quickly," stated Ray. Ray also said that Green shared information on the software and processing, which helps the learning curve immensely.
Green then spent time in post-processing using Artec Studio 12 software. He manipulated the collected data to make sure everything aligned properly. He provided Ray with a stereolithography (STL) format the next day. Ray then had the scan 3D-printed in full size. She plans to create a silicone mold from the 3D print, which will allow her to cast the form in different materials, including plaster. At the same time, Ray will use the scan for a second class she is enrolled in, on subtractive manufacturing. In this project she plans to make a more modern art-type sculpture, or "Picasso-esque," as described by McConnell, from wood using a computer numerical controlled (CNC) mill and a three-axis machine. Ray plans to have both projects completed by December.
Ray is hoping to showcase her work at the Figge Art Museum in Davenport, Iowa, in an upcoming show titled, "Art & Technology." Although it is not finalized yet, she hopes to show not just her piece, but also the entire manufacturing process of how it was developed, possibly through a video playing in the exhibit. Ray is passionate about her work, and how much the combination of art and technology can offer, and wants to get the word out.
"My point is, if you have an idea, 3D technology allows you to get to a prototype, something you can hold in your hand, quickly and inexpensively, as compared to the pathways in the past people had to take," says Ray. She considers her artwork a device that will educate the community and students about the exciting new advances in 3D modeling and additive manufacturing.
Additive manufacturing and 3D-laser scanning are advancing almost every industry today, and are being used in areas from hospitals to Hollywood.
"The opportunities are endless," notes McConnell. "If you can think about it and model it, you can 3D-print it."
About The Author

Dean Solberg
Dean Solberg, along with Steve Young, has co-owned Exact Metrology since 2000. The company sells high-end metrology equipment brands, as well as its testing services, from locations in Milwaukee and Cincinnati. Solberg was the former sales manager at Yamazen, a distributor of Mitutoyo and Leitz coordinate measuring machines (CMMs). He attended Northern Illinois University.