This Week in Quality Digest Live
Ryan E. Day
Innovation
Growing a Culture of Quality in China
UK transplant invests in high-tech manufacturing and reaps rewards
Published: Tuesday, May 16, 2017 - 11:03
During the 1950s, W. Edwards Deming championed quality management philosophies that helped Japan develop into a world-class industrial center. In 1954, Joseph M. Juran was invited to lecture by the Union of Japanese Scientists and Engineers. His visit marked a turning point in Japan's quality control activities. In 2005, Gordon Styles planted his own flag of quality in the East. Styles, however, did it by founding a high-tech manufacturing facility in Dongguan, China—not exactly known as a hotbed of quality exports.
After reading a case study of Star Rapid's role in restoring a historic lighthouse, my interest was piqued. Just how does a veteran of the UK rapid-prototyping industry wind up starting a company that provides high-quality rapid prototyping, tooling, and low-volume manufacturing services to businesses and individuals all over the world? When I caught up with Styles for an interview, I found his "why" to be as fascinating as the "how."
Ryan E. Day: So, you originally worked in prototyping in the UK but wound up in China. You also said you faced great challenges building a business in China, knowing that China had a reputation for bad quality. Can you unpack that a little?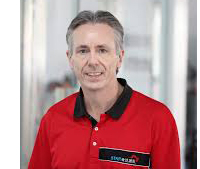 Gordon Styles, president and founder of Star Rapid
Gordon Styles: Sure. In 2003 I had built a small CNC machining company in the UK called Springer. Unfortunately, we started to lose business to China and others. It got so bad that in the end we lost all of our contracts, and I had to shut down the business in April 2005. That's when I decided to move to China.
After extensive research about manufacturing companies in China, we wrote the business plan for Star Rapid in June 2005, moved to China on July 16, 2005, and started operations in Dongguan.
Not long after moving, I was contacted by some of my former customers who had switched supply to China. They asked me to restart supplying them because the quality of the parts they were receiving was not high quality, so their production line had stopped at great cost. It was around that time that many large companies in the West became enamored with the possibility of huge savings by working with Chinese suppliers, only to get a rude awakening soon afterward. Soon, Western companies realized that the only way to get quality out of China was to send your own trusted QC people to literally live in the supplier's factory. In Zhongshan I still have many friends who live on site at Chinese factories doing 100-percent QC of their own product.
RED: You bet pretty heavily on establishing a high level of quality, but coming up to a bar set that high means you have to ensure that your parts conform to the highest standards. What kind of investment in inspection and QC activities does that entail?
GS: So far, we have spent around $350,000 on inspection equipment and currently have 19 employees in QA and QC. That's a fairly high proportion of our 250-person workforce.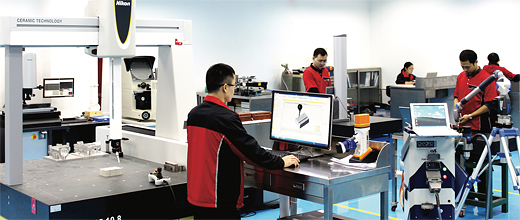 We also have dedicated QC employees working within the companies of three key suppliers. We take positive materials identification very seriously and use a FARO laser scanner and a Nikon CMM.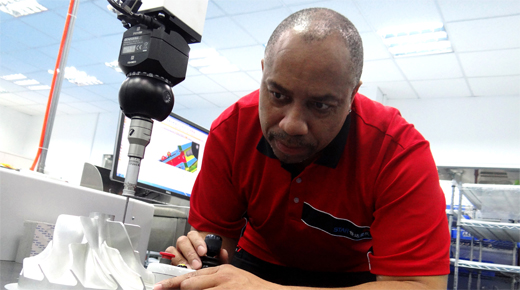 We have an optical emissions spectrometer and X-ray fluorescence gun, both from Oxford Instruments; these are used to check that incoming metals are the correct metallurgy. We check plastics with a PolyMax hand-held analyzer, which is quite accurate. Just these three spectrum analyzers alone cost $140,000.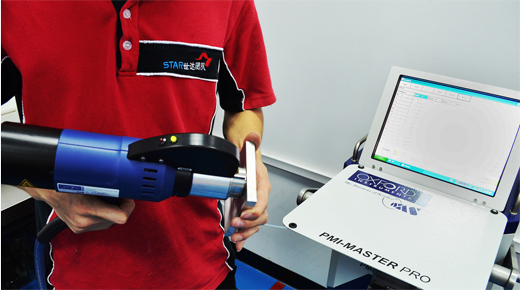 It's vital to check the quality of all the raw materials coming into the factory. When we first got the optical emissions spectrometer, we found that around two-thirds of all stainless steel from suppliers was either nonconforming or fake. For instance, we would receive type 201 stainless steel sheets instead of type 304. The 304 sheets are nominally 18-percent chromium and 10-percent nickel—which means they won't rust—but 201 is chromium manganese, which is nonmagnetic and rusts easily. A great deal of 201 is making its way into the United States and Europe, and now it is more common to see rusting stainless in new architectural installations in America. Even though all of our suppliers know we will be testing their materials, we still find about 10 percent of all incoming metals are nonconforming. Most suppliers in China simply don't care enough to bother investing in quality control equipment—which is a stark reality.
RED: I understand Star Rapid is certified and compliant with ISO 9001:2008. Are you working on certifying to the 2015 revision? If yes, how are you addressing the focus on "risk-based thinking?"
GS: Yes, we are working on updating our certification and our procedures to meet the new standard by 2018. As you know, this standard places more emphasis on incorporating the analysis of risk at all stages of our operations, and by doing this we can implement corrective actions to reduce or avoid the potential causes of nonconformance.
RED: Do you use failure mode and effects analysis (FMEA) and corrective and preventive action (CAPA) as part of your quality efforts?
GS: We tend to use CAPA rather than FMEA because we are a prototype and low-volume shop. We class complaints as "customer feedback," and in most cases we will start a CAPA. It is very important that we analyze each issue and ensure that we make systemic changes wherever we can to address these issues. We believe this is key in continuously improving as a manufacturing company.
RED: Do you incorporate gemba walking?
GS: Gemba is also known as management by walking around. As a small-business owner, that is pretty much what I do every day.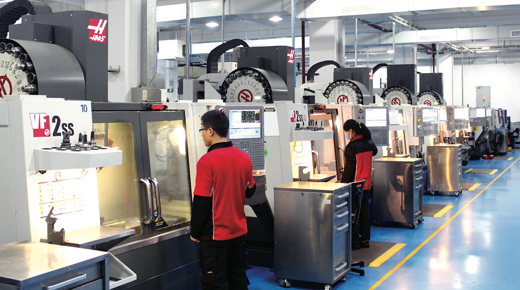 When a problem comes up, I go to the machines to review the problem with the engineers. Every day, I do a complete tour of the entire factory. When I see something I don't like (or that I am impressed with), I post a picture and description to our 5S chat group in WeChat. There's about 15 people in the group, and action gets taken right away. This ensures we are always producing the best products possible.
RED: How do you feel about basics like 5S?
GS: We have a 5S and safety manager, and we are sticklers for keeping the facility clean, tidy, safe, and secure. My employees know that I won't stand for things not being put in their right place, tidied up, or left unsafe or unsecured. I have a bit of a reputation for discipline when it comes to 5S. I give employees three chances on 5S and safety before I refer them to HR for disciplinary action.
Takeaways
The last decade-plus has seen a manufacturing paradigm seething with outsourcing, offshoring, and reshoring. Offshoring manufacturers have weathered boom-and-bust growing pains, while many others chase their ultimate slim-margin unicorns. Manufacturers and suppliers alike have taken a beating. And there, square in the middle of the melee, Star Rapid is proving that cultivating a culture of quality is a timeless investment.
Gordon Styles and the Star Rapid team have earned big kudos from this writer for demonstrating how a quality-oriented business can be built and run in any environment.
About The Author

Ryan E. Day
Ryan E. Day is a Quality Digest contributing editor and principal administrator of the company's content marketing program, which brings together those seeking business improvement solutions, and solution providers. Day has spent the last 7 years researching and interviewing top business leaders and continuous improvement experts including Sakor, Ford, Merchandize Liquidators, Olympus, 3D Systems, Hexagon Intertek, InfinityQS, Johnson Controls, FARO, and Eckel Industries. When not developing engaging and informative content, Day might be found polishing his html and css skills, or hanging out with his 20lb American Tabby cat.