Featured Video
This Week in Quality Digest Live
Eugene Daniell
Innovation
Becoming a 'Why Not?' Engineering Culture
How Hendrick Motorsports uses manufacturing intelligence tools to drive winning innovation
Published: Tuesday, August 9, 2016 - 16:55
Sponsored Content
For more than 30 years, Hendrick Motorsports has consistently been one of NASCAR's most successful teams. In the course of winning a record 11 Sprint Cup Series championships, Hendrick Motorsports has learned that it must innovate constantly to stay ahead of the competition. Because auto racing is a sport that rewards risk takers and innovators, the engineering team needed to adopt a more flexible and nimble culture to find the speed needed to win on race day.
When faced with technological hurdles, this culture encourages engineers to ask, "Why not?" rather than say, "We can't." One of the ways that Hendrick Motorsports does this is by using intelligent measurement technology to go fast on the track.
The evolution wasn't easy, but Hendrick Motorsports has made great strides by making strategic changes. Today, Hendrick Motorsports uses advanced metrology processes to accelerate its engineering cycle, leveraging the data to perform root cause analysis to consistently improve its process. Access to quick, accurate data gives the team confidence in its quality process and helps drive productivity. But these benefits are not reserved for NASCAR racing teams only: Organizations like yours can benefit from these insights, too.
Logistical challenges
The engineering and logistical challenges facing Hendrick Motorsports are significant. The company currently fields a four-car team in the NASCAR Sprint Cup Series, responsible in 2016 for keeping the No. 5 car of Kasey Kahne, the No. 24 car of Chase Elliott, the No. 48 car of Jimmie Johnson, and the No. 88 car of Dale Earnhardt Jr. operating at peak performance. To do so, the organization leverages the resources of a technology center and more than 600 employees. The NASCAR season is longest in professional sports and taxes every team―the schedule includes 38 races spanning 42 weeks from mid-February to November. Adding to the challenge, each team has 14 race cars assigned to it, and the cars are designed to compete on four different types of tracks: short, intermediate, superspeedway, and road course.
One key technology the Hendrick Motorsports organization uses to help gain a competitive edge and streamline its engineering process are portable coordinate measuring machines (PCMMs). Hendrick Motorsports utilizes ROMER Absolute Arms from Hexagon Manufacturing Intelligence extensively throughout its build process. Specifically, the team uses the solutions to aid in chassis construction, body placement and shaping, car assembly, and inspection of components.
Embracing a metrology process
At speeds in excess of 200 mph, a race car's aerodynamics play a critical role in how the team does on the track. It is understandable that the Hendrick Motorsports team places great emphasis on the aerodynamics development loop. Essentially, this is an engineering process where the body and car construction are informed by detailed track information, computational fluid dynamics, and wind-tunnel development. This is an area of development that is a continuous process for Hendrick Motorsports engineers. Every part of the car is scrutinized and simulated to find small gains. This includes the chassis, components, body, paint, and assembly. In addition, engineers must ensure the adjustments comply with rigorous NASCAR regulations. In fact, these regulations serve as the benchmark for quality control at Hendrick Motorsports.
Engine block inspection process
A good example of how portable metrology capabilities are benefitting the team is the engine block inspection process. By NASCAR rule, the cylinder blocks are supplied by Hendrick Motorsports' partner, Chevrolet. The inspection process is extensive and very detailed. In the case of the cylinder block measurement task, the team has seen significant improvements to its process using the ROMER solution. First, it is able to use better fixturing so that it has complete confidence in the information it is collecting. Previously, technicians had to refixture the block on the machine, which was a time-consuming task. More features can be measured and reached, and despite having more work to do, the technicians take less cycle time to complete the job. Second, data are more consistent and reliable.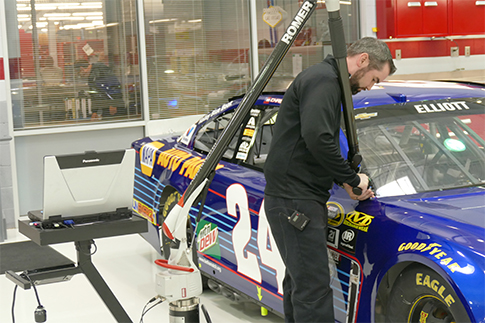 Figure 1: The Hendrick Motorsports team makes extensive use of their ROMER Absolute Arms to aid in chassis construction, body placement and shaping, car assembly, and inspecting components.
In addition to these gains, the ROMER Arm's new controller enables engineers to bring the full power of the 3DReshaper and PC-DMIS software environments to bear on the process, enabling Hendrick Motorsports to work faster and more efficiently. The cylinder block measurement process is just one example of how the team is able to benefit from its portable metrology solution; Hendrick Motorsports is also able to find similar benefits in other areas, including inspecting crankshafts, pistons, accessory drive components, and cam gears.
As the team collects data about the race cars, the ability to mine this information to get to the root of difficult engineering challenges becomes increasingly valuable. While every race team would like to be able to make big leaps over its competition from week to week, the compounded value of adding the incremental gains made over a period of weeks or months adds up to tenths of a second, even whole seconds, being shaved off a race car's lap times. By leveraging the metrology data that the ROMER solution provides, the Hendrick Motorsports team can find areas for improvement on the car to make it go faster. Evidenced-based data gives engineers more confidence and the freedom to think "why not" when it comes to design changes.
Hendrick Motorsports must put four race cars on the track 38 weeks a year. With more than 50 cars distributed across four drivers and teams, this task is one of the most demanding challenges in the auto racing world. But the job is even more complicated because the team must always be iterating and refining the cars to find elusive seconds on race day. Thanks to the PCMM the team uses, that job has gotten easier. By embracing a metrology process, the team is able to improve its engineering process with the confidence that the data it is generating are rapidly helping find speed on race day. With 11 Sprint Cup championship wins under its belt, the organization is clearly an innovator in the NASCAR world. By strategically applying the ROMER Absolute Arm to help improve its process, Hendrick Motorsports is able to get the speed and confidence it needs to stay ahead of the competition.
Join Hendrick Motorsports engineer Brandon Evans and Hexagon Manufacturing Intelligence's portable regional sales manager Scott Grumbles on Tues., Aug. 16, 2016, at 11 a.m. Pacific/2 p.m. Eastern for the webinar, "Become a 'Why Not?' Engineering Culture." Register here.
About The Author

Eugene Daniell
Eugene Daniell is the ROMER Absolute Arms product manager at Hexagon Manufacturing Intelligence. In this role, Daniell drives the creation of new measurement solutions through integration and automation of Hexagon Manufacturing Intelligence's core products. This portfolio of solutions includes Coordinate Measurement Machine (CMM) technologies, laser tracker and white light (WLS) solutions that integrate with machine tools, robotics, and automated environments.Daniell has worked in industrial manufacturing for more than two decades, solving chemical, mechanical, and electrical challenges for a wide variety of applications. His background includes software development for industrial automation, as well as semiconductor process development and manufacturing precision parts for aerospace and medical applications.
He holds a chemical engineering degree from the University of Massachusetts Amherst.