Featured Video
This Week in Quality Digest Live
Society of Manufacturing Engineers
Innovation
Celebrating the Future Leaders of Manufacturing
SME's '30 Under 30' take on ultrasonics, structured light, and robotics with enthusiasm
Published: Thursday, July 28, 2016 - 15:30
SME's July issue of Manufacturing Engineering magazine has published its fourth annual "30 Under 30" issue, celebrating young men and women who have demonstrated leadership, excellence, and hard work in manufacturing. Among the standouts:
Fabian Bartos, 16, of Franklin Park, Illinois, is the youngest honoree on this year's list. As a student at East Leyden High School, Bartos became passionate about 3D printing in an engineering class. In 2015, he was tasked with printing a replica of the White House that was presented to President Obama at a "Maker Education" event.
Ashley Buchner, 30, of FCA US, leads the Virtual Assembly Group for the automaker and uses motion-capture suit technology. "A lot of people think we play with video games," she says, "but it's in a manufacturing setting. It's a cool and powerful tool, that's for sure."
At Lockheed Martin Aeronautics, senior applications engineer Matt McKee, 29, works on the F35 fighter jet program, using structured light and other augmented-reality technology to improve manufacturing processes. McKee always wanted to work on planes, but says, "I didn't think I'd get to work on a fighter jet, so that was a pretty big bonus."
Justin Wenning, 23, is a welding engineer at Fabrisonic LLC, which does ultrasonic additive manufacturing—a newer form of 3D printing. "All other 3D printing technologies have a 10-year head start on us," he says. "It's extremely exciting to be here."
In addition to his work as a field service engineer for ABB, Andrew Siwicki, 23, helped to program the robotic piano Lady Gaga played at this year's Grammy Awards. "Working with a robotics system is incredibly rewarding," he says. "It's amazing to see what robots can do."
Sarah Webster, director of content and strategy at SME's Advanced Manufacturing Media, says it's important to bring attention to the high-tech work that young people in manufacturing and other related STEM fields are doing. "These talented and hardworking professionals and students prove that manufacturing is not only alive and well, but also adapting and advancing," she says. "Their stories also demonstrate that a career in manufacturing can be important, rewarding, and fun."

The 30 individuals recognized (all age 30 or younger at the time of nomination) are:
1. Aaron Birt, 26, Worcester Polytechnic Institute, Worcester, Massachusetts
2. Amber Williamson, 28, Baxter Healthcare, Mountain Home, Arkansas
3. Andres Valdez , 25, Global Shop Solutions, The Woodlands, Texas
4. Andrew Siwicki, 23, ABB Inc., Auburn Hills, Michigan
5. Anselmo Gallegos, 27, General Motors, Detroit, Michigan
6. Ashley Buchner, 30, FCA US, Auburn Hills, Michigan
7. Austin Hall, 27, HDH Manufacturing, Indianapolis, Indiana
8. Caroline Richardson, 27, Abbott Point of Care, Princeton, New Jersey
9. Daniel Tunis, 25, FCA US, Auburn Hills, Michigan
10. David Kriesberg, 22, University of Maryland, College Park, Maryland
11. David Zwick, 22, University of Florida, Gainesville, Florida
12. Denise Karabowicz, 25, Thales Visionix, Inc., Aurora, Illinois
13. Edward Brabandt, 30, Systematic Manufacturing, Inc., Sterling Heights, Michigan
14. Fabian Bartos, 16, East Leyden High School, Franklin Park, Illinois
15. Graham Hargreaves, 30, CNC Software, Inc., Tolland, Connecticut
16. Hannah Kalinowski, 28, The Boeing Co., Everett, Washington
17. Jacob S. Larson, 22, John Deere, Waterloo, Iowa
18. Joseph Prosnitz, 27, Prosnitz Solutions/Up-Ride, Skokie, Illinois
19. Justin Wenning, 23, Fabrisonic, Columbus, Ohio
20. Kaylie Crosby, 23, University of Alabama, Tuscaloosa, Alabama
21. Long Phan, 27, United Grinding, Miamisburg, Ohio
22. Madeline McCloughan, 24, 3M—Industrial Adhesives & Tapes Division, St. Paul, Minnesota
23. Matt McKee, 29, Lockheed Martin Aeronautics, Fort Worth, Texas
24. Matthew R. Kelly, 24, University of Notre Dame, South Bend, Indiana
25. Nick Raymond, 28, Monterey Bay Aquarium Research Institute, Moss Landing, California
26. Perry Parks, 28, Siemens PLM, Cypress, California
27. Sean Sullivan, 30, Siemens Industry Inc., Tacoma, Washington
28. Teresa Munger, 30, Pratt & Whitney, East Hartford, Connecticut
29. Troy Wallace Pierson, 18, University of Alabama—Incoming Freshman, Mission Viejo, California
30. Whitney Hill, 30, the Boeing Co., Everett, Washington
Advanced Manufacturing Media is the media division of SME, which is an organization dedicated to advancing and educating the manufacturing industry.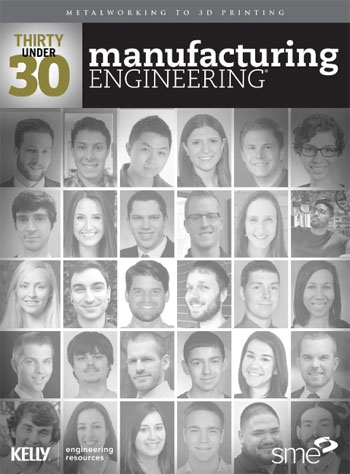 About The Author

Society of Manufacturing Engineers
The Society of Manufacturing Engineers (SME) is the premier source for manufacturing knowledge, education, and networking. Through its many programs, events, and activities, SME connects manufacturing practitioners to each other, to the latest technology, and the most up-to-date processes spanning all manufacturing industries and disciplines, plus the key areas of aerospace and defense, medical device, motor vehicles, including motorsports, and oil and gas. A 501(c)3 organization, SME has members in more than 70 countries and is supported by a network of technical communities and chapters worldwide.