This Week in Quality Digest Live
Lenox Instrument Co.
Health Care
Micro Borescope Provides Clear, Close-Up Inspection of Medical Devices
Durable construction gives superior ability to tolerate tip deflections and moderate bending
Published: Tuesday, March 20, 2012 - 13:39
(Lenox: Trevose, PA) -- Lenox Instrument Co.'s Micro Borescope delivers a clear, bright image ideal for close-range inspection of medical devices like coronary stents; tubing; micromolded, machined, and cast parts; and electronic and mechanical assemblies—particularly where access is limited and the insertion point is only a few millimeters in diameter.
Micro Borescopes from Lenox feature a focusing eyepiece and a fiberoptic bundle that provides superb resolution. The scopes' rugged design and durable construction give them superior ability to tolerate tip deflections and moderate bending. Additionally, the Micro Borescope is backed by Lenox's industry-leading two-year warranty.
The Lenox Micro Borescope comes in both flexible and semi-rigid models. The scope itself is available in diameters as small as 0.02 in. (0.5 mm), and in standard lengths from 4 in. (102 mm) to 50 ft (15.2 m). Other lengths and custom configurations are available, as well.
All models in the Micro Borescope line are fully video- and digital-adaptable, allowing for the viewing and recording of real-time or still images for reference. Micro Borescopes are compatible with other Lenox accessories such as complete color video systems and light sources (standard and portable versions) for self-contained illumination of the inspection area.
For more information, call (800) 356-1104 or (215) 322-9990, or e-mail to Bill Lang at sales@lenoxinst.com, or visit www.lenoxinst.com.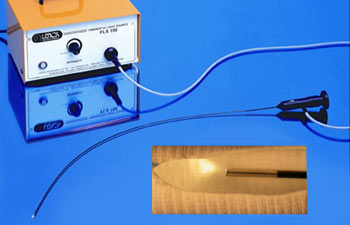 About The Author

Lenox Instrument Co.
For more than 90 years, Lenox Instrument Co. has been serving the defense, power generation, and industrial markets by solving their most challenging, and often, hostile remote image acquisition. Located outside Philadelphia, Lenox is a global manufacturer and supplier of remote vision instruments. Lenox offers a full line of borescopes, videoscopes, and light sources. Lenox also manufactures FireSight, an exclusive line of high temperature boiler and furnace camera systems. All Lenox products are factory-serviced and backed by industry-leading warranties.