This Week in Quality Digest Live
Steven Leuschel
Health Care
Lean Culture Change Using a Daily Management System
Applying Phase 1 of the Toyota transformation curve to healthcare organizations
Published: Tuesday, January 19, 2016 - 17:14
Taking a cue from Toyota, the newly published book Lean Culture Change Using a Daily Management System (Align Kaizen, 2015) by lean transformation coach and author Steven Leuschel applies decades of organizational transformation knowledge deeply rooted in the Toyota Production System and in Toyota's culture to healthcare organizations.
Based on the teachings of Rodger B. Lewis, former general manager of quality at Toyota during the Georgetown ramp-up, Lean Culture Change demonstrates how Lewis used the transformation curve to successfully transform multiple divisions of General Motors as well as organizations around the globe.
Reflecting the fact that healthcare organizations are now beginning to embrace a long-term strategic approach to transformation, as opposed to just becoming lean, doing kaizen events, or creating a model cell, Lean Culture Change describes the initial steps of the transformation curve's Phase 1 Level A applied to healthcare organizations, along with real-life examples and case studies. In addition, each chapter of Lean Culture Change outlines an artifact of a daily management system and explains how readers can begin improving the culture of their organizations and daily management of their leadership team.
Designed to be a training book for team leaders and senior leaders who wish to study and adapt the transformation curve to their organization, Lean Culture Change contains more than 230 pages and 100 images. Its six case studies highlight ABC Medical Center in Mexico City; Forbes Regional Hospital in Monroeville, Pennsylvania; Indiana Regional Medical Center in Indiana, Pennsylvania; Excela Health in Greensburg, Pennsylvania; St Mary's General Hospital in Kitchener, Ontario; and Memorial Medical Center in Mechanicsville, Virginia. Contributors to the book include Mike Hoseus, Rodger Lewis, Richard Kunkle, and Dominic Paccapaniccia.
"The book explores how and why healthcare organizations may have started with rapid improvement events as their main mode for improvement, but it reflects how the transformation curve is a long-term strategic approach to organizational transformation," says Leuschel. "Healthcare organizations must have a long-term approach, and the tools of transformation curve's Level A are fundamental in sustaining change."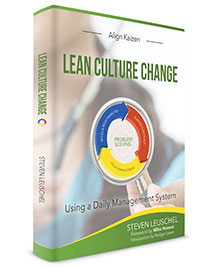 What healthcare transformation and lean leaders are saying:
"Many books explain the why, the what, the when, and the where. These are all very important, but without the how—the needed execution to achieve—high performance will not take place. Lean Culture Change does a superb job of putting all the ingredients together. By following the processes outlined, readers will improve their own skill sets and their organizations' performance."
—Quint Studer
"People want to be part of a larger vision and purpose, and they want to be involved. We just have to lead and structure the organization in a way that gives them the chance to do so. Nothing is more important to their success or your organization, and Lean Culture Change gives you a way to actually do it."
—Mike Hoseus, co-author of Toyota Culture (McGraw-Hill Education, 2008)
About The Author

Steven Leuschel
Steven Leuschel is a lean, culture-change, and operational-excellence coach. He has aided in the adaptation and implementation of the transformation curve at a number of manufacturing, healthcare, and service industries, teaching and coaching a lean daily management system at both executive and frontline levels. With a master's degree in management: operational excellence and a master's certificate in health services leadership from Saint Vincent College, Leuschel is pursuing his Ph.D. in administration and leadership studies at the Indiana University of Pennsylvania.