Featured Video
This Week in Quality Digest Live
Scott Rader

FDA Compliance
The Evolving Regulatory Landscape of 3D-Printed Medical Products
The concept of making personalized devices doesn't require new regulatory processes
Published: Tuesday, October 18, 2016 - 15:55
During the past year, my email inbox has been consistently pinged by law firms advertising seminars and workshops that promise to help medical professionals understand what is noteworthy for 3D-printed medical products, ranging from regulatory to IP concerns. Some of these have been quite alarming, seeming to indicate that as disruptive as 3D printing promises to be, there must be a corresponding disruption to how we work on regulatory compliance to protect our assets.
But if we step back and look at the actual U.S. Food and Drug Administration (FDA) communications, the pace of adoption of 3D printing and real intersections of 3D printing and business processes, it appears that little has changed. The only disruption is when 3D printing revolutionizes a commercial process.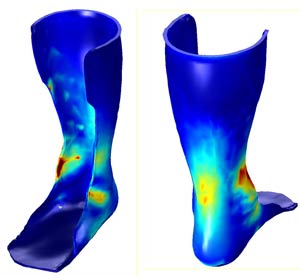 Image 1: Orthotic ankle support scans
On the IP front, there is concern that the digital file-driven manufacturing of 3D printing opens new doorways to design theft, counterfeiting, and hacking. We should stop and consider that in the age of digital product scanners and reverse engineering software, the potential for illegal counterfeiting has existed in our industry for a very long time; it may just be even easier now.
But the focus of this article is on regulatory considerations, both today and for the future, and how these are affected by the increasingly digitally driven Industry 4.0 framework (click here to review my Feb. 2016 Industry 4.0 blog) that encompasses 3D printing and additive manufacturing (AM).
The expanding use of 3D printing in healthcare
The key stakeholders in healthcare—physicians, hospitals, patients, medical device and pharmaceutical manufacturers, and insurance payers—are all keenly interested in the unique capabilities of 3D printing to transform healthcare. This interest is demonstrated in the exponential increase in peer-reviewed publications on the use of 3D printing in medicine. In an independent search funded by Stratasys in 2015, our investigators found that more papers were published last year on 3D printing in hospitals for presurgical procedure planning than in all previous years combined.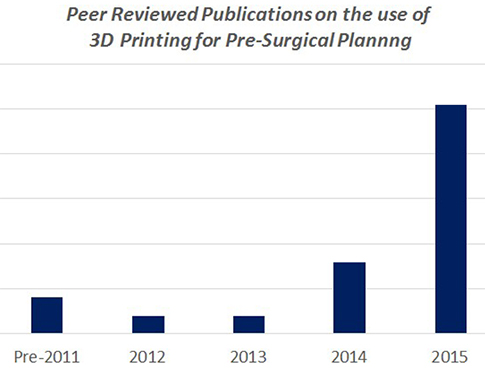 Image 2: Peer-reviewed papers on the use and impact of patient-specific surgery planning models. Source: Stratasys literature analysis.
This explosion of interest at the hospital level has been matched by a proliferation of products cleared to market, as well as announcements made by leading medical product producers of major investments in 3D printing and additive manufacturing. As of March 2016, there were 88 medical products cleared or approved by the FDA for sale that are produced using 3D printing.
Some of the products among these 88 cleared and approved devices are surprising in their complexity, including:
• The first 3D-printed pharmaceutical pill
• Personalized orthopedic implants and/or surgical tools for procedures like knee arthroplasty
• Osteoconductive arthrodesis fixation system
(Download a complimentary copy of the Stratasys white paper, "Enhancing Clinical Preparedness With 3D-Printed Medical Training Models.")
Reflections on the FDA's perspective on additively manufactured medical products
Recently, representatives of the FDA published an article in the 3D Printing in Medicine Journal outlining the agency's perspective on using additive manufacturing for medical devices and products. The article offers invaluable clarification on many topics relating to 3D printing. It helps healthcare professionals understand that current regulatory processes have been successfully applied to these products.
My four key reflections on the global tone of the article are:
1. If additive manufacturing is used in 21 CFR 820-compliant manufacturing facilities, from a regulatory perspective 3D printing is no different from using injection molding, machining, stamping, casting, or any other process.
"Despite some new technological characteristics of additive manufacturing, this has not changed the regulatory pathway for medical products that are reviewed by the FDA," the article's write. "This not only applies to premarket review, but also to manufacturing quality during production."
2. The concept of making personalized devices, sometimes called "patient-matched" or "patient-specific products"—which leverages the capability of additive manufacturing to digitally modify a design to an individual patient and fabricate it without tooling, does not require new regulatory processes.
• Patient-specific products, whether surgical cutting guides or patient-matched implants, must conform to a predetermined range of device specifications that are cleared or approved.
• A quick example to understand this could be a patient-specific hip implant. A manufacturer can create a "design space," wherein important factors such as height, weight, pelvic girdle dimensions, femoral offset, residual femoral shaft, and other factors become the mapping boundaries of the design space. The manufacturer can then prove the veracity of the implant design to the outer limits of the design space (both maximum and minimum), and a relevant and agreed-upon sample in the inside of the design space, to prove that the product will work across the vast majority of patients matched to the product. If a patient falls outside of the specified range, then other products will need to be used; but clearly the regulatory processes we have today make possible patient-specific products.
3. The regulatory processes for 3D-printed drugs are robust and have been successfully applied to approve an oral dosage form that is additively manufactured.
4. Future products that will advance claims toward regenerative medicine, body repair, or organ replacement, as well as new avenues of therapeutic intent, are being watched closely at the research and development level by the FDA—a hopeful sign that regulatory processes will mature at a pace to support innovative new therapies.
In my opinion, the regulatory processes of today are robust enough to handle most of the innovations that have been brought to the FDA to date. Although I don't claim to have knowledge of all of the products cleared or approved by the FDA, the vast majority appear intended to be produced in factories that comply with current standards. The major questions remaining concern 3D printing in hospitals. What should we, as an industry, begin thinking about for the future?
First published Aug. 15, 2016, on the Stratasys blog.
About The Author

Scott Rader
Scott Rader founded and leads the medical solutions team at Stratasys, provider of 3D printing and additive manufacturing solutions. Rader has more than 20 years of industry experience, ranging from medical center professor to leading successful venture-funded companies. 3D printing, additive manufacturing and Industry 4.0 are re-writing the rules of how we can improve clinical outcomes and/or reduce the cost of patient care. When Rader isn't evangelizing new medical opportunities, he can be found saltwater fishing, sailing, and finding new ways to explore the great outdoors with his family.