This Week in Quality Digest Live
Dennis Payton
FDA Compliance
Interpreting the FDA View of Medical Device Design Controls
What the regulations lack in length they make up in complexity
Published: Monday, January 20, 2014 - 11:44
Some of the shortest descriptions in the Food and Drug Administration's (FDA) CFR 21 Part 820—"Quality System Regulation" are found in Section 820.30 and Section 820.40, totaling about a page of information about design and document controls. However short, these two sections outline some of the most complex aspects of medical device documentation for companies complying with the regulation.
The FDA did give a bit more background to help a new medical device company understand these two key elements (in the now-withdrawn "Medical Device Quality Systems Manual: A Small Entity Compliance Guide"), but given the regulation's complexities, even those few pages of guidance (covered in Section 9—Document and Change Control) fell short of the coverage needed to understand the impact of a company's medical device quality system.
Fortunately there are some very good tools that can help mitigate these complexities and streamline controls. However, it still takes a very strong, detailed, and sustained effort to ensure these complex controls are in place for continued success and compliance with the regulation.
With the wide variety of medical device suppliers there comes an equally wide variety of processes, procedures, and controls that are developed specifically to a business and the medical devices being produced. It is important to understand how the FDA tries to normalize a specific business to the regulation when auditing that business for design control compliance. Understanding the administration's view will help make for a much smoother review of your system and a much cleaner and successful audit of a company's design processes.
A simplistic model can be derived from the 820.30 regulation that the FDA may use to ensure design coverage and compliance of a device design or manufacture to the regulation. The design and development model can be graphically depicted and loosely linked to the regulation as follows: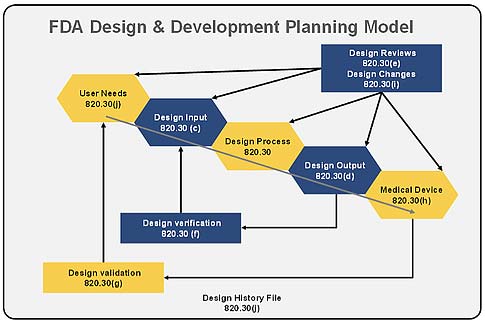 Click here for larger image.
Diagraming the design flow is helpful for seeing a more detailed picture of the validation and verification of a product against its intended use model and, specifically important to the FDA, seeing that each and every stage of the process is well-reviewed and documented.
Again, like the FDA regulation on design controls, this is a very short summary of complex processes, document definitions, controls, and general management and approvals on which volumes have been written. The objective should be to have a very good understanding of how the FDA or other regulatory entity views the medical device controls so that a business can demonstrate how its particular controls map into the regulatory model. A logical analogy of a business's design and development model should be able to map to the regulatory, normalized baseline models. Doing this will result in smoother audits with a higher degree of success, and hopefully will lower the expense and time of managing the audit process (something the regulatory folks don't really care about, but all business folks do).
A fuller descriptive paper outlines some key points for developing a Medtech-specific design control with a product development process, and how to maximize the use of enterprise-level business tools that accelerate the process, streamline audits, and make for a much smoother compliance. The brief outline here summarizes a more streamlined and smoother compliance with CFR 21 Part 820, keeping in mind not just the business drivers but also the FDA's "normalized view" of design controls.
Get the detailed white paper here.
About The Author

Dennis Payton
Dennis Payton is the executive director of product marketing at Expandable Software Inc. which develops, markets, and supports its enterprise resource planning (ERP) manufacturing software suite designed to help expanding manufacturers manage their long-term growth.