This Week in Quality Digest Live
Jeff Mazik
FDA Compliance
Are You Ready for 21st-Century eMDR Submissions?
The rules are changing
Published: Tuesday, December 9, 2014 - 14:40
If you have been procrastinating on setting up electronic submissions for your adverse event reports to the FDA, you might want to reconsider that decision. Earlier this year, the FDA published its final rule on MedWatch/eMDR reporting.
Although not much has changed in this final rule in regards to required content, the submission process, or submission timelines, the FDA has taken a large step closer to mandating 21st century technology. The final rule states that all required adverse events are to be submitted electronically by Aug. 14, 2015. The clock continues to tick….
Not sure if you're handling this new reality properly? Well, here's a quick way to find out. Are you (or your management) making statements like these?
"The FDA always delays; we will just wait and see."
The FDA has given no indication of changing or extending this electronic submission requirement timeline. Their hard-line stance is mostly due to the fact that submissions of the MedWatch form via electronic means has been available for many years on a voluntary basis. Numerous manufacturers have taken advantage of this technology to streamline adverse event reporting. Soon, the electronic submission process for these reports becomes mandatory.
"We don't submit a lot of complaints; we will just wait until we have something to report."
Maybe your company doesn't have many adverse events to report, maybe only once in a blue moon. (Great for you!) However, if you wait until a complaint occurs (after Aug. 14, 2015) and the complaint results in a reportable event that requires submission, you are caught in a very dangerous game of Russian roulette. You see, an electronic account is required to be set up prior to an eMDR submission. The FDA has previously stated that the set up of an account takes from two to six weeks, not counting the form completion process and ensuring everything was filled out correctly. Now, depending on the adverse event, you will have between five to 30 days to officially submit it to the FDA, electronically. With a two- to six-week wait for an account, you will be caught in a waiting game that in all likelihood will make you noncompliant. That's not a good place to be.
Don't get caught in this game where you are most likely going to lose. There are options available to do this submission electronically in a secure, managed, workflow driven environment.
"Ok, I'm convinced. What options do I have for submitting electronically?"
If you already submit your adverse events to the FDA electronically, there is nothing you need to change. However, if you don't and are still submitting via paper/PDF, now is the time to start investigating your options. Although the FDA provides the eSubmitter tool to help you submit the reports electronically, it doesn't integrate with your electronic quality management system, provide electronic signature approvals, a workflow process, KPI measurements, or the like. In many cases users will be required to re-key or copy/paste data from their original source. This error-prone, non-integrated solution leaves much to be desired, but it does serve as a quick and easy way to submit the completed report.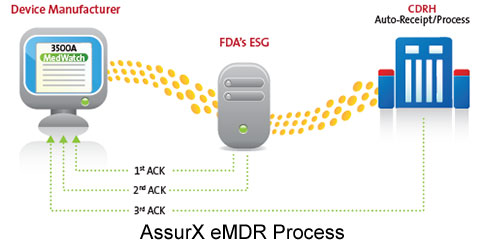 First published on Nov. 21, 2014, the AssurX blog.
About The Author

Jeff Mazik
Jeff Mazik is the vice president of life science solutions at AssurX Inc., developer of quality management and regulatory complicance software.