Featured Video
This Week in Quality Digest Live
FDA Compliance
Combination Products Review Program
Progress and potential report
Published: Tuesday, January 17, 2017 - 13:01
About a year ago, we shared with you our combination product review, Intercenter Consult Process Study Report, developed by the U.S. Food and Drug Administration's (FDA) Office of Planning. The report findings were derived from focus group studies with reviewers from the FDA's different centers and included input from industry. Since then, we have built on foundational policies and processes to address many of the issues identified in the report.
Tremendous progress toward modernizing the combination products review program has been made by improving coordination, ensuring consistency, enhancing clarity, and providing transparency within the agency as well as with all stakeholders. We are excited to share our progress with you now. The table below summarizes some key achievements from the past year, including the publication of draft guidances, a variety of new processes, and a look at future goals.
As technologies advance across multiple fields, the distinctions that previously allowed combination products to be neatly categorized by the FDA's medical product centers are blurring or even vanishing.
Combination products account for a growing proportion of products submitted for review, and the FDA will continue to collaborate on new approaches to ensure safe, effective, and innovative medical products are made available to patients as quickly as possible. Continued collaboration with you, our stakeholders, will be critical as together we continue to make progress in this important area.
We are still listening and have much more work to do.
Click here for larger view: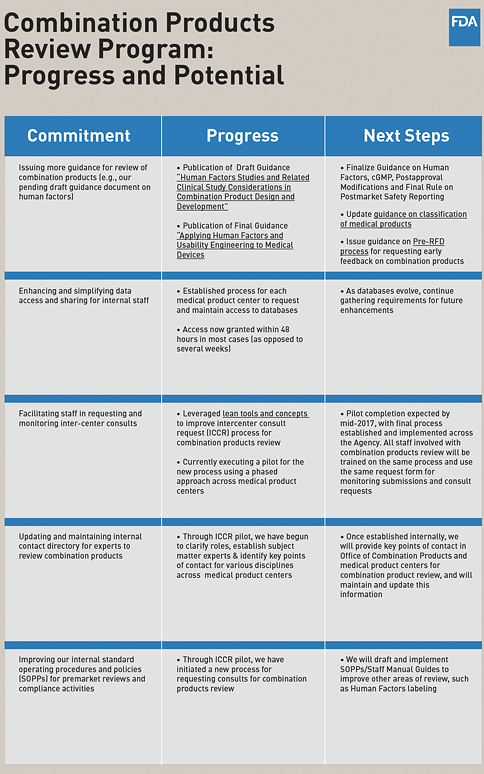 About The Authors

Robert M. Califf
Robert M. Califf, M.D., FDA's Deputy Commissioner for Medical Products and Tobacco

Nina L. Hunter
Nina L. Hunter, Ph.D., FDA's Associate Director for Science Policy in the Office of Medical Products and Tobacco