Featured Video
This Week in Quality Digest Live
Taran March @ Quality Digest
Customer Care
Need for Speed
'Here's your package—what's your hurry?'
Published: Thursday, May 10, 2018 - 12:03
Supply chains' last-mile delivery has become the new Pony Express. Like that famous but short-lived courier service, the global supply chain is focused on completing the final segment between supplier and customer—which in reality is anywhere between six and nine miles, according to a recent study—at breakneck speed. Unlike the Pony Express, suppliers intend on making it pay.
Time is money
As a critical link in the value chain, the last mile grabs a significant share of operating expense—about 30 percent. This is partly because end-point fulfillment centers must deliver not only the goods but fast, high-performance service. The just-leave-on-porch (JLOP) delivery model is only one among many options these days, and a diminishing one at that. Agility and flexibility are basic requirements, which smaller companies are innately qualified to perform, were it not for the cost of those two skills in this particular industry. Smart lockers, drone deliveries, and individualized service all come at a price.
Real time is an established cost of doing business, and phone calls or emails are no longer the main communication modes for deliveries. For one thing, they're limiting. Customers expect their goods to be as trackable as their friends on Snapchat. Consider:
• 77 percent of people won't wait longer than six hours for an email reply
• 64 percent of people using Twitter expect an answer within an hour
• 85 percent of people using Facebook expect a reply within six hours
Where last-mile logistics are concerned, the customer is definitely king, and the king appears to be a tyrant. However, the tyrant is willing to pay for speed, and that's where suppliers find themselves willingly crossing their wrists for the golden handcuffs. Parcel shipments alone are estimated to be worth $83 billion this year, while the vast ocean of e-commerce sales are expected to reach $2.4 trillion. That figure will double during the next decade.
There's little doubt that shippers and suppliers will figure out a way to meet their customers' expectations—or perish in the attempt.
Orphans preferred
Money had much to do with the birth of the Pony Express, too. California's gold rush in 1849 catapulted the territory to statehood the following year, and everyone at that end of the country wanted timely news from the seat of power back east. State of the art for shipping during the decade that followed meant news and packages delivered by stagecoach or a slow boat around the tip of South America.
To meet the demand, in 1860 a handful of entrepreneurs conceived of the horse-and-rider relay system and hoped to get the government to pony up, so to speak. In the meantime they reached into their own pockets, paid for some 500 horses, threw up some rickety relay stations, and put out the following Mark Twain-esque ad:
"Wanted: Young, skinny, wiry fellows not over eighteen. Must be expert riders, willing to risk death daily. Orphans preferred."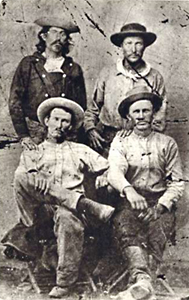 Pony Express riders, clockwise from top left: Billy Richardson, Johnny Fry, and Gus and Charles Cliff
Paid a handsome $125 a month plus room and board, riders covered the 1,966 miles from St. Joseph, Missouri, to Sacramento in 10 days, traveling around the clock. This was half the time it took by stagecoach. In 1861, riders beat their own record by delivering a copy of Lincoln's inaugural address to California in just seven days and 17 hours.
So it worked, sort of. Well-heeled customers were willing to pay the $5 per half-ounce (about $138 by today's reckoning) to get their information across the deserts and over the Rockies, but the price was too high for most people, and the process, which ran at a deficit of $30 per letter ($830), was essentially unsustainable.
Not only that, but the Pony Express had competition, called the telegraph. When the new technology's cross-country installation was completed in 1861, the courier service quickly foundered.
Capacity crunch and other obstacles
Modern customers willing to pay for speed have four expectations going into a last-mile transaction:
• They want consistency, no matter what channel the delivery is shunted along (usually more than one).
• They want visibility, which means real-time interactions during the entire delivery process.
• They want expediency, which boils down to fast and free.
• They want flexibility. Buy online, pick up in store? Order in store, ship to home? Order on the way to work, have it delivered to your car's trunk? Yes to all.
However, delivering in such a customized way, instead of the more economical batch shipments to retail outlets, drives up logistics costs. These types of deliveries become more physically difficult, too, as people or machines negotiate traffic, customers' shifting schedules, and the constantly ticking clock.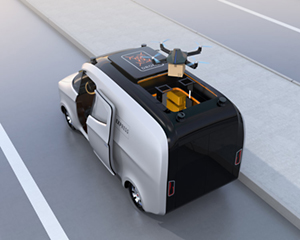 An artist's conception of last-mile logistics
Then there are the headaches associated with delivering bulky items (yes, Amazon will ship you a piano, although probably not to the trunk of your car) or ones that require assembly. Sticking a sensor on a perishable package is becoming commonplace, but where does it end? Hiring a private jet to fly performing swans halfway across the country to someone's pool party?
What's the hurry?
I just wonder if there are any lessons that last-mile delivery services can to learn from the grandly conceived but ill-fated Pony Express. When does meeting customer expectations become a liability? Does just-in-time also imply fast? Will a new technology overwhelm the many small businesses now eyeing what looks like a profitable venture in catering to our obsessive need for speed? Is it really possible to perpetually overcome the impossible?
Just curious.
About The Author

Taran March @ Quality Digest
Taran March is Quality Digest's editorial director. A 30-year veteran of publishing, March has written and edited for newspapers, magazines, book publishers, and universities. When not plotting the course of QD with the team, she usually can be found clicking around the internet in search of news and clues to the human condition.