This Week in Quality Digest Live
Kristine Bammert
Customer Care
The Consequences of Carelessness
Once destroyed, customer trust may never recover
Published: Thursday, October 12, 2017 - 11:03
On July 5, 2017, I was on a canal boat in Amsterdam cruising to a dinner meeting when I received a call saying, "We need immediate access to your condo; water is rushing into the street from beneath your front door." And my heart stopped beating for a moment.
Floods are serious. Even as water gives us life, it can destroy, and quickly.
My tale of woe is nothing compared to what thousands of U.S. citizens are facing in Texas, Florida, and Puerto Rico. The news during the past weeks has shaken me because I know how bad my little flood was. For me, the water was only an inch deep, but it was an inch that ruined the entire lower level of my home. The floors are gone, wallboard destroyed, cabinets ripped out. It breaks my heart to think of what several feet of water have done to people's homes, and lives.
After the meeting in Amsterdam, we were scheduled for a two-week cruise through the fjords of Norway, and that was an appointment I was keeping no matter what. I was assured by my property manager that everything was as good as it could be at home, that my interests were being looked after, and initiated a claim with my insurance company. Demolition had taken place, floors ripped out and the like, and the water mitigation was being handled. I was told my home would be dry when we got back and ready to begin the job of restoring order.
We returned July 23, and I was horrified by the chaos and destruction. I knew it was going to be bad, and I was braced for it, but nothing prepared me for what I found. Company X, the mitigation company, had swept through like a pack of wild dogs and caused far more damage than the water had. They were totally careless with our possessions, totally rough with the way they tore things apart. It was devastating. And I was angry. My customer experience was very poor, to say the very least.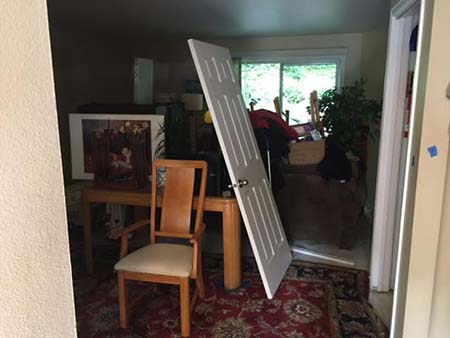 First impression upon coming home
I was also confused, probably a bit in shock, and I really didn't know what to do. I spoke with the property manager who I thought had kept a good eye on things (he hadn't), but he wasn't helpful. I spoke with the contractor the property manager said I needed to use, and he wasn't helpful, either. So I called my insurance adjuster. She was helpful. On my behalf, she contacted ServiceMaster of Redmond, Washington, and its representative, Pam, called me within minutes. She listened to my tale of woe with concern, kindness, and good humor, and immediately made plans for how to help.
The first order of business took place that same day when Amanda came to inventory the losses to our personal property. Like Pam, she was concerned and kind. The next morning a crew of five came to dispose of what couldn't be saved, and store the rest until who knows when. Each person was warm, friendly, and just plain kind—it was precisely the customer experience I needed.
I also had a visit from a contractor, also sent by my insurance company, to put together a quote for the rebuild. That contractor didn't get my work, though, because ServiceMaster has a sister company, Saber Construction. They have the same owner, they share a space, and they share a personality—of course I picked them. My customer experience sold me.
Everyone was ready to get moving, me most of all, but something just wasn't right. Even after the ruined rug was removed, and the moldy laptop bag (that was sad), and all the rest, the kitchen still smelled funky. I absolutely didn't want to get started on any repairs, or close out my claim, if mold was hiding. Logic would suggest that I contact the company that did the original mitigation, but my experience was so poor, I didn't want them in my home again—I don't trust them.
Thankfully, my adjuster was willing to bring ServiceMaster back for deeper investigation, and don't you know, they found mold and even—six weeks after the flood—standing water under the kitchen cabinets. The reason there was mold and water was because Company X hadn't finished the job; apparently, 5 p.m. had rolled around, and the cleanup crew had gathered up their tools and called it a day.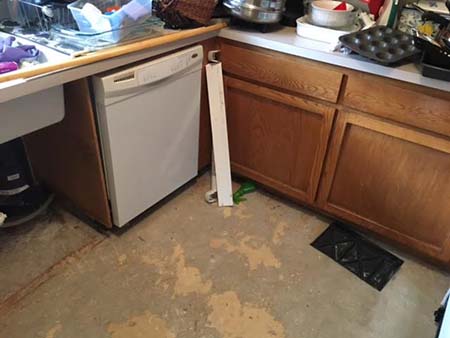 Standing water and mold beneath the cabinets—discovered six weeks after the flood.
So ServiceMaster got a lot more business, as did Saber, and I get a new kitchen.
My customer experience with Company X at that point led to a very sincere, written complaint about them to my homeowner's association and the management company. Although the management company had informed Company X about my distress (disgust?) with the original work, I never heard from them, but after they realized they might have to pay a dollar or two for mold mitigation, suddenly I got a call and was informed I had to "give them a second chance."
Um, no, I don't. When a company violates your trust as badly as mine was, there are no second chances. I'm also quite sure that Company X won't be doing work in this complex again, which is going to be a hard hit for them; they have done a lot of work here. Maybe going forward they'll think about who their end customer is, and what they might be experiencing.
At the end of the day, because of poor workmanship and attention to detail right after the flood happened, my insurance company is paying for very nearly a full remodel. Right now our home is still a cement cell, but within the next few months I expect it will be quite lovely. Company X's shoddy work increased costs here dramatically, and extended by many weeks the time we'll have to live in chaos, but it appears they'll get away with it—at least in the short term. Long term, they've lost a ton of business.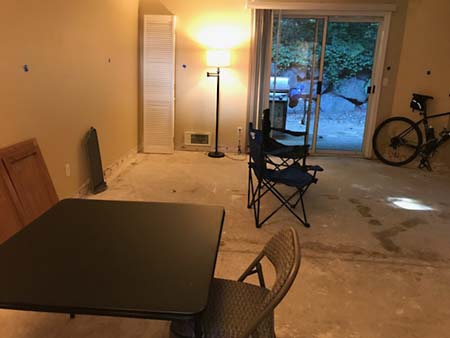 A huge waste—poor quality led to many extra weeks of living like this.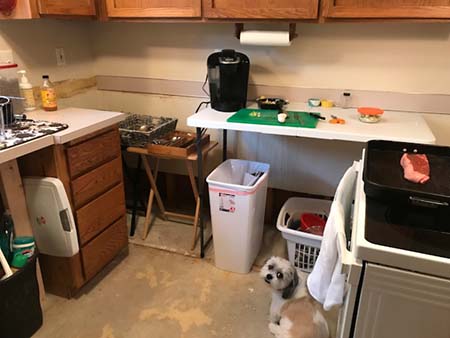 And now we wait.
The humanity Pam showed with that first phone call calmed me, and netted ServiceMaster and Saber tens of thousands of dollars.
One way or another we all have customers, and certainly we all deal with people. Something we always need to keep at the front of our minds is, "How would I feel if this were me?" It's the Golden Rule, isn't it: "Do unto others as you would have them do unto you."
One way or another, it will always pay off.
About The Author

Kristine Bammert
Kristine Bammert is Director of Operations at Millennium 360 Inc., Quality Digest's parent company. Prior to this, she spent two decades in the avionics industry, implementing advanced training systems across the globe that focused on quality and performance-based outcomes.