This Week in Quality Digest Live
Customer Care
Ensuring Food Safety With Quality Management Software
A cloud-based QMS can help address common international standards and regulations
Published: Monday, March 11, 2019 - 13:03
In 2013, thousands of consumers in the United Kingdom (UK) and Ireland bought, prepared—and ate—beef lasagna, hamburgers, and frozen dinners. What they didn't know is what they were actually putting in their mouths.
Although a burger is only required by law in that region to contain 47-percent beef, some meat products contained up to 80-percent horsemeat, and 85 percent of products contained traces of pork.1 In addition to potential health incidents due to allergic reactions, religious dietary guidelines and restrictions may also be violated when labels are incorrect.2 The bottom line is this: People should be provided with accurate information so that they can decide for themselves what, and what not, to eat.
A crisis like this can have far-reaching impact. In addition to product recalls, safety alerts, and expensive market withdrawals, there can be loss of reputation among consumers as well as the general public. And since the food supply chain is extensive, global, and highly interconnected, a failure introduced by one supply chain partner can lead to adverse effects on a company that isn't even directly responsible for the problems.3
Cases like the horsemeat scandal, involving deliberate food fraud, are not the only scenarios that an organization in the food supply chain must protect against. In addition to accidental violations of food safety regulations and targets such as failure to clean equipment between product changeovers, replacement of high-quality ingredients with lower cost (and lower quality) alternatives can adversely impact food quality and safety as well. Green vegetables such as romaine lettuce, which is particularly vulnerable to E. coli 0157 contamination during both production and processing, are frequent culprits in this area.
Quality systems provide the structure needed to ensure compliance and reduce the risk associated with these possibilities.
If you're responsible for quality management in this industry, software may make it easier (and less stressful) for you to ensure that you are meeting your requirements and obligations by providing enhanced visibility into processes and improved communication. This article shows you how elements of a cloud-based quality management system (QMS) can help you address common international standards and regulations and make better business decisions to ensure the highest levels of food safety.
Food safety characteristics are special food quality characteristics
Food safety is part of food quality, and in many cases the most important part, but food quality characteristics span many additional factors like appearance, flavor, viscosity, and stability. In his book, Food Quality Assurance, Principles and Practices (CRC Press, 2016) author Inteaz Alli describes the difference this way:
• "Food quality is the extent to which all the established requirements relating to the characteristics of a food are met.
• Food safety is the extent to which those requirements relating specifically to characteristics or properties that have the potential to be harmful to health or to cause illness or injury are met."
Alli goes on to say that even though some food quality characteristics (like bacteria counts) can be used as proxies for food safety, typically they are different concerns. A food can be safe, but not conform to the other quality requirements, but the converse is not true. An unsafe food does not, by definition, meet food safety requirements.
Harvard business academic David Garvin's 1987 description of product quality includes eight dimensions: performance, features, reliability, conformance, durability, serviceability, aesthetics, and perceptions. Safety considerations, using this conceptual framework, would fall under performance and reliability (and maybe conformance, when specific product characteristics related to food safety are governed by regulations). Julie Caswell's 1998 classification on food quality attributes, a widely used guidepost for simultaneously managing safety and quality characteristics, shows the same relationship: Food safety characteristics are a specific kind of food quality characteristics (see figure 1).4
Navigating food safety standards and regulations
With an increasingly globalized marketplace, food safety standards and regulations are vital to the safety and quality of the food supply chain. However, with so many organizations managing these different standards and frameworks, it can be difficult for organizations in the food and beverage industry to know their responsibilities. Indeed, some food and beverage organizations have opted to engage in multiple food safety management systems (MFSMS), which, while effective, can also introduce problems like duplication of documentation, the need for increased resources to manage multiple areas of compliance, and never-ending internal audits and reviews.5
Figure 2 summarizes some of the national and international organizations that oversee standards for food safety.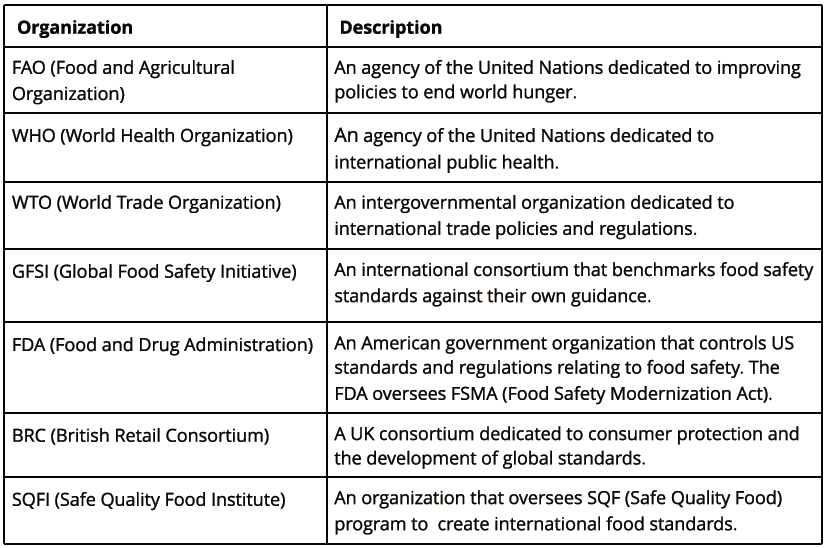 Figure 2: International and national organizations responsible for food safety
Many of the organizations listed in figure 2 oversee myriad standards to which food products in a global marketplace must adhere. Figure 3 summarizes some of the most important.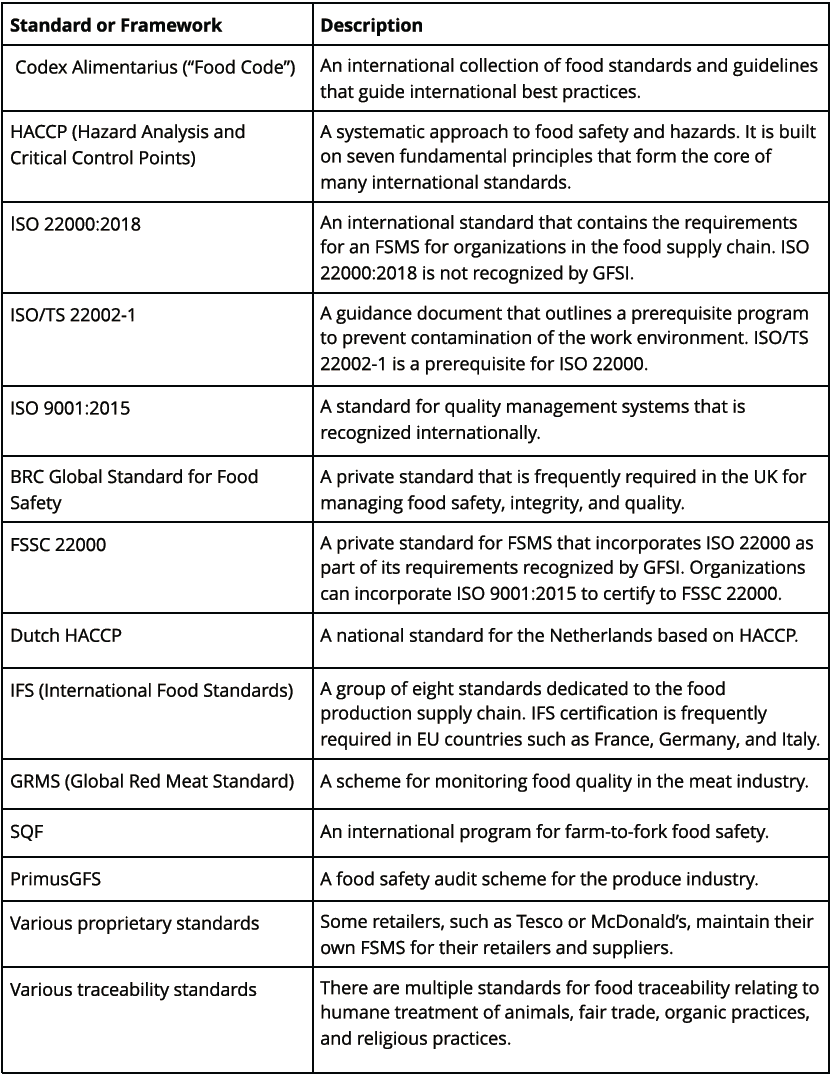 Figure 3: International frameworks and standards
The important role of a digitized QMS
To explain how a cloud-based QMS can simultaneously enable compliance management and quality improvement, K. T. Rafeeque and N. Sekharan documented a case study in the seafood industry in the Maldives that simultaneously managed up to seven food safety management system standards.6 This geographically distributed organization was governed by a single food safety manual and food safety plan. The organization had to simultaneously manage 91 procedures while keeping 120 different kinds of records. Although some procedures were managed within a single department or functional area, many were spread across different areas and managed by different people—and the entire system had gradually evolved over 12 years.
As you might expect, they encountered many challenges:
• When a process or procedure was updated, it was difficult to ensure full coverage, to ensure that everyone was aware of the changes, and to affirm that all operators were trained on the updates if necessary.
• Some processes and procedures in operations would meet the requirements for one food safety management standard, but would not be sufficient to meet the requirements for another, even among standards benchmarked by the Global Food Safety Initiative (GFSI).
• Because the FSMS was implemented in a phased fashion over time, there was duplication of effort, as well as significant repetition and rework while producing documents and records.
To manage these challenges, the company created a new department to focus on understanding and maintaining all the management systems. Even with this improvement, they still had a hard time figuring out the exact costs of implementing and maintaining all these management systems, and food safety audits still took 15 to 18 days each year, in addition to other quality and environmental audits. Management reviews were held for each of the various standards because they were unable to determine exactly how similar requirements were being addressed in the processes.
These are precisely the kinds of challenges that can be alleviated with software systems that address both safety and quality issues. Disparate systems, data sources, and a lack of cross-functional collaboration are among the top challenges to operational performance improvement in food and beverage companies. Many companies still rely on spreadsheets, old databases, and homegrown solutions pieced together over time to maintain their critical quality management programs. Such disconnected approaches to managing quality performance contribute to a lack of standardization and expose companies to increased risk from process breakdowns and management system failures.
Implementing a cloud-based QMS can resolve many of these issues, such as:
• Improved coordination between multiple departments and facilities
• Reduced (or eliminated) duplication of effort
• Improved visibility into processes and performance
More comprehensive environmental, health, safety, and quality (EHSQ) systems can provide even more insight. For example, enterprise systems that tightly integrate all aspects of quality management, from hazard identification through risk and performance management, increase visibility by making sure all employees have access to the data they need for decision making in real time. Such transparency is critical for systematic, proactive risk mitigation and serves as the basis for continuous improvement.
By taking an integrated approach to quality management, and leveraging the right set of software capabilities, food and beverage facilities are better able to ensure compliance and food safety. Without this investment, catastrophic food recalls and damage to the organization's reputation can have a direct and material impact on the business. Simply put, food and beverage companies can't afford to keep their QMS on paper and in disparate, disconnected systems. Failure to automate manual processes means failure to keep pace with the industry and competition.
Software can support food safety management needs
A QMS must have the breadth and depth to manage the unique processes of your organization in one integrated platform. In addition, it should automatically work to streamline your health, safety and quality processes from start to finish so that you can:
• Automate quality management processes to ensure consistency and efficiency across multiple facilities and geographic locations
• Establish corrective and preventive actions (CAPA) with action-tracking to mitigate risks
• Connect document control and training processes to ensure that the most up-to-date guidance is always being followed, and increase readiness for inspections and audits
• Ensure compliance with the food safety standards and regulations for your organization and jurisdiction.
A QMS should have some specific core applications to meet the unique needs of the food and beverage industry.
Document control
Document control is a vital component of a food and beverage QMS. Food Safety System Certification (FSSC) 22000-Quality incorporates the documentation requirements for ISO 22000:2018 and, if the organization is certifying to FSSC 22000-Quality, ISO 9001:2015. The high level structure (HLS) required for all ISO management system standards, including ISO 22000:2018 and ISO 9001:2015, places documentation in the category of support along with competence, awareness, and communication, with additional documentation requirements throughout other sections. The documentation requirements for ISO 220000 include those for statutory, regulatory, and customer requirements, as well as the food safety policy and objectives. Sections 7.5.2 and 7.5.3 have requirements for the identification, description, format, and control of all documents and records, which includes review, updating, and disposition on a regular schedule.
Rigorous document management is therefore a fundamental requirement for food and beverage organizations. FSSC 22000 alone demands a disciplined and detailed approach to documentation, which will only increase for those organizations engaged in MFSMS. Such documentation demands are far beyond the capacity of any manual process, particularly when documentation can mean the difference between compliance and noncompliance.
Audits
Auditing a QMS requires considerable preparation for any organization in the food and beverage industry. Organizations engaged in MFSMS can expect that preparation to increase as they certify to additional standards that allow them to compete in a global marketplace.
Audits for certification to FSSC 22000 are a two-stage process that incorporates requirements for ISO 22000 and, if selected, ISO 9001:2015, according to the guidelines provided in ISO 19011:2018 for auditing management systems. In addition, the auditing process will consider the requirements for additional sector-specific PRPs (pre-requisite programs).
Audit management is therefore an important element of a QMS, and one that is extremely difficult with manual processes. A software QMS will have automated audit management that provides a detailed account of an organization's audit activity in a centralized location for easy access. It should provide checklists that show progress to completion for each task and a summary of how audits are progressing. Audit management will also allow an organization to create action plans and corrective actions to flag any problems that arise during the auditing process and track identified issues.
Customer complaints management
The voice of the customer (VoC) is an important element of a modern QMS. Awareness of VoC is vital for customer satisfaction, and attention to VoC messages enable organizations to create products and services that meet customer and market requirements—and inspire customer loyalty. Customer complaints are the result of internal quality failures that have become external failures. External failures can have significant impacts, as they result in brand damage, decreased customer retention and loyalty, and time spent addressing complaints rather than finding opportunities for growth and innovation.
Customer management is a foundational element of ISO 22000:2018 and ISO 9001:2015. A software QMS should allow an organization to collect, track, and respond to customer complaints by collecting as much information about the complaint as possible. It must also integrate data from complaints into a larger framework consisting of product management, defect tracking, nonconformance reporting (NCR), and corrective action reporting (CAR) to ensure that organizations not only address individual complaints but that they also use the data they produce as the basis for organizational learning.
As an example of some of the benefits a software QMS can provide, figure 4 summarizes some of the important QMS software components an organization should consider to address requirements of ISO 22000:2018.


Figure 4: Examples of QMS software applications that address ISO 22000:2018
Conclusion: Lean on software to ensure food safety
Very few safety and quality failures will make the headlines like those that involve food. The horsemeat scandal in the European Union, the Maple Leaf Foods listeria outbreak in 2008, and the constant notices of lettuce contamination, to name a few, are examples of the way in which food safety failures in a global marketplace can lead to widespread health crises, brand damage, and significant financial damage.
Yet our global market means that supply chains in food and beverage are complex and can span many international boundaries, making it increasingly difficult for organizations to navigate the complexity of the regulations and compliance requirements. This is particularly true for organizations with multiple food safety management systems.
A modern food and beverage organization should take advantage of QMS software to manage these increasingly complex requirements. Organizations that continue to manage their processes manually sacrifice vast amounts of time that could be better spent looking for opportunities for growth and innovation. In addition, they may be courting disaster through increased risk of quality failures that could impact both human health and customer loyalty. In this article, we have outlined some of the ways in which QMS software can alleviate knowledge management challenges and reporting burdens in an industry in which complexity will continue to increase.
To learn more, join Intelex subject experts Nicole Radziwill, Sonduren Fanarredha, and Angelica Lauriano for the webinar, "Ensuring Food Safety With Quality Management Software," on Tuesday, March 26, 2019, at 11 a.m. Pacific and 2 p.m. Eastern. Register here.
References
1. Lawrence, F. "Horsemeat scandal: the essential guide." The Guardian, Feb. 15, 2013.
2. Ali, Mohd Helmi; Tan, Kim Hua; and Ismail, Md Daud. "A Supply Chain Integrity Framework for Halal Food." British Food Journal, 119(1), 20–38. 2017.
3. International Featured Standards (IFS). IFS Standards Product Fraud: Guidelines for Implementation.
4. Caswell, Julie A. "Valuing the benefits and costs of improved food safety and nutrition." Australian Journal of Agricultural and Resource Economics, 42(4), 409–424. 1998.
5. Rafeeque, Muhammed KT; and Sekharan, Mini N "Multiple food safety management systems in food industry: A case study." International Journal of Food Science and Nutrition, 3(1), 37–44. 2018.
6. Ibid.
About The Authors

Nicole Radziwill
Nicole Radziwill is a quality manager and data scientist with more than 20 years leadership experience in software, telecommunications, research infrastructure, and higher education. Prior to joining Intelex, she was an associate professor of data science and production systems at James Madison University, Assistant Director for End to End Operations at the National Radio Astronomy Observatory (NRAO), managed software product development for the Green Bank Observatory (GBO), and managed client engagements for Nortel Networks and Clarify (CRM). She is an ASQ-certified manager of operational excellence (CMQ/OE), an ASQ-certified Six Sigma Black Belt (CSSBB), and contributed to the development of ISO 26000—"Guidance on Social Responsibility."