This Week in Quality Digest Live
American Customer Satisfaction Index ACSI
Customer Care
Domestic Cars Fail to Keep Up With International Competition
More challenges for Detroit
Published: Monday, September 25, 2017 - 11:02
Customer satisfaction with automobiles and light vehicles slips 1.2 percent to a score of 81 on the American Customer Satisfaction Index's (ACSI) scale of 0 to 100. A year ago, the industry improved driver satisfaction, and sales were at record highs. This year, demand seems somewhat saturated, and total car sales are down 11.4 percent for the first half of 2017. So, too, is customer satisfaction for the industry, although individual nameplates post more gains than losses. Among the 25 automakers tracked by the ACSI, 12 improve from a year ago and only eight plates decline—four of which are domestic brands.
Foreign-made vehicles continue to have the highest driver satisfaction, and 77 percent of the above-average nameplates in the ACSI are imports. Many foreign-made cars are not part of the customer satisfaction downturn for the industry, and European automakers match Japanese and Korean manufacturers with an ACSI score of 82. The gap between international and domestic automakers widens as U.S. companies fall to 80.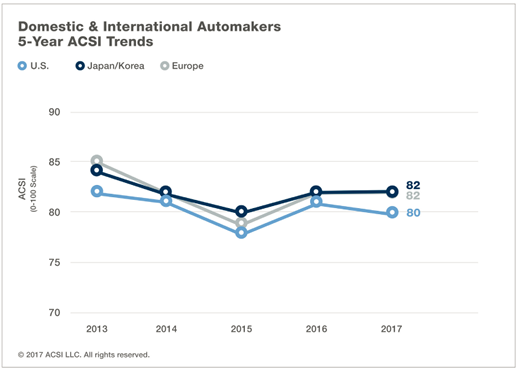 Among Detroit automakers, General Motors is the only company to improve customer satisfaction this year, stepping up to take the lead at 82. Ford falls behind General Motors with a drop to 81, followed by Fiat Chrysler at 77. All three manufacturers, however, post sales declines for the first half of 2017. These declines mirror the customer satisfaction results as General Motors fares best, down 1.8 percent, while Ford drops 3.8 percent, and Fiat Chrysler tumbles 6.9 percent.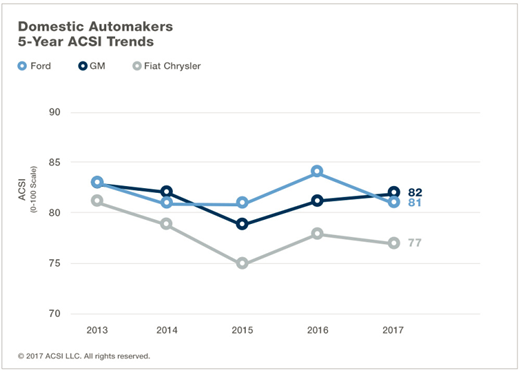 Vehicle recalls continue to rise, and the percentage of owners reporting recalls has grown steadily since 2013. ACSI data show that nearly one-third of drivers surveyed had their vehicle recalled this year. Not surprisingly, customer satisfaction among drivers who had a recalled vehicle is lower (80) than those who had no recall (82). However, the gap between the two has lessened, indicating that automakers may be improving the recall process itself—it is less onerous than before, and customers may be getting used to it.
Toyota is the highest-scoring manufacturer this year—both in the mass-market category (+1% to 86) and in the luxury-vehicle group with Lexus (+2% to 86). July sales for Toyota are also up 3.6 percent compared to the same month a year ago. Ford's Lincoln, which previously held first place, falls 5 percent to 83. Only one of the top five nameplates is a domestic car, General Motors' GMC, which ties with luxury brand Mercedes-Benz at 84.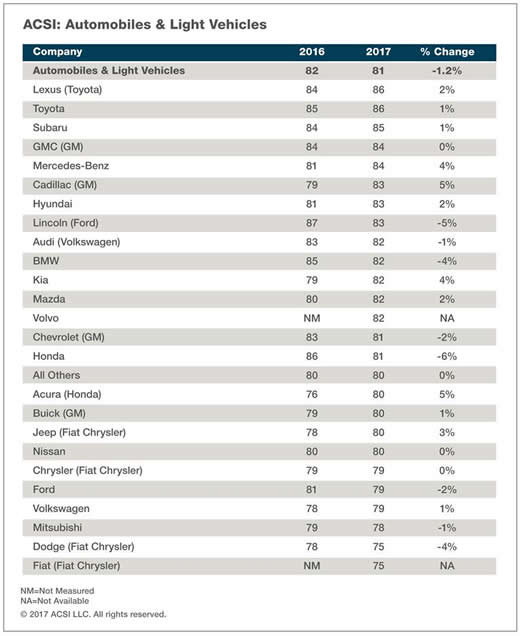 Mass-market vehicles
Among mass-market nameplates, five of the six top-scoring brands are foreign-made, and all five plates post customer satisfaction gains this year. Toyota leads following a 1 percent boost to 86. In a close second, Subaru gains 1 percent to 85. Subaru continues to seize market share from its competitors, and sales are up 9.1 percent for the first half of the year.
GMC is the sole domestic brand in the top tier. The nameplate enjoyed a large ACSI gain a year ago and now maintains the same score (84). Due, at least in part, to falling oil prices over the past three years, sales of light trucks have increased 5 percent through June.
In fourth place, Hyundai gains 2 percent to 83. Kia, which recently rolled out a prepaid maintenance plan that aims to improve the owner experience with service, advances 4 percent to 82, alongside Mazda (+2%).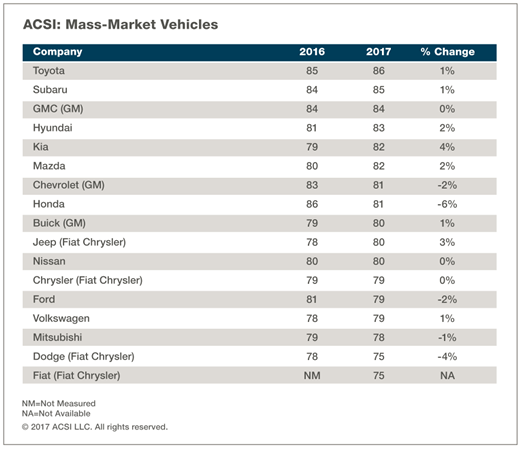 The remaining vehicles in the field are at or below industry average, and the majority are flat or down from a year ago. Following a slate of safety recalls, Honda loses the most ground, sinking 6 percent to 81 and tying with Chevrolet (–2%).
Buick and Jeep buck the downward trend for mass-market domestic cars. Buick edges up 1 percent, and Jeep rises 3 percent to tie Nissan (unchanged) at 80. Buick is also the only General Motors brand to post rising sales in June.
Volkswagen moves ahead 1 percent to 79, suggesting that the German automaker has stopped the bleeding from the emissions scandal that put a damper on sales for the past two years. Moving in the opposite direction, Ford retreats 2 percent into a three-way tie with Volkswagen and Chrysler at 79. Mitsubishi is a notch below, down 1 percent to 78. Two Fiat Chrysler nameplates come in last: Dodge, which drops 4 percent; and Fiat, which returns to the ACSI at 75.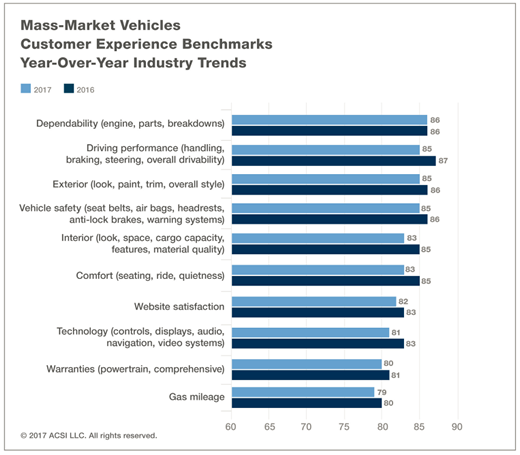 Mass-market cars receive top marks for dependability (86), and this is the only aspect of the driver experience that has not deteriorated from a year ago. Driving performance has waned (down 2% to 85), as has exterior design and driver assessment of vehicle safety (both slipping 1% to 85)—the latter reflecting ongoing recalls.
A year ago, mass-market vehicles offered interiors and comfort levels that approximated the luxury segment. This year, customers are less happy with interior design and comfort as both drop 2 percent to 83. And with drivers expecting more from new technology, they are not all that impressed with what mass-market cars are currently offering (81 compared with 84 for luxury cars). Gas mileage, however, is the lowest-scoring element of vehicle ownership and shows the most room for improvement (79).
Luxury vehicles
Toyota's Lexus leads the luxury-vehicle segment, up 2 percent to an ACSI score of 86. Mercedes-Benz rises to second place at 84, following a 4 percent increase in customer satisfaction. Cadillac makes a big gain, jumping 5 percent to 83 and tying Lincoln. A year ago, Ford's luxury plate Lincoln led the field at 87, but it now plunges 5 percent to share third place.
BMW slides 4 percent to equal Audi (–1%) and Volvo at 82. Acura remains at the bottom of the segment, but with a 5 percent boost to 80, the Honda nameplate narrows the gap considerably.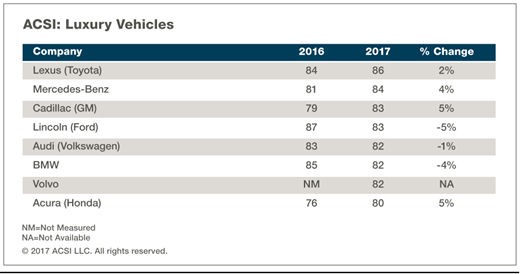 According to drivers, the comfort of luxury cars is excellent (86), but luxury cars are not more dependable than mass-market vehicles—both do very well at 86. Customers also are impressed with driving performance, and opinions of driving safety are strong (both 86).
Owners are still very fond of the look of luxury exteriors (86); interiors (85) and technology (84) score slightly lower than a year ago, but exceed mass-market cars. The websites for luxury brands (84) rate better this year and outperform those of mass-market brands (82).
Regardless of category, everybody wants better gas mileage, but luxury vehicles score lowest in this area (77).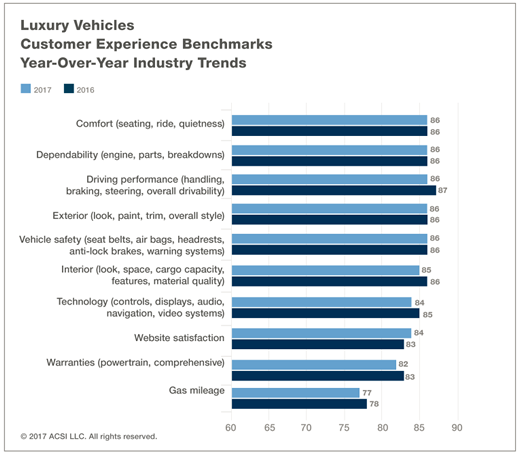 About this report
The ACSI Automobile Report 2017 covering both domestic and foreign automobile nameplates is based on interviews with 3,934 customers, chosen at random and contacted via email between July 1, 2016, and June 20, 2017. Customers are asked to evaluate their recent purchase and driving experiences with automobiles manufactured by the largest companies in terms of market share, plus an aggregate category consisting of "all other"—and thus smaller—auto nameplates.
The survey data are used as inputs to ACSI's cause-and-effect econometric model, which estimates customer satisfaction as the result of the survey-measured inputs of customer expectations, perceptions of quality, and perceptions of value. The ACSI model, in turn, links customer satisfaction with the survey-measured outcomes of customer complaints and customer loyalty. ACSI clients receive confidential industry-competitive and best-in-class data on all modeled variables and customer experience benchmarks.
About The Author

American Customer Satisfaction Index ACSI
The American Customer Satisfaction Index (ACSI), founded at the University of Michigan's Ross School of Business and produced by ACSI LLC, is a national economic indicator of customer evaluations of the quality of products and services available to household consumers in the United States. The national index is updated each quarter and scores on a zero-to-100 scale at the national level. The ACSI produces indexes for 10 economic sectors, 47 industries, more than 225 companies, and more than 200 federal or local government services.