This Week in Quality Digest Live
ASQ
Customer Care
Lean Project Helps Colorado Dept. of Transportation Improve Permit Process
Long-distance haulers saved time while the state managed risk
Published: Tuesday, November 15, 2016 - 01:00
Sponsored Content
When flood waters ravaged portions of Colorado in September 2013—killing crops, inundating homes, and buckling many miles of roadways—countless federal, state, and municipal government workers sprang into action helping citizens. State and federal government agencies spent millions in the weeks and months following the natural disaster to help residents of the Rocky Mountain state.
In all, the disaster damaged 200 lane miles of the state's highway system and damaged 120 bridges. Although the Colorado Department of Transportation (CDOT) expected to have its highway system repaired and recovered by winter, the recovery could have taken much longer had it not been for the foresight of a lean improvement project undertaken before the deluge.
CDOT is the state agency responsible for a 9,146-mile highway system that includes 3,447 bridges. Each year, this system handles more than 27.4 billion vehicle miles of traffic. Although the interstate system accounts for only about 10 percent (914 miles) of the total mileage on the state system, 40 percent of all travel within Colorado takes place on the interstate highways.
Cutting cycle time and error rate
In March 2012, 18 months before Coloradoans experienced the flood, CDOT launched a lean project to identify improvement opportunities within its oversize and overweight (OS/OW) permit division. As a means of regulating the risk and damage associated with abnormal load sizes, the OS/OW permit process involves staff who issue permits to drivers of the extra-large vehicles.
When the permit team was informed by upper management that they needed to improve the permit approval process, team members were initially surprised. "We had a question mark over our heads saying, 'What did we do?'" says Craig Smith, a CDOT permit writer. "There definitely was a shock, but it didn't take long for us to realize that there were efficiency related things we could be doing better."
A typical tractor trailer driving on the highway is 70 ft long, 8ft 6 in. wide, and 13 ft 6 in. tall. Its gross vehicle weight (GVW) is about 80,000 lb, according to the department. The GVW is the combined weight of the vehicle and its load.
Figure 1 shows the dimensions and weights, in specific location and circumstances, which if exceeded, will prompt the need for an OS/OW permit.


Figure 1: Triggers for an OS/OW permit
Every year, CDOT will typically issue more than 50,000 OS/OW permits in an office that usually consists of about four full-time permit writers. Of all freight transported through Colorado, 77 percent travels via semi-trucks, so the department's permit staff plays an integral role in the economic vitality of the state. The permit office typically generates between $6 million and $8 million in annual permit fee revenue for Colorado.
Many permit requests are fairly simple for staff to complete, says Gary Vansuch, CDOT director of process improvement, and most are approved within one hour of being submitted. Some can take a couple of days to fulfill simply because the requests involve the largest loads, which require additional analysis to determine the safest route with the least amount of disruption to traffic.
There are, of course, inherent safety risks facing every driver who moves these very large loads, but the dangers would increase exponentially if the loads were to move throughout the state ungoverned. CDOT permit writers try to provide the safest routes possible that avoid major hazards, such as tall loads that would strike the bottom of a bridge, or allowing trucks to travel over bridges that were not built to handle such weight. Also, some trucks are so wide that they require two lanes to operate, so permit staff must require escort vehicles
to travel with the truck for the duration of the trip to alert nearby traffic of the safety hazard.
The lean project
To start the improvement process, a lean project team made up of permit writers, bridge engineers, maintenance workers, and other agency staff created a project plan that included conducting walkthroughs of the current permitting process, data collection processes, and charting the steps of the permit process. Team members received training on how to conduct a process improvement project, learning skills that included how to use metrics and construct flowcharts. Also, customers—both external and internal—were interviewed about the permitting process to discuss their points of pain and ideas for improvement.
Vansuch, an ASQ member, said staff first began collecting data that focused on capturing the length of time it takes to fulfill a trucker's permit request, while also tracking how often the department was issuing inaccurate permits to truckers. "We often thought that the complaints we received from truckers were just one-off complaints, but when we started going through the data, we did some sampling and found that we had a major error rate of about 6 percent," he says of the 2012 error audit results. "The 6 percent was higher than what a lot of folks thought it should be in ideal circumstances."
During the week of May 7, 2012, the improvement team took part in a rapid improvement event where team members identified a handful of objectives they would seek to achieve during the lean project:
• Reduce the error rate in the OS/OW permit office by 50 percent
• Reduce the cycle times for permit processing
• Improve communication with other local agencies, such as law enforcement
• Provide permit writers with better tools for increased accuracy
In order to reduce the error rate, staff needed to learn why the errors were happening in the first place. They discovered that the reasons varied, as shown in figure 2.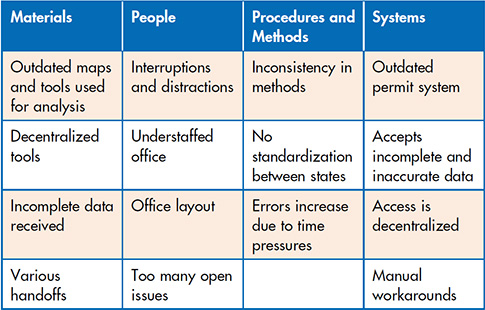 Figure 2: Reasons for major errors
There are many ways staff can learn of an error; one opportunity is during sampling. When a CDOT employee reviews previously approved permits to check for accuracy and thoroughness, a red flag would be prompted in such cases where a proper escort was not provided to an oversize vehicle, or if a permit writer allowed an oversize truck to travel through downtown Denver during rush hour on a Monday night. "That's clearly outside of our boundaries," Vansuch says of the rush-hour error, "as it slows down traffic and causes congestion."
Reducing cycle times while still maintaining a quality process is of interest to all organizations everywhere, and CDOT's OS/OW permit improvement team is no different. The improvement team charted out the entire permit process, as seen in figure 3.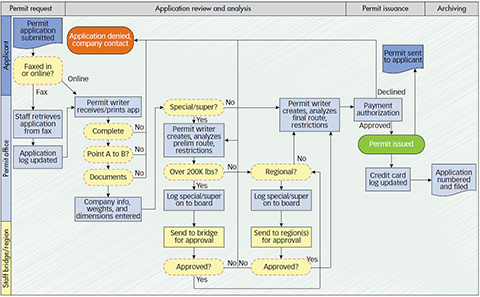 Figure 3: Past permitting process
The team was able to identify needless handoffs that were delaying the review process of many permits. A common handoff occurred when a permit writer sent an application to the engineering staff to make the determination of whether that particular truck posed any threats to bridges along the proposed route. This step can be seen in figure 3 as "Send to bridge for approval."
"As it turned out, a lot of that engineering work had been automated, and for many permits, it was work that included looking into a database and finding out some information," says Vansuch. "We cross-trained the permitting staff to take some of that engineering time, which also allows our engineering staff more time to design new bridges."
Beyond the engineering staff support, which was specifically needed in special permit-approval cases involving trucks that weigh more than 200,000 lb, the permit staff also needed approvals from its regional offices. The state is composed of five regions. Region 1 is the Denver metro area and the I-70 west mountain corridor to the Eisenhower-Johnson Memorial Tunnels, while the other regions are located in the four corner quadrants of the square-shaped state. Separate approvals were needed from all of the regional offices whose areas were included in the trucker's transportation path. The improvement team investigated removing this requirement.
"The special-permit requests are loads that tend to have a lot of importance—usually related to the oil industry, wind farming, or utility companies, such as for moving large transformers—and are really high-profile moves that the companies are pressing to get going as soon as possible," says David Johnson, permit office supervisor. "When we had to send paperwork to multiple regions for approvals, we usually wouldn't get approvals for 48 to 96 hours. That really slowed the process down, and there wasn't really any value added. Plus, the restrictions we'd get back from them were really inconsistent, sometimes not governed by statutes, so as part of the lean processes, we asked, 'Why are we doing this, and how can we fix it?'"
Some of the restrictions created by the regional offices included limiting the times of day the truck could travel on their roads. So if a trucker was not allowed to travel through Region 4 until 10 p.m., but he reached the outskirts of the region at 5 p.m., the driver would have to pull over and sit on the shoulder for five hours before continuing the trek. The costly time inefficiencies are obvious.
Johnson said removing the handoffs within the cycle, and increasing the capabilities of his permit staff, has reduced turnaround times on those special-permit requests by more than 50 percent as part of the new interim process map, which can be seen in figure 4.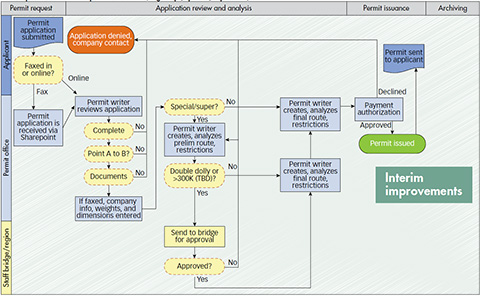 Figure 4: Interim permitting process
The CDOT permit staff has also improved its coordination with outside governmental agencies.
Results
By eliminating handoffs, reducing cycle time, and training staff, the team in one year slashed its major error rate by more than one-half (as seen in figure 5), while improving its responsiveness to external customers (figure 6).


Figure 5: Major error-rate reduction


Figure 6: Average cycle-time reductions
Beyond the statistical improvements, staff has noticed a difference in the tone of conversations with members of the public. "Before the lean process, you would get more negative comments—a lot more calls about turnaround times and asking where their permits are," says Johnson. "Those have been greatly reduced."
The permit team attributes much of the change in public sentiment to the outreach that took place during the improvement project. As often as possible, team members were asking for suggestions and feedback on how CDOT could improve its way of doing business.
"We called various carriers that we deal with on a daily basis and we asked, 'What can we do to make them feel safer?'" says Johnson. "They all said, 'Don't make us stop; just let us keep going.' It speaks to what we wanted—to key in on what the industry wanted because if you get them to buy in, you get them to follow rules even better."
Although key for making this a positive experience was convincing CDOT employees early on of the project's importance, it was the support from industry leaders and external customers that made the project a success.
About The Author

ASQ
The American Society for Quality (ASQ) is a global community of people dedicated to quality who share the ideas and tools that make our world work better. With millions of individual and organizational members of the community in 150 countries, ASQ has the reputation and reach to bring together the diverse quality champions who are transforming the world's corporations, organizations, and communities to meet tomorrow's critical challenges. ASQ is headquartered in Milwaukee with national service centers in China, India, and Mexico. Learn more about ASQ's members, mission, technologies, and training at http://asq.org.