This Week in Quality Digest Live
Eugene Daniell
Customer Care
Shaped for Speed
How a specialty supplier uses portable scanning to power an engineering-based tube-shaping process
Published: Wednesday, September 21, 2016 - 13:28
Sponsored Content
If NASCAR teams had to choose a capitol city, Charlotte, North Carolina, would be the most likely. With so many teams clustered around this city and its celebrated racetrack, savvy specialty suppliers have moved to the region to help NASCAR teams build speed and reliability into their race cars.
One such organization is Brown & Miller Racing Solutions (BMRS) of Concord, North Carolina. Focused on fabricating the world's best fuel lines, oil lines, brake lines, and titanium parts for performance underhood applications, BMRS has quietly earned a place on 100 percent of today's NASCAR teams. How does the company do it? By efficiently solving unique design challenges one engine at a time, and rapidly delivering components that provide the speed and reliability that stock car racing demands.
Origins
Brown & Miller had an unusual beginning in 1999. Wade Brown, currently the company's U.S. director of operations, started BMRS with his friend and colleague Barry Miller. At the time, both were working for an aerospace company that offered a small hose-product line. Because of the high quality and reliability of the components, a handful of Formula 1 teams were successfully using the parts to campaign for the sport's loftiest honors. Seeking a similar advantage, engineers in the racing world on the other side of the Atlantic took notice and started to build their machines with these state-of-the art parts, too. Sensing an opportunity, Brown and Miller formed a new venture, BMRS, taking over this product line and expanding it to meet the needs of this elite marketplace.
Today, the company is a global enterprise with 30 employees in North Carolina, 15 employees in the United Kingdom, and a partner facility in Indianapolis. In addition to having all of today's NASCAR teams using BMRS parts, prominent Formula 1 teams and countless Midget and Sprint car teams also rely on parts from the company to perform at their best on race day.
A critical project that BMRS worked on, the deeply impactful Car of Tomorrow effort with NASCAR, changed everything for the company. NASCAR invested heavily in the Car of Tomorrow project to future-proof the sport for decades to come. A primary focus of this effort was to emphasize safety, while also providing the speed and competitive racing that fans love. An area in which BMRS was able to make significant engineering headway was the location and routing of oil lines. At the time, essentially all NASCAR teams had the oil lines running through the interior of the car, in and around the driver. Officials mandated that the oil lines be routed under the car, but this proved to be no easy task.
Craftsmanship and repeatable engineered parts
Routing an oil line in and around a racing engine was challenging. The tolerances were extremely tight, and simply finding room for the oil line was often very difficult. In addition, the traditional means of getting an oil line fitted—typically hand-bending the component in the race team's work area—provided little part-to-part consistency. In many ways, fabricating these systems calls for a triumph of skill, experience, and patient fitting around immovable components in the race car. Although a true test of craftsmanship, this methodology is challenging for an organization that needs to build multiple race cars on a tight time schedule, with redundant parts so repairs can be rapidly made in the field. As clients approached Brown about how to address this challenge, he sensed an opportunity and invested in a sophisticated computer-aided tube-shaping system for the BMRS shop floor.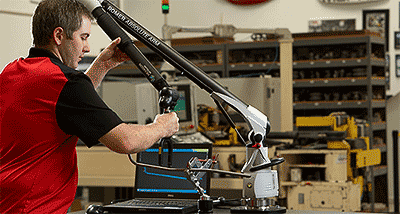 In doing so, Brown and his production manager Rick White recognized that they faced a bigger challenge than just bending tubes. What they required was a fast, accurate way to obtain engineering drawings of the lines so they could easily be entered into the tube-bending system's operating platform. That way, BMRS could ensure that the components were very accurate and repeatable over time, enabling them to meet customer needs again and again.
What they needed was a portable scanning tool that could provide the speed and confidence needed to fulfill these requirements.
Old-school scanning technology
Brown knew that he needed to make an investment in a portable scanner, but he wanted to make a prudent choice, based on the fact that while he had allocated significant resources into a tube-fabrication system, the actual business generated from this new production capability might be limited. Thus, in 2003, Brown began piecing together what he needed to launch this business line. A key piece of this initiative he already had: production manager Rick White, the right employee to head the tube-bending project.
But Brown still needed two things to be successful: a good bending machine and a scanning system at an affordable price. He sourced a first-generation scanner arm, the ROMER France Axilla arm with GTube scanning tool from Hexagon Manufacturing Intelligence (at that time called Hexagon Metrology). The system was portable in name only, as the actual scanner is permanently attached to a workstation. But the quality of the ROMER product impressed the staff at BMRS. For a number of years, the system worked well enough. However, due to the tool's advanced age and reliance on legacy software, it became functionally obsolete in about 2012. Hexagon simply stopped supporting the software required to develop CAD models for the tube-bending machine, which spelled the demise of this tool chain for engineering tube systems.
In that time, though, BMRS had developed a strong business niche in this area, and true to the firm's reputation, became a go-to source for extremely precise tubing configurations for high-stress applications. The time had come for Brown and White to research the marketplace again to see what portable scanning system could help improve the speed of the operation, while offering the scanning confidence and accuracy that they needed.
Modernizing the BMRS tube-shaping process
With the help of Hexagon Manufacturing Intelligence salespeople and application engineers, the organization selected a ROMER 75 Absolute Arm TubeShaper system. This solution, developed to meet the needs of a modern tube-shaping operation, is unique because it combines a portable coordinate measurement machine (CMM) with noncontact tube probes and purpose-built TubeShaper software. The purpose-built arm and software combination helps accelerate the measurement and inspection process, requiring a minimum of user intervention.
Using the new ROMER TubeShaper system, Brown was able to realize his goals for rapidly turning these parts around, with the confidence that the tubing systems were of the highest quality. With the new Hexagon Manufacturing Intelligence scanning tools, BMRS could scan a client's part, bend the tubing onsite, rapidly check the work to ensure that it met requirements, and send the customer computer numerical control (CNC) and computer-aided design (CAD) files. All these objectives, plus supplying the finished part (including a pressure check of the part, for safety) to the customer is now possible in less than 24 hours. Without the TubeShaper system, meeting these objectives would be nearly impossible.
Although having the part in hand is very important to the customer, the greater value of the process is that the system enables BMRS to easily obtain a CAD/CAM file. In this way, the art of tube bending evolves to an engineering process, allowing for easily repeatable tube systems to be manufactured with great accuracy whenever the customer needs more parts. In the event that a customer needs one, BMRS can ship custom machine parts for fabricating the tubing system in a week or less, a major reduction in lead times. Without the integrated scanning and bending system, this service would require weeks of laborious hand labor.
Results
"The ROMER TubeShaper takes us quite far out in the future," says Wade Brown. "The arm is far superior in every way—the integrated drawing and scanning capabilities, plus tube-inspection system provides us with a versatile, portable, accurate tube-bending solution." With these capabilities, BMRS can now offer precision bending services in a size range of 1/8 in. to 2 in., in aluminum, steel, stainless steel, and titanium with a high degree of accuracy and repeatability. From fluid-system to chassis tubing, BMRS can meet its customer's needs, and the company is able to increase precision and productivity wherever their customers are using tube bends. A wide range of weld-on attachments is available for these parts, expanding the versatility of the tubing capabilities, too. In addition, the TubeShaper system enables BMRS to manufacture from drawings, reverse-engineer tube systems from existing tube and mock-up parts, and offer precision quality control for exact-fit requirements.
When an organization is able to say that its products are used by 100 percent of today's NASCAR teams, it must be doing something right. Brown & Miller Racing Solutions is successfully using its ROMER TubeShaper solution to power some of the best auto racing teams to victory. Coupled with BMRS' know-how and experience, the Hexagon solution is helping the organization deliver reliable components that stock car and F1 racing demands.
About The Author

Eugene Daniell
Eugene Daniell is the ROMER Absolute Arms product manager at Hexagon Manufacturing Intelligence. In this role, Daniell drives the creation of new measurement solutions through integration and automation of Hexagon Manufacturing Intelligence's core products. This portfolio of solutions includes Coordinate Measurement Machine (CMM) technologies, laser tracker and white light (WLS) solutions that integrate with machine tools, robotics, and automated environments.Daniell has worked in industrial manufacturing for more than two decades, solving chemical, mechanical, and electrical challenges for a wide variety of applications. His background includes software development for industrial automation, as well as semiconductor process development and manufacturing precision parts for aerospace and medical applications.
He holds a chemical engineering degree from the University of Massachusetts Amherst.