Featured Video
This Week in Quality Digest Live
American Customer Satisfaction Index ACSI
Customer Care
Retailers Compared, Lower Satisfaction Results
ACSI Retail Report 2015 returns to long-term average
Published: Tuesday, March 1, 2016 - 18:21
Two years removed from its all-time high, customer satisfaction with the retail trade sector fell for a second consecutive year, sliding 2.6 percent to an ACSI score of 74.8. Despite the decline for 2015, the overall score for retail stands almost exactly at its long-term average (74.6).
A closer examination of historical ACSI results for retail shows that the sector earned its best marks for customer satisfaction as the economy emerged from the Great Recession. During this period of recovery from 2009 to 2014, companies had to compete for a smaller pie of consumer dollars with discounts, incentives, and better customer service. High unemployment made for a very competitive job market, which kept retail employees motivated to provide good customer service lest they be replaced. At the same time, customers may have been more forgiving. The convergence of these factors contributed to higher customer satisfaction.
But as recovery settles in and economic conditions start to look more optimistic, that honeymoon is over, and the recent declines in retail customer satisfaction begin to look more like an adjustment rather than a tailspin.
The ACSI covers six retail industries: department and discount stores, gas stations, drugstores, specialty retail stores, supermarkets, and online retail. Among these six, only gasoline stations improved, benefitting from the low cost of gas. Gas prices were down 9 percent in December 2015 from the previous year, and customer satisfaction for gasoline stations jumped 2.7 percent to 75.
Internet retail continues to be the highest-scoring category despite a 2.4 percent drop for 2015. During the last two months of 2015, retail sales rose about 3 percent. But a greater share of those sales were conducted online, as foot traffic to retail brick-and-mortar stores fell 6.4 percent during the holiday shopping months of November and December. During the critical-period holiday season, e-commerce sales were up about 13 percent year over year. Among the brick-and-mortar retailers, drugstores saw the steepest ACSI decline in 2015 and tie supermarkets at the low end of the sector. Customer satisfaction ebbed nearly 4 percent for department and discount stores, and the industry continues to trail specialty retail overall.
Department and discount stores
Customer satisfaction with department and discount stores fell 3.9 percent to an ACSI score of 74, the lowest level since 2008. But like the entire retail sector, the drop brings the department and discount store category back in line with its long-term average.
Although no company is up, the top and bottom chains remain in familiar territory. Nordstrom scored 82 to lead the category, showing one of the highest customer satisfaction levels in all of retail. Walmart, on the other hand, is again at the bottom of the industry with a score of 66. The next lowest department store is Sears, which scored 5 points higher at 71. Discounters Dollar Tree (76) and Dollar General (74) are in the middle of the pack. Macy's 8-percent drop to 73 returns the company's satisfaction to near pre-recovery levels, but the large decline coincides with a tough holiday quarter that included a year-over-year sales drop of 4.7 percent. Lower foot traffic and stronger online sales has prompted Macy's to restructure. The company plans to close stores and cut staff while investing in the online and mobile experience.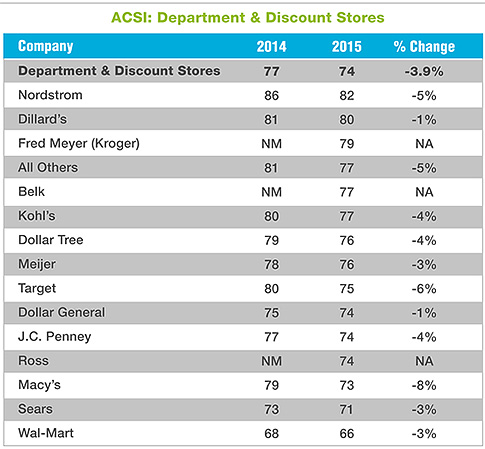 Customers of department and discount stores gave the industry its highest mark for convenience of locations and hours (84). Customers were pleased with sales and promotions (80), as well as variety and selection of merchandise (79), although Internet retailers were able to provide a much better selection (benchmark of 84). The online channel (78) continued to improve for department and discount stores, but consumers weren't as satisfied with call centers (75). Store layout and cleanliness showed room for improvement (75), but the speed of the checkout process was by far the low point for the industry (70).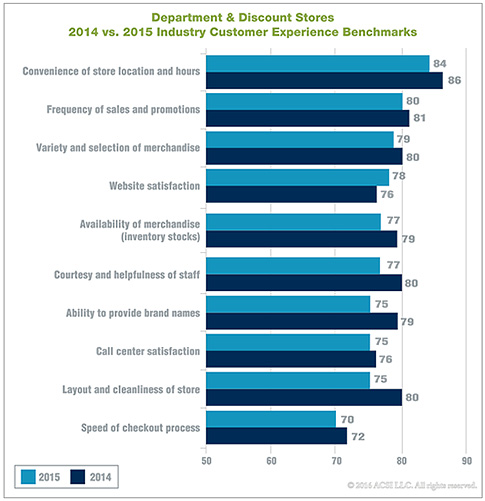 Specialty retail stores
Customer satisfaction with specialty retail stores declined 2.5 percent to an ACSI score of 77. Despite the drop, overall satisfaction remains higher than pre-recovery levels. Costco maintained its perch at the top with a score of 81, joined by L Brands, which saw year-over-year sales climb 8 percent at stores such as Victoria's Secret and Bath & Body Works. Costco competitors BJ's Wholesale Club and Sam's Club were significantly behind, each scoring 76. Barnes & Noble made the top three with an ACSI score of 79, above average for the industry, but well behind its largest competitor, the online juggernaut Amazon (83).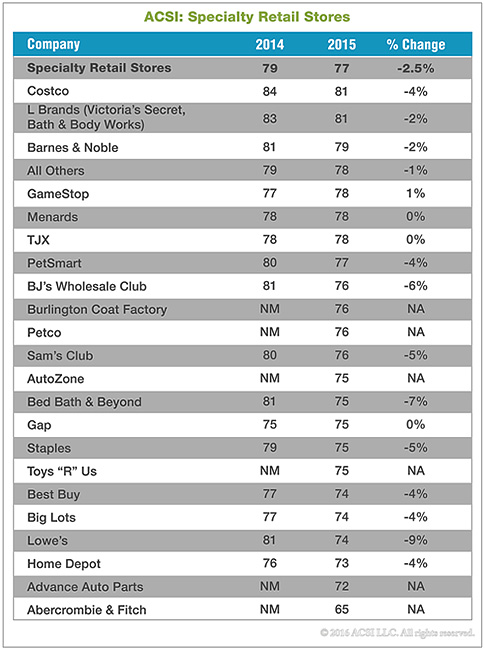 With the housing market recovering, competition is heating up between Home Depot and Lowe's. As with most retailers, both companies experienced customer satisfaction declines, but the gap between the two narrowed with Lowe's at 74 and Home Depot just one point behind. PetSmart beat Petco by a slim margin (78 and 76, respectively). Big-box retailer Best Buy slid 4 percent to 74, which is close to its pre-recovery average for customer satisfaction.
The ACSI added two auto-parts retailers this year. AutoZone registered 75 in its first appearance, and Advance Auto Parts scored 72. Clothing retailer Abercrombie & Fitch, another ACSI newcomer, debuted at 65—earning the lowest score in the retail sector and lagging the second-lowest specialty retailer by a whopping seven points.
Specialty retail stores had consistently high marks across the customer experience. For 2015, the industry received scores of 80–82 across 7 of 10 customer experience elements, including merchandise variety and availability, brand names, staff courtesy, and store layout. In a good sign for specialty retailers, website satisfaction (80) matched the ACSI score for the Internet retail category. Call center satisfaction (79) lagged just behind the online channel, and customers were less happy with both sales and promotions (77) and speed of checkout (76). Nevertheless, the industry's checkout speed is well ahead of two other brick-and-mortar categories: department and discount stores (70) and supermarkets (72).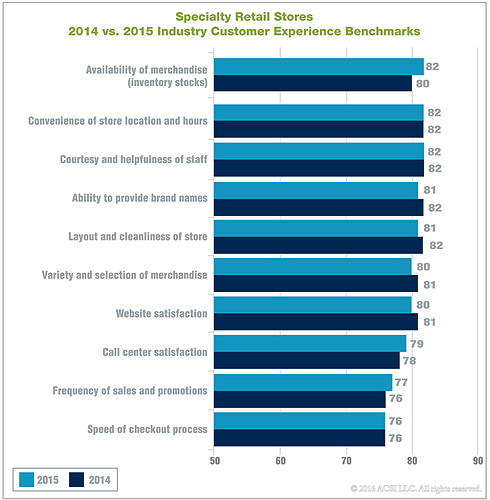 Supermarkets
After several years of relatively higher customer satisfaction, supermarkets registered their lowest ACSI score in more than a decade, dropping 3.9 percent to 73. Supermarket leader Wegmans was one of only three companies in the retail sector to improve customer satisfaction, up 1 percent to 86 and securing a share as the highest-scoring company in the Index overall. Trader Joe's (83), H-E-B (82), and perennial high performer Publix (82) rounded out the top supermarket chains. ALDI was stable at 81, while ACSI newcomer Hy-Vee, which is employee owned, debuted at 78.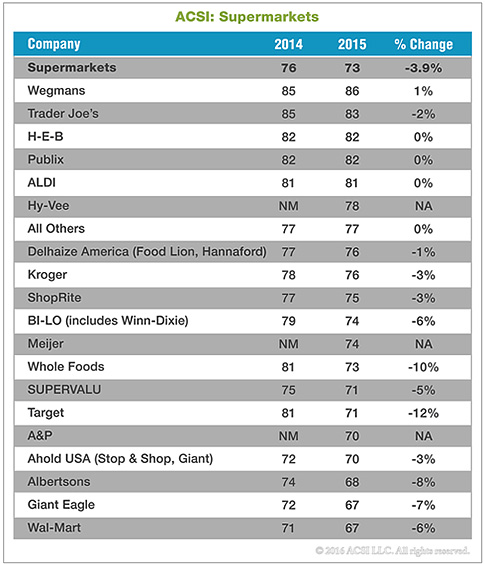 Whole Foods suffered a 10-percent customer satisfaction hit, plunging to 73 to match the previous low posted in 2007, when the company debuted in the ACSI. Whole Foods can't shake its reputation for high prices, and customers have recently reported the perception of increasing prices despite the grocer's statement that it's trying to align its pricing to be competitive with other grocery stores. Furthermore, competition is encroaching on its turf as a supplier of natural foods. Target, Wal-Mart, and others have increased their inventory of organic offerings, providing an alternative to those who want organic foods at a lower cost.
Target's supermarket operations plunged 12 percent to 71. Popular as a discount store, Target quickly built up its grocery business to help attract more customers. But the luster of convenience is wearing off as the company works to expand its grocery brands and fresh food offerings. At the bottom of the industry, Albertsons dove 8 percent to 68 as it worked out the kinks from its merger with Safeway. Giant Eagle and Wal-Mart shared last place at 67.
According to customers, the supermarket experience has eroded across nearly every element compared with a year ago. The customer service areas that have suffered the most are staff courtesy and helpfulness (–6% to 77) and quality of pharmacy services (–5% to 76). These are also the weakest areas for grocers, along with checkout speed (72) and call centers (78).
Store locations and hours remained very convenient (85), and merchandise selection is well regarded, especially in terms of brand names (81) and variety (80). That said, Internet retail outpaced all brick-and-mortar categories for merchandise selection, including brand names (84).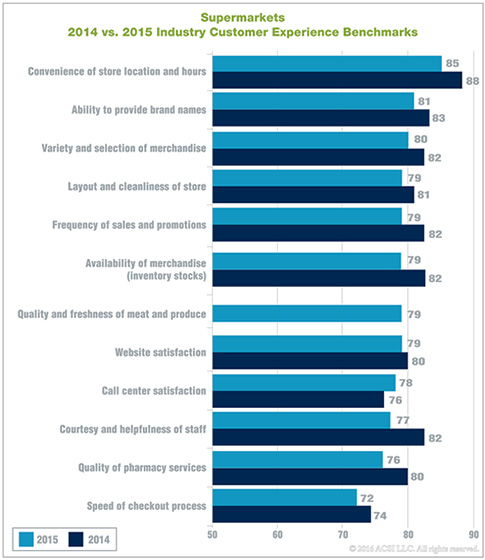 Health and personal care stores
Health and personal care (drug) stores experienced a larger ACSI decline than any other retail category, shedding 5.2 percent to an all-time low score of 73. Pharmacies located within other retailers, like Kroger (81) and Target (80), led the industry, indicating that the convenience of being able to fill prescriptions while shopping for other items yields higher customer satisfaction.
Meanwhile, consolidation looms in the industry. CVS, which scored 71, recently took over Target's in-store pharmacy business. Walgreens (74) scored highest among traditional drugstores and is in merger talks with Rite Aid, which plummeted 12 percent to 69. ACSI data show that mergers consistently dampen customer satisfaction, at least in the short term. If consolidation continues, the industry could experience even further erosion in what is currently record-low satisfaction.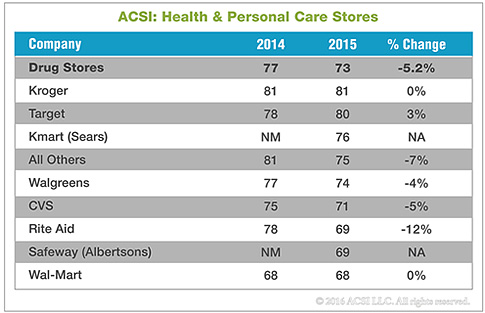 Customer experience benchmarks for health and personal care stores declined in every category except call centers and website satisfaction. Drugstores, like supermarkets, received their top mark for convenience of location and hours (85), although this score has dropped 4 percent compared with 2014. Call center satisfaction was up 4 percent to 83, and website satisfaction remained strong at 81.
For drugstores, the biggest decline occurred for a critical area: pharmacy services (–8%). Although the quality of pharmacy operations for drugstores (81) still beat that of supermarkets (76), the gap between the two narrowed in 2015. Consumers are happy with drugstore cleanliness and layout (80), but merchandise selection (77) still lagged behind supermarkets.
As with other brick-and-mortar categories, the checkout process (75) could be faster. Consumers would also like more promotions and sales (75), but this can be difficult to achieve in the tightly controlled pharmaceutical market.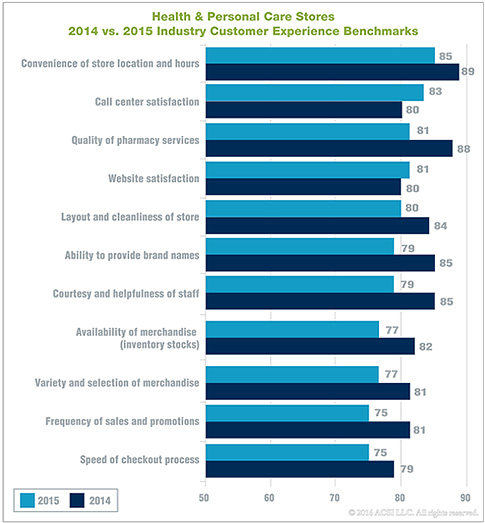 Internet retail
Internet retail overall declined 2.4 percent to 80, but consumers still prefer online shopping compared to traditional store experiences. As noted earlier, holiday e-commerce sales grew about 13 percent year over year compared to the lower 3-percent growth for retail overall.
Although every web retailer declined in score, Amazon stayed on top for customer satisfaction at 83, remaining among the highest-scoring companies in the Index even after dropping 4 percent. Amazon's high customer satisfaction helps explain why it accounted for 43 percent of all online sales in November and December. The company's fourth quarter sales were up 22 percent over the prior year, but a strong dollar and high shipping costs ate into those revenues.
Netflix raised its subscription price for new customers in October and existing customers will be impacted later this year, all of which may be contributing to the company's 6-percent ACSI drop to 76. U.S. subscriber growth has slowed for Netflix, but it continues to invest in original content to compete for new subscribers. The group of "all other" Internet retailers, which includes smaller e-retailers as well as the online channel of traditional brick-and-mortar stores, slipped only 1 percent to 80. This stable customer satisfaction shows that the online channel remains popular and pleasing even though online revenues are a fraction of brick-and-mortar sales.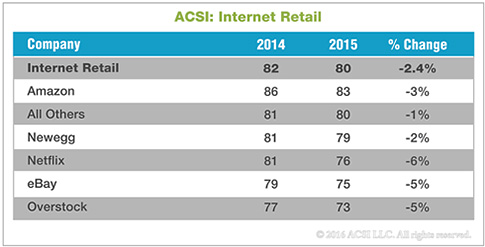 Internet retail excelled across nearly every customer experience benchmark. The ease of checkout and payment process (88) was one of the most appealing aspects of the online shopping experience. In comparison, all brick-and-mortar categories lagged far behind, with checkout speed earning these stores their lowest marks.
Consumers also can find the merchandise they want online with relative ease. Site performance, navigation, product images, and merchandise selection were highly rated at 84. Customer-generated product reviews (81) were preferred to site-generated recommendations (77), which show room for improvement. Likewise, customer support—such as live chat, help pages, or call centers—was not as helpful as customers would like.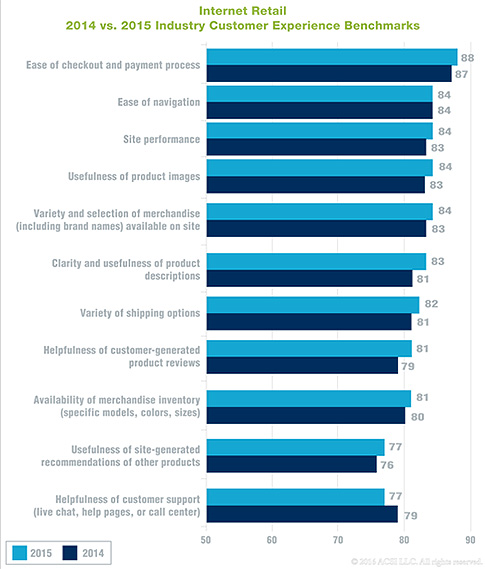 About this report
The ACSI Retail Report 2015 is based on interviews with 9,358 customers, chosen at random and contacted via email between November 12 and December 9, 2015. Customers are asked to evaluate their recent experiences with the largest brick-and-mortar and Internet retail sector companies in terms of market share, plus an aggregate category consisting of "all other"—and thus smaller—retailers.
The survey data are used as inputs to ACSI's cause-and-effect econometric model, which estimates customer satisfaction as the result of the survey-measured inputs of customer expectations, perceptions of quality, and perceptions of value. The ACSI model, in turn, links customer satisfaction with the survey-measured outcomes of customer complaints and customer loyalty. ACSI clients receive confidential industry-competitive and best-in-class data on all modeled variables and customer experience benchmarks.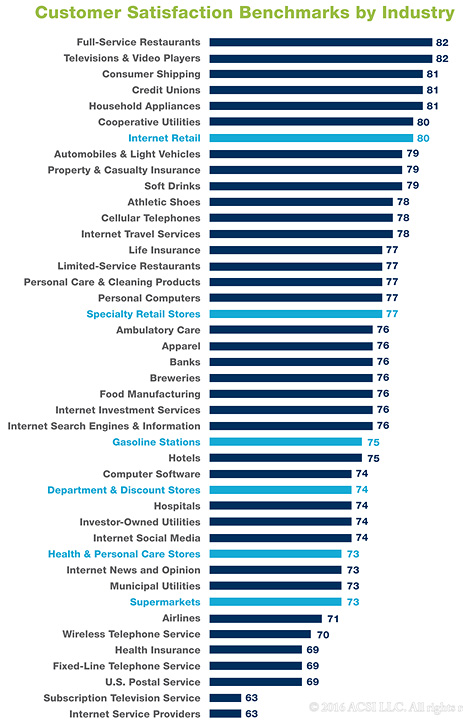 About The Author

American Customer Satisfaction Index ACSI
The American Customer Satisfaction Index (ACSI), founded at the University of Michigan's Ross School of Business and produced by ACSI LLC, is a national economic indicator of customer evaluations of the quality of products and services available to household consumers in the United States. The national index is updated each quarter and scores on a zero-to-100 scale at the national level. The ACSI produces indexes for 10 economic sectors, 47 industries, more than 225 companies, and more than 200 federal or local government services.