This Week in Quality Digest Live
Nikon Metrology Inc.
CMSC
Nikon Metrology and Roush Yates Engines Announce Tech Partnership
Published: Wednesday, March 28, 2018 - 15:28
(Nikon Metrology: Brighton, MI) -- Roush Yates Engines and Nikon Metrology announced a multi-year partnership program, demonstrating Roush Yates Engines' commitment to partnering with the best-in-class companies. With more than 100 years of experience, Nikon provides world-class precision equipment and metrology solutions to the manufacturing, aerospace, automotive, and medical fields.
"We are very excited to be partnering with one of the most respected engine builders in the motor sports industry," says Andy Stults, marketing and communications manager at Nikon Metrology. "Roush Yates Engines provide the highest performance and most reliable engines for teams at the racetrack, as their winning record proves. The parts in their engines require the utmost precision and quality in order to meet performance demands. We greatly value this partnership with Roush Yates Engines and are proud that our technology is helping ensure they continue to meet their need for high-performance, high-reliability components."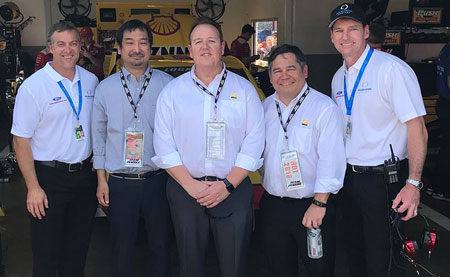 Nikon's LC15Dx laser scanner provides a unique 3D visualization of dimensional quality using color mapping. In addition, Nikon's unique ESP3 technology maintains accuracy, speed, and data quality by adapting the laser settings in real time, improving efficiency and part-quality data accuracy. "These advanced capabilities allow our team the ability to measure and analyze a larger array of parts, each with varying geometry and materials, with a single piece of equipment," says Chad Johnson, Roush Yates Engines quality manager.
"In addition, Nikon's CMM Manager software, provided for all of Roush Yates Engines CMMs, will save considerably on programming time," Johnson states.
The iNEXIV Vision System was also added to the Roush Yates Engines lineup of inspection equipment. This CNC video measuring system is ideal for both large and tall mechanical parts and uneven surfaces, in addition to providing a broader XYZ measurement range, which is ideal for analyzing complex geometry engine components.
About The Author

Nikon Metrology Inc.
Nikon Metrology Inc. offers the most complete and innovative metrology product portfolio, including state-of-the-art vision measuring instruments complemented with optical and mechanical 3-D metrology solutions. These reliable and innovative metrology solutions respond to the advanced inspection requirements of manufacturers active in aerospace, electronics, automotive, medical, consumer, and other industries. Systems are available in both fixed and portable configurations, equipped with single or multiple sensors.