Featured Video
This Week in Quality Digest Live
Geomagic
CMSC
3-D Imaging Software Creates Most Accurate Digital Model of Stonehenge Ever
Published: Tuesday, November 1, 2011 - 12:22
Geomagic, a global provider of 3-D software for creating and inspecting digital models of physical objects, has announced that its 3-D imaging and reverse engineering software, Geomagic Studio, has been used to create the highest resolution, most dimensionally accurate 3-D digital model ever of Stonehenge, the famous 5,000-year-old monument in England.
The project has been undertaken by surveying and 3-D laser scanning specialists Greenhatch Group Ltd. on behalf of English Heritage, which is the custodian and conservator of Stonehenge as well as many other historical monuments, buildings, and ancient sites across England.
Together with Atkins Mapping and Archaeo-Environment Ltd., Greenhatch used short- and long-range laser scanners from Z+F UK and Leica Geosystems, along with other survey equipment, to digitally capture all the visible faces of the standing and fallen stones, as well as the tops and faces of the lintels, to a resolution of ± 0.5 mm. Surveys of all the stone faces to this level of accuracy have never been achieved before. The surrounding landscape was also captured as part of the overall project to create the most accurate 3-D digital model ever of the monument.

Precise 3-D digital models
The data captured by the scanners was read into Geomagic Studio software, where it was processed to create highly accurate, 3-D digital polygon-mesh models of the individual stones and the surrounding landscape. The individual stones could then be placed digitally in their correct positions to create a 3-D virtual model of the whole monument, which in turn could be placed accurately within the virtual model of its real-world context.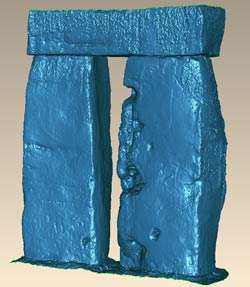 The digital models are being used for a number of purposes. They provide a precise baseline to enable English Heritage to monitor the physical condition of the monument, which is subjected to daily weathering. They are also a valuable resource to anyone wishing to produce reconstruction models, drawings, or images for public understanding and interpretation and to create animation sequences. This will allow experts from English Heritage to fly virtually through and over the monument from different perspectives to aid their studies of the stones—and for their work on the proposed new visitor center at Stonehenge.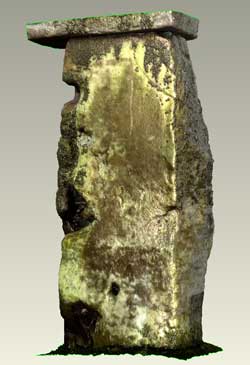 "Many of the raw 3-D point-cloud files from the scans of the stones comprised up to 50 million points, or 1.5 GB of data, each," says Andrew Dodson, director of Greenhatch Group. "Without the advanced point-cloud processing capabilities of Geomagic Studio, we would not have been able to convert them into the accurate 3-D digital polygon models that this project demanded.
"As well as helping people to understand how Stonehenge was built and how it has been changed at certain times in the past, the 3-D virtual models hold out the promise of enabling people to find out the secrets that lie within the eroded surfaces of these ancient stones," Dodson adds. "They will therefore add greatly to the English Heritage store of knowledge of Stonehenge."
An online version of the animation is available here.
About English Heritage
English Heritage champions England's historic places and advises the UK government and other bodies on how to help today's generation get the best out of England's heritage and ensure that it is protected for future generations. Most of the funding for English Heritage comes from the UK's Department for Culture, Media, and Sport, with the remainder coming from donations and commercial activities. English Heritage has more than 750,000 members.
There are more than 400 sites in England that are open to the public and receive 11 million visitors each year. English Heritage looks after 10 million photographs, plans, and surveys that are publicly accessible and advises on 17,000 planning applications each year. For more information, visit English Heritage's website.
About The Author

Geomagic
Different from CAD, Geomagic offers specific products to create 3D content from imaging the real world and real people, verify dimensional quality by comparing a master design to as-built products, and simulate touch sensations in digital environments. Geomagic products are used to create new products, new processes, and archive the world around us, serving the aerospace, automotive, toys, molds, medical device, surgical simulation, consumer products, arts, heritage, research and education industries. Based in North Carolina, Geomagic has a Boston office and subsidiaries in Europe and Asia and partner channels worldwide.